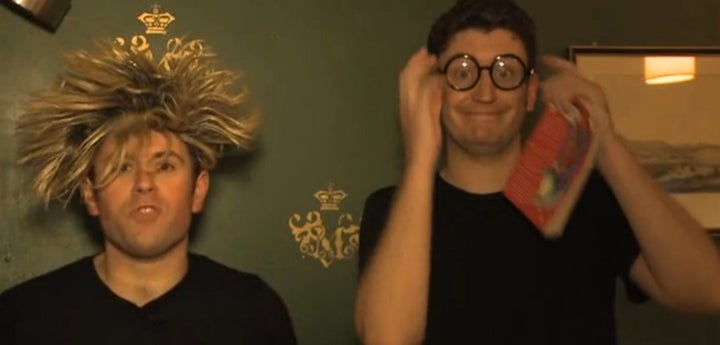 ONCE ON THIS ISLAND *** out of ****
POTTED POTTER * out of ****
CHIMICHANGAS AND ZOLOFT * out of ****
The Paper Mill Playhouse is on a serious tear. It has the smash hit Newsies on Broadway (and if they've got a piece of it like I hope, that will help stabilize the venue the way A Chorus Line did for the Public for years to come -- though since it began with Disney I must be crazy to imagine this). And now they can boast a freshly minted version of Once On This Island, which has charm to spare thanks to a very talented cast and solid production. It's my first time seeing this show so I have no idea what's been refined or changed. All I can say is that the 90 minute tale of thwarted romance (a sort of Caribbean Romeo & Juliet with interfering gods thrown into the mix) is greater than the sum of its parts. The story is quite familiar and many of the songs by Lynn Ahrens (who wrote the book and lyrics) and Stephen Flaherty (music) blend together too quickly. But the scenic design by Donyale Werle has a wonderful home-made feel appropriate for this story and the lighting by Kenneth Posner and sound by Randy Hansen add to the fable-like aura. (I won't praise the fine costumes by jessica Jahn because surely a tale on the islands could have shown some more skin?) And the almost uniformly excellent cast delivered the solid choreography by Bradley Rapier with ease and made the entire evening a pleasure.
Director Thomas Kail kept a sure hand on the rudder of this pleasure boat, which begins with a little girl scared by a thunderstorm. She's distracted from her fears by being told the story of their island, which is split into two sides -- the wealthy, light-skinned descendants of the French and the poor (but happy! I didn't say it was original) dark-skinned peasants who descended from slaves. Lovely Ti Moune (Syesha Mercado -- who I admired a lot on season seven of American Idol) is an orphan taken in by an elderly couple.
One day the handsome Daniel (Adam Jacobs) gets in a car accident and Ti Moune rescues him. She follows the young man back to the hotel/palace where he lives because she's convinced the gods want her to nurse him back to health. They fall in love, sort of, but he is already promised to another. This is a fairy tale, but a real one. And in real fairy tales people die and bitterly sad endings often take place. So don't assume everything will turn out all right in the end.
The pleasure of this story is in the telling, which uses simple props like masks and bolts of cloth to simulate the strangeness of the city or a rainstorm and so on. Opener "We Dance" is delivered strongly by the entire cast, as are many of the tunes. But first among equals is Mercado, who really blossoms here. She captures the sweet naivete of an innocent girl on the cusp of womanhood very nicely and without overdoing it. She looks lovely, has a voice that easily fills the Paper Mill's big space, dances well and has excellent stage presence. Mark her down as yet another Idol contestant who can and should establish herself on Broadway.
A high point in the songs is "The Sad Tale Of The Beauxhommes," which uses the entire cast, puppetry, dance and more to put over this story song about the origins of the two separate classes of people on the island. Other tunes don't always stick out, even when delivered with style, like Aurelia Williams doing her best to turn the rather pat "Mama Will Provide" into a showstopper. (She darn near succeeds.)
Kenita R. Miller and Kevin R. Free are very good as Ti Moune's guardians. Alan Mingo Jr. has fun as Papa Ge, the God of Death, adding a much needed sense of menace to the climax of the story. Courtney Reed is strikingly pretty and makes the most of her brief scenes as the intended of Daniel. Jacobs as Daniel, however, is the weak link. He's notably stiff in his brief bits of dialogue and we feel no real connection between him and Ti Moune, so very little feels at stake. On the plus side, he sings his big solo number "Some Girls" quite well in a classic Broadway ballad style. (It's also one of the show's best songs.) And he unquestionably looks the part of a Prince Charming.
But that lack of sexual charge between Daniel and Ti Moune highlights the show's squeaky clean weakness. Clearly geared towards families, there's still no reason why the entire production should feel so lacking in sensuality. A show set in a Haiti-like island could surely feel more sexy. We're told Daniel has a notable scar on his chest but it's almost a surprise Ti Moune has seen it, the proceedings are so wholesome. When Ti Moune dances at the ball and raises her skirt -- just a little, mind you -- she seems to be wearing leggings or stockings (or apparently knee pads -- see the comments below) of some sort, as if even a glimpse of her legs would be too randy for us. That lack of passion, of earthiness, of sex -- and sexual attraction should be at the heart of any romance -- keeps this nicely mounted production from lifting off. Though nothing should stop Mercado from using this excellent showcase to further her Broadway ambitions. Daniel may have spurned her but I'm certain producers and directors and writers who see her will fall in love with that talent.
POTTED POTTER * out of ****
LITTLE SCHUBERT THEATRE
This two-man show that promises to condense all seven Harry Potter books into a 70 minute performance/parody does everything you would expect and less. It follows in the tradition of the Reduced Shakespeare Company's condensation of the Bard's plays into one (very long-running) bit of tomfoolery, which itself inspired all sorts of spin-offs.
This is the latest and actors/creators Daniel Clarkson and Jefferson Turner seem like affable fellows. One is a Potter fanatic; the other hasn't even bothered to read them all yet when the show begins. The stage is filled with a silly looking choo-choo train, a bookcase with the Potter books lined up, a wardrobe (oops, that's Narnia!) and so on. They goof around, play with props, turn Quidditch into an excuse to have the audience bat around a beach ball, joke about Voldemort and so on. You won't be surprised by pop culture references to Shrek, The Chronicles Of Narnia, The Lord Of the Rings, Star Wars, Lemony Snicket and so on. You won't be surprised by much of anything here unless you're very very young.
The disappointment is that the lads didn't really put any effort into this, other than stocking up on Silly String and bad puns. When they get to the third book, the fellow who has pretended not to have read them decides he can predict what will happen in it based on what happened in the first two. Hey, this might actually have a little substance to it, I thought, since the first three books all followed a formula which author JK Rowling finally abandoned in book four. Kids might get an amusing tweak of Rowling's world by being reminded how lock-step those first three books were by beginning with Harry being whisked to Hogwarts, facing a challenge and then Gryffindor winning top prize at the end of term (rather annoyingly, I thought at the time)> No such luck. They don't break down the formula or even try to "predict" what might happen in book three by playing off other familiar works lie LOTR. They just list a few plot points and move on.
Similarly at the finale they begin by letting Professor Snape (the most complex and conflicted character in the books) sing a song based around the melody of "I Will Survive." Well if anyone deserves their own number, it's Snape. But that's quickly abandoned after a line or two and suddenly Voldemort and others are singing in a meaningless little number that doesn't comment on or amusingly toy with the characters and stories Rowling created. It's just a lazy, disco-ball finale with no more thought put into it than any other gag in this show that runs a rather long 70 minutes. The very little kids in the audience certainly weren't bored and had plenty of chances to shout out comments or thwack at a ball. Given the full house at the quite nice Little Schubert, I can see parents being tempted into an easy time-killer. But kids who have seen very little theater deserve better.
The awkward, would-be wacky title of Fernanda Coppel's comic drama is the first hint that this would be a poorly conceived evening. Two families are thrown into chaos by the emotional meltdown of Sonia (Zabryna Guevara), who has left her husband and daughter after a suicide attempt to try and pull herself together. Easily the most accomplished actor here and an appealing stage presence, this isolation means that for most of the show Guevara is alone, delivering tepid monologues directly to the audience, and almost never gets to interact with anyone else.
That leaves the rest of the show to her sports-loving husband Ricardo (Teddy Canez) and their daughter Jackie (Carmen Zilles) to carry on as best they can with the help of their neighbors Alejandro (Alfredo Narciso) and his daughter Penelope (Xochitl Romero). The teenage girls are bickering best friends, with jackie worried that coming out to her mom is what drove Sonia way while Penelope is doing it with a drug-dealing loser who may have knocked her up. Penelope's dad is stereotypically gay (he even worries about drinks leaving a water stain on an outdoor wooden table that must surely get rained on) though it's not clear that he is openly gay. What is clear is that he and Ricardo are having a torrid affair.
None of this is interesting. The teenagers fight and make up every two minutes and call each other "dude" so relentlessly you want to scream. As mentioned, Alejandro is comically gay and yet even by the end of the play I wasn't quite certain if he was out or not. If there was any explanation of what happened to his wife and Penelope's mother, I missed it. (Dead? Divorced? Run off like Sonia?) Stupidities are endless -- Jackie texts her mom and says she's pregnant to try and get her to come home. When her dad finds this out, instead of simply telling the truth, she and Penelope start divulging their darkest secrets. Later, the two girls are forbidden to speak to each other ever again. Why? I haven't the foggiest.
The gay affair is utterly unconvincing. I hate to criticize any actors in a play this weak (which is why I won't comment on the anonymous sets, costumes or direction). But it's a sad truth that if you want to be a male actor in the theater you're simply going to have to play a gay role and probably kiss a guy at some point. (Hey, women have had to play whores for a hundred years on movies and tv, so don't complain.) These two actors are painfully awkward in their brief, romantic moments. But I don't blame them. In a show that gets its biggest laugh from an actress farting when she appears on stage, I'd feel uncomfortable too.
THE THEATER SEASON 2012-2013 (on a four star scale)
Chimichangas And Zoloft *
Cock ** 1/2
Once On This Island ***
Potted Potter *
Thanks for reading. Michael Giltz is the cohost of Showbiz Sandbox, a weekly pop culture podcast that reveals the industry take on entertainment news of the day and features top journalists and opinion makers as guests. It's available for free on iTunes. Visit Michael Giltz at his website and his daily blog. Download his podcast of celebrity interviews and his radio show, also called Popsurfing and also available for free on iTunes. Link to him on Netflix and gain access to thousands of ratings and reviews.
Note: Michael Giltz is provided with free tickets to shows with the understanding that he will be writing a review.
Support HuffPost
The Stakes Have Never Been Higher
Popular in the Community