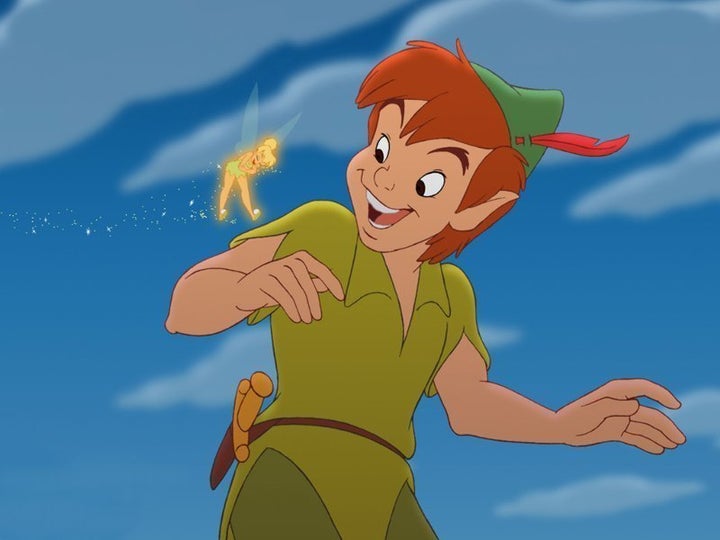 Location! Location! Location! It's not just true about real estate. Location also matters greatly when it comes to theater. Almost every show in the world will be more enjoyable in as small a space as possible. Obviously, a massive musical can't be squeezed into a 50 seat Off Off Off Broadway house. So we're talking as small as is practical. But the more intimate the better. Peter and the Starcatcher was one of my favorite plays of 2011 when I saw it at the New York Theatre Workshop. It's still great fun on Broadway but I wish everyone would have the chance to see it in a smaller setting. On the other hand, Ninth and Joanie is playing into about as small a theater as you could ask for. But when the play is weak, all the intimacy in the world won't help.
Peter Pan has a curious history. He began as a minor character in a work by J.M. Barrie and then flourished with the charming and wildly popular stage play. But then Barrie deepened that success by some strange alchemy: he turned the stage play back into a novel and the story of the boy who wouldn't grow up became a profoundly moving and funny and sad reverie for childhood and the inevitable passage into the adult world for kids that every parent must prepare them for and anticipate and regret.
Now that journey has been turned on its head. Writers Dave Barry and Ridley Pearson have spun off four jokey, unofficial prequels to that novel; bestsellers all, but with none of the depth and insight of Barrie's unlikely masterpiece. But their first work -- Peter and the Starcatcher -- has been turned into a stage play with brilliant effect. So instead of a hit play becoming a genuinely great novel, we now have a hit novel becoming a genuinely great play.
The love that animates this adaptation by Rick Elice (so superior in every way to the book) is the love of theater. This is a hand-made play, in which the cast of 12 play dozens and dozens of characters using the most basic of props. A simple piece of rope is held at a slant and suddenly you can see characters heading down into the bowels of a ship. In another scene, that same piece of rope becomes roiling waves in the sea or a window into a cabin where two lovers are wooing. A ladder playfully levitates a little girl so she's flying, a string of flags become the mouth of a gigantic crocodile and on and on. Like The 39 Steps and other recent works, Peter and the Starcatcher demands and rewards the intelligence and imagination of the audience. It's so much fun, you'll wonder why anyone ever bothers with elaborate special effects.
The tale provides the origin story of Peter, an orphan with no name when we meet him, unless you count "Boy" or "Friendless" as names. He and his pals are being sold into white slavery when they meet Molly, the daughter of Lord Aster. Lord Aster is on a mission for the Queen and a member of the Starcatchers, a group devoted to making certain that "star stuff" (a material from outer space that can grant your every wish) never falls into the hands of villains. Many adventures ensue during which we see Peter get his first name (from Black Stache, the foppish pirate) and his last name (from a fish turned into a mermaid named Teacher). Peter becomes a leader, Stache becomes Hook and that crocodile swallows a kitchen timer.
I've already described the playfulness of the production but I should also mention it's very much in the spirit of British pantomimes, annual holiday shows (albeit ones that sometimes have elaborate sets and costumes) where families see winking versions of fairy tales sprinkled with contemporary asides such as Stache's offhand comment that star stuff was proving as "elusive as a melody in a Philip Glass opera" or Lord Aster trying to communicate with Molly and saying, "Can you hear me now?" Combine this with One Man, Two Guvnors and you'll have a crash course in British humor.
In a panto, the villain is lustily booed and both he and/or a major female character are played by famous male actors. (The British do love their drag.) In another nice reversal, Peter and the Starcatcher might just turn Christian Borle (of TV's Smash) into a theater star. He plays Stache/Hook with wonderful verve. Any fears that Borle might go too far over the top on Broadway are soon allayed. Borle delivers the scenery chewing goods in a climactic scene but for most of the show he triumphs with subtle panache, albeit subtlety in the service of broad humor.
He is matched by two excellent co-stars, just as Stache needs Pan to become a great villain. Adam Chanler-Berat presents just the right combination of defensiveness and slight befuddlement (must adults always lie?) that can't quite hide his innate sweetness. But the show's real secret weapon is Celia Keenan-Bolger as our heroine Molly. She plays the plucky girl with exactly the right sort of brio and self-confidence and keeps the action centered in real human emotion. Her deadpan delivery also nails some of the best lines of the show. Little boys might fantasize about being Peter, but little girls can and should become like Molly as best they can. Every element is wonderful and the direction by Roger Rees and Alex Timbers is a marvel.
Now here's the catch. What you've just read is mostly my original experience of seeing Peter And The Starcatcher Off Broadway. I've just seen it again on Broadway and I wrestled whether to lower the rating from 3 1/2 stars to just 3 stars. That seemed churlish in the face of such a charming success. But there's no question that the experience of seeing it is lessened a tad on Broadway.
They didn't go crazy, but the set by Donyale Werle is slightly more substantial here I think, when it wasn't necessary in the least and in fact goes against the spirit of the show. All the tech elements are superb -- from the pitch-perfect costumes by Paloma Young and the ever-inventive lighting by Jeff Croiter to the sound design by Darron L. West. But I refer to the sound elements, not the sound mix. On Broadway, playing to a larger house means more of the dialogue was a bit garbled. In the smaller setting, the show was effortless. On Broadway one must struggle a bit to follow what's being said in the busier scenes. It doesn't really matter -- you can always follow what's going on and you're just as likely to miss a line because people are still laughing rather than acoustic issues. Further, some of the playful touches -- like the rope becoming a window into a cabin where characters are squeezed together -- seemed more magical in the smaller setting. They still work but the charm is ever so slightly less present.
If I could take you back in time to see it in that smaller setting, would I? Absolutely. Should you go today? Absolutely. If you missed it the first time around, catch it while you can. Arnie Burton's multiple characters (especially Mrs. Bumbrake) are one of the highlights of the current season, as is Kevin Del Aguila's turn as Smee. His chemistry with Borle is a key reason why Stache is such a success and defines the very essence of good supporting work. The rest of the cast is equally hard-working and funny. This is a true ensemble. In a season of great plays -- including Tribes, Sons Of The Prophet and Clybourne Park -- Peter And The Starcatcher still shines. Just make sure you sit as close as you can; you want to be as near to the 'star stuff" of this cast and this production as possible.
When you're seeing a play that doesn't work, it can be exhausting. It's not like seeing a movie that doesn't work. You're actually in the same space as actors who are struggling and giving their all. It's not an easy task to drain your heart even when a play is good (imagine the exhaustion Philip Seymour Hoffman and Andrew Garfield must feel every night after Death Of A Salesman). But it's just as hard if not harder when a play isn't working. The audience struggles to maintain focus and give the actors the benefit of their energy and attention while the cast struggles to find a moment of grace to make the evening meaningful.
Such, unfortunately, are the thoughts that arise when seeing Ninth and Joanie, a new drama by Brett C. Leonard. It's a dour story set in Philadelphia in 1986, where Michael (Dominic Fumusa) has sunk into bitter despair over the death of his wife and daughter. In the first act -- which begins with an exceptionally long period of silence as characters enter and settle down for the night in a clearly familiar routine -- we see Michael and his beaten down son Rocco (Kevin Corrigan) back from what turns out to be the funeral of Michael's wife. His disdain for the hapless Rocco is painful, while Rocco sits around bruised and battered (he's gone from a fighter to a guy who just goads people to beat him up and never hits back), playing with a Ouija board and claiming he's seen the ghost of his little sister.
Their sad dance is interrupted by the appearance of Charlie (playwright and actor Bob Glaudini), the oldest son who got out of prison after killing the drunk driver that killed his little sister. Charlie couldn't bring himself to attend his mother's funeral because his confession of being a killer drove her to suicide. Got all that? The daughter is killed by a drunk driver. The eldest son kills him and goes to prison. The mother slits her own throat in despair. The father, a mobbed up figure of some sort, drinks himself into oblivion and runs down everyone in sight, though that seems to have been his modus operandi even before death descended on their household.
Act Two introduces us to Charlie's wife Isabella (Rosal Colon) and son (Samuel Mercedes), with the racist Michael behaving in an entirely despicable fashion. Pretty it isn't. It's a bleak and, more to the point, an unilluminating story. Glaudini is forced to dance as fast as he can since in his brief scene he must plumb despair and take desperate action. Corrigan is a very good actor who here spends scene after scene pathetically playing with his Ouija board or miming his old boxing moves. I long to see him in a leading role he can shine on. Colon makes a good impression as a woman just as steely as any of the men. Fumusa has the worst of it as the inert, unrevealing Michael. The character's just a type and Fumusa can't bring him to life.
Director Mark Wing-Davey also struggles with a text that doesn't reward the effort, to the point where the awkward finale didn't even seem to quite end as the lights came up and characters moved around in the background. The show could have ended at almost any point and it wouldn't have surprised me since the show was going nowhere emotionally. But it's always telling when an audience isn't even certain the play has finished.
I'm tempted to say the set design by David Meyer is the show's strongest asset. Its plastic-covered couch and rundown flooring, the flimsy cardboard box containing the Ouija set and the bulky wooden stereo console all tell more of a story than the play. However, I was acutely aware of being ideally seated to appreciate it. The set features a living room and behind it a foyer and desk. When someone was in that area, I think many of the audience members on the sides wouldn't have a clue as to what was happening. And behind that is a window looking into a kitchen. And when a character is in there, they're completely invisible to a good third of the audience, leaving them utterly in the dark. Maybe that's fitting, since the heart of the play was never visible no matter where you were sitting.
The Theater Season 2011-2012 (on a four-star scale)
NEW YORK MUSICAL THEATRE FESTIVAL 2011
Thanks for reading. Michael Giltz is the cohost of Showbiz Sandbox, a weekly pop culture podcast that reveals the industry take on entertainment news of the day and features top journalists and opinion makers as guests. It's available for free on iTunes. Visit Michael Giltz at his website and his daily blog. Download his podcast of celebrity interviews and his radio show, also called Popsurfing and also available for free on iTunes. Link to him on Netflix and gain access to thousands of ratings and reviews.
Note: Michael Giltz is provided with free tickets to shows with the understanding that he will be writing a review.
Calling all HuffPost superfans!
Sign up for membership to become a founding member and help shape HuffPost's next chapter