Pigpen Theatre Co. is the best kept secret around but that's not going to last for much longer. They've just opened their third full-length show in New York City in as many years and The Old Man And The Old Moon is just as charming, funny and touching as their earlier works.
Pigpen has also just released their debut album. Bremen collects songs from this show and others in an album that should easily win over fans who have worn out their CDs of Mumford & Sons or the Avett Brothers. It's pure Americana in the vein of those acts with a sweetly sorrowful air that is uniquely their own. Bremen will be on my list of the best albums of the year.
So I took my friend TJ to this show and introduced him to this talented group and he was won over. Soon enough, though, people will be trying to tell me, "Have you heard of Pigpen?" Yes, I have.
They formed at Carnegie Mellon (where I assume they all got As from their theater teachers) and developed an approach to creating and telling original stories steeped in folk tales, puppetry and their wonderful original songs. If you've seen Peter and the Starcatcher, you'll be familiar with the playful fun they have with theatrical convention, the narrator, and the love of imagination that fires their story. A flashlight and a darkened theater creates more atmosphere than anything you'll see at Spiderman: Turn Off The Dark. Seven young men -- each more handsome than the next (see below)...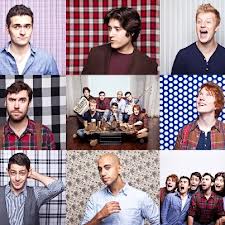 ...(see what I mean?) -- yes, each more appealing than the next play an old married couple, all sorts of animals, ghosts inside a "prison fish" (that's a fish that's also a prison; a "prison fish"), soldiers, sailors, angry townspeople and more. They also play instruments and sing songs that feel familiar and piercing the very first time you hear them.
The story is about an old man and an old woman living in quiet happiness. His job is to keep the moon full. It has a leak and if you don't take a bucket that captures the moon's drips and climb up a very tall ladder and fill the moon back up again, it becomes thinner and thinner and might just disappear altogether. Her job is to prepare the meals and clean and so on and frankly, she's a little discontented. Weren't they going to see the world or at least take a vacation? But what about the moon, he frets. He has a point since they don't know what might happen if they abandon their post. But to be honest he's quite happy with the routine. She's not and one day goes off in a small boat. The old man follows her (how could he not?) and there hangs a tale.
Here's an animated short that echoes the design work and puppetry in the show; it's for the song "Bremen," one of the instantly memorable tunes written for this piece.
I saw their second show and then their first one and now their third so I may be a little confused. But I think I see a progression in their work, which has always reveled in Monty Python-esque wordplay and silliness along with simple but effective theatrical touches, like using a piece of brown cloth to represent a roiling sea.
Pigpen has a very distinct style but they're also deepening their stories, reaching for more than just silliness and laughs (which are always present) and achieving a genuine depth of emotion. The Old Man And The Old Moon is a rollicking tale but it's less episodic than others, with a stronger through-line that shows the group isn't simply repeating old tricks, no matter how fun they are.
More of the songs are presented as solo spots and I admit I missed more of the group singing that is so lovely. But you get to hear them in spades on the album Bremen, which echoes those other current acts and of course classic groups like Crosby, Stills & Nash, Randy Newman and The Band (minus the mythic overtones). Above all they embrace death and life, sadness and joy, love and loneliness, fear and triumph and more because like the best folk and blues artists they know you can't have one without the other. From the lovely opener "As Lonely As Me" to "The Graveyard Song" and "Just Like The Sea," this album should win them a whole new audience that has never seen their shows. Still, if you can catch The Old Man And The Old Moon, by all means do. Then you can ask your friends, "Have you heard of Pigpen?" before they ask you.
It's one of the biggest hits in Broadway history but my sum total experience with the landmark musical A Chorus Line is one community theater production in Gainesville, Florida (my college town) and the godawful film version directed by the tone deaf Richard Attenborough. What's immediately clear even to a neophyte like me is how prescient, influential and perfectly structured the show remains. Combine that with by far the best work of the late Marvin Hamlisch and you've got a musical that is almost indestructible.
It helps to have a strong ensemble and oversight by Mitzi Hamilton, the inspiration for Val and the director here in this faithful restaging. This crowd-pleasing production at Papermill Playhouse certainly has that. An opening night tribute to Hamlisch featuring dozens of people linked to the show (including original cast members Priscilla Lopez, Scott Allen and Kelly Bishop of Gilmore Girls) was the icing on the cake.
We're so used to seeing people pour their hearts out on national television just for the chance to audition and get on TV that Chorus no longer has the shock of the new. Hopefuls are voted off the island or rejected by judges or dissed by Simon Cowell so often that it's no longer a gasp-inducing shock to see people open a vein in their emotions and then be sent packing by a director. The nail-biting high drama is now a more relaxed human drama. But the intimacy of the show and the daring simplicity of the staging -- which meant that at the finale you could bring in a few mirrors and some sequins and it would seem like fireworks -- that's still as fresh as ever.
You know the story. A string of dancers are auditioning for a chorus. The director rather unusually asks them to talk about themselves and we slowly get drawn in by their tales of insecurity, bullying as kids, love of dance, fears, hopes and desires. That makes seeing them cut from the show or sidelined by an injury painfully emotional. That's it, really, but it's so brilliantly constructed and staged and lit that the impact can be tremendous.
And the songs are among the best character-driven tunes imaginable. "What I Did For Love" and "One" are the standards of course, but "I Hope I Get It," "At The Ballet," "Dance: Ten, Looks: Three" are poignant and funny and revealing in ways most show tunes can only dream about. I could go on and on about the brilliance of Michael Bennett's show, such as how "One" is developed almost in front of our eyes, evolving from a rehearsal where the actors speak out loud their movements and steps to the piano intro that links several scenes (and preps us for the finale) to its full-blown incarnation that raises the roof.
But let's discuss this particular production, which delivers a solid accounting of the show. The men shine more than the women, but with 26 people on stage, this is a genuine ensemble. One of the great accomplishments of the book by James Kirkwood & Nicholas Dante is to give so many characters a chance to shine. Amanda Rose and Mike Cannon (in full Bowery Boy mode) have fun thanks to their good rapport on the clever "Sing!" Ashley Arcement delivers the once shocking ode to plastic surgery "Dance: Ten, Looks: Three," proving that a great tune can overcome its subject matter turning passe.
It helps to give a modern spin on the monologues without sacrificing when they were created. The show has three explicitly gay characters, which is probably about two more than you would expect in a mainstream Broadway musical in 1975, even one about chorus boys and girls. When I first heard Paul's monologue in the 1980s, it felt dated in its seeming acceptance of self-loathing by gays in a strip club. J. Manuel Santos gives a delicate spin to an early line about learning how to be a man which puts a fresh insight into the piece that restores Paul's dignity and lets the warmth of his story shine through rather than his breakdown.
Gabrielle Ruiz like most here doesn't have a powerhouse voice but acts her way through her big numbers as Diana with appealing vulnerability. Martin Harvey is solid as the director Zach (and does a nice job of dancing in character). And in a show loaded with exceptionally fit and appealing people, Brian Lettendre brings sexiness and personality to the small role of Larry.
But the characters of Cassie and Sheila loom large, even in this ensemble. Unfortunately, Jessica Lee Goldyn falls far short as the magnetic Cassie, an almost-star and former flame of the director now reduced to trying out for a spot in the chorus. Goldyn's performance is overwrought, bringing a soapy element to her confrontation with Zach. She's certainly a better dancer, but I was already cut off from Cassie emotionally when she began that show-stopping number "The Music and The Mirror." I found even her dancing relatively mechanical but my guest felt her dancing was solid and rescued the moment somewhat.
Rachelle Rak fares much better as the seen-it-all Sheila. She could tone down the brassiness just a tad; she's having so much fun delivering her one-liners that we don't always get to relish them as much as Rak does. But Sheila is always putting on a performance so it's not too out of character and Rak's delight over the part she famously lost out on for the Broadway revival is infectious.
As is the show as a whole. A long run can take the energy out of any show so I'm glad I didn't see it ten or twelve years into its original Broadway run. And familiarity can breed indifference. Do we really need to see it again, some might ask? But as long as people get on a bus and come to New York (or London or Chicago or anywhere) to pursue their dreams, A Chorus Line will retain its power.
THE THEATER SEASON 2012-2013 (on a four star scale)
Thanks for reading. Michael Giltz is the cohost of Showbiz Sandbox, a weekly pop culture podcast that reveals the industry take on entertainment news of the day and features top journalists and opinion makers as guests. It's available for free on iTunes. Visit Michael Giltz at his website and his daily blog. Download his podcast of celebrity interviews and his radio show, also called Popsurfing and also available for free on iTunes. Link to him on Netflix and gain access to thousands of ratings and reviews.
Note: Michael Giltz is provided with free tickets to shows with the understanding that he will be writing a review.
Popular in the Community