 Some things are indisputable. August Wilson is on the short list of America's greatest playwrights (along with Eugene O'Neill, Tennessee Williams, Arthur Miller and Edward Albee). And Signature Theatre has a special affinity for his work. They devoted a season to three of his plays -- Two Trains Running, Seven Guitars and King Hedley II -- and each one was better than the last. Now they've tackled The Piano Lesson with a cast that is superlative from top to bottom, exceptional direction from Ruben Santiago-Hudson and every tech element in sync with the work itself. The rhythm was off ever so slightly during the exorcism finale but that's a minor quibble in a show that was deeply satisfying. Is there anything more satisfying for a drama than the sound of silence, those special moments when an audience is so focused and hushed on the actors that you're literally holding your breath? That happens several times in this show. So what is Signature waiting for? They need to bow to the inevitable and at least stage his other six plays or devote two years to The August Wilson Project and do all 10 again or maybe create a rep company and let the cast trade roles back and forth throughout the cycle. If they're going to tackle them piecemeal, might I suggest starting with the trio of Gem of the Ocean, Radio Golf and Ma Rainey's Black Bottom? That would let me see the final two I haven't yet (Gem and Ma Rainey) and be the first opportunity to reappraise Radio Golf since its Broadway debut. One way or another, no one is better suited to mounting his work than Signature and they need to continue. And soon.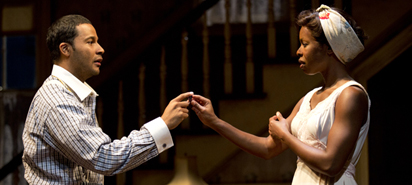 The playbill for this bio-musical about the great British singer Dusty Springfield includes an inserted note from star Kirsten Holly Smith and Jonathan Vanikin. They co-wrote the book and the note rather unnecessarily says the show is fictional but based on real events; they've created some composite characters, fiddled with the actual sequence of events and so on. It's the sort of anything any work that's not a documentary film does all the time, so why bother? It becomes clear when you see the show. They've turned Dusty's life into a mush, randomly switching this event, moving that, hyping up chart hits unnecessarily and on and on. The truth is almost always more compelling.
Each individual choice probably seemed reasonable, but taken together they've unwittingly made her tumultuous and barrier-breaking life predictable and far less interesting. To take one telling example, one of Dusty's biggest career peaks was a Royal Albert Hall concert in 1979. Fifteen years later she was diagnosed with breast cancer and 20 years later she died, on March 2, 1999. In Forever Dusty, however, she's doing her show at Royal Albert Hall, swooning from the cancer she knows is killing her but refusing an ambulance and determinedly heading back out on stage for one more encore. It's like some maudlin, 1940s "women's film" churned out by the Hollywood studios.
A minor point bothered me even more: the show makes much naturally of her comeback via the Pet Shop Boys with a song called "What Have I Done to Deserve This?" I can handle the show calling it a Dusty Springfield single when in fact it was actually credited to Pet Shop Boys with Dusty Springfield. But why did they have to flash a graphic showing this "Dusty Springfield" single at No. 1 on the U.S. charts? It actually peaked at No. 2 in the U.S. and the UK. But that made it the biggest U.S. hit of her career and her first song on the Hot 100 in 17 years! That isn't enough for them? They had to pretend it went to No. 1? This matters because they could have stuck to the facts and easily made a different creative choice: why not display rave reviews for the single and her subsequent comeback album rather than lying about how high it charted? When to show Dusty coming out (they seem to have pushed it back several years, cheapening the boldness of when she led the way for David Bowie, Elton John and others) and numerous other problems arise from this lazy approach to her life. So any time spent not singing is bland and uninteresting.
Happily, there's the singing and here Smith has a capable voice. That's high praise since she is following in the footsteps of one of pop's most versatile singers, tackling folk, pop, R&B and more with verve. You don't ever forget Dusty's originals but you don't spend the show thinking she's falling short either. Many of the songs are delivered with verve. Hints of a better show are there: Christine Sajous (excellent on Broadway in Baby, It's You!) is very good as Dusty's lover. She belts out "Tell Him" with power, provides a humanizing foil that almost makes the dutiful journey through Dusty's life interesting and duets nicely. When they sing together on "The Look of Love," turning it into a realization that Dusty is attracted to women, it's a revealing and interesting moment that respects the song but re-contextualizes it and makes it fresh. Sadly, this happens very rarely in this well-intentioned but routine valentine to a major talent.
I didn't find any video from the show online, so here's the real Dusty performing "You Don't Have to Say You Love Me."
Kathie Lee Gifford showed good instincts when choosing the subject matter for her first Broadway show. Aimee Semple was a pioneer in using media to evangelize (via radio in her case) and creating the mega-church, those often non-denominational houses of worship that use spectacle and entertainment to create a Christian community of one-stop shopping from Sunday service and wholesome outings to bookstores, coffee shops and social services for the needy.
Like so many people who preached and then reaped huge personal rewards, Semple proved controversial and was dogged by accusations of impropriety, many of them earned -- whether it was being divorced, dating single men, and most famously disappearing for weeks and then offering up an outrageous story of being kidnapped and taken to Mexico.
So why is the show so flat? The set doesn't help. The show opens with what looks like the Glass Cathedral -- a dramatic set with stairs sweeping up on each side to a pulpit where Aimee can spread the word of God. That looks good, I thought. What I didn't know was that we'd be staring at it for the rest of the show. The pulpit splits down the middle and the stairs move a little to the side when we're not at a service. But there they stubbornly remain. Hidden behind them you can see some wheat fields so you know you've left that cathedral in California and headed to the heartland (or later to a ship at sea or New York City). But always, those giant staircases stay planted on stage. It's a rather monotonous decision that drags down the entire show visually.
Similarly, while Gifford briskly moves the show through Aimee's life, her lyrics and melodies also have a sameness -- mid-range tunes filled to bursting with words and all too often the sort of rhymes that seem obvious. (David Pomeranz and David Friedman are also credited with additional music.) So with the set stuck in one place visually and the songs bleeding into one another because you can hardly tell them apart, Scandalous simply feels stuck in place.
Carolee Carmello works her butt off in the title role, bringing what complexity she can to it. In a supporting turn, Edward Watts makes a good impression as both Aimee's sweet first husband, an Irish preacher and as a beefy cad of an actor who appears in the spectacles her church stages in California to draw crowds. But however talented they may be, it would take a miracle to bring the show to more than stuttering life. Here's hoping Gifford's attention to Aimee Semple inspires someone else to create the vivid feature film or novel this figure deserves.
Here's newsreel footage of the women in action.
Already closed on Broadway, this work by David West Read is harmless fun, an attempt to create a U.S. equivalent to those naughty British comedies like No Sex Please, We're British. Those shows always promise sex, sex, sex but are deeply conventional and sweet at heart. The Performers is no different, with the story set around a renewed acquaintance between two high school pals. Cheyenne Jackson is a porn star up for Best Actor at the annual awards show and Daniel Breaker (Passing Strange) is a straight-laced journalist about to get married to Alicia Silverstone but ready to write a profile of his dim-witted but nice friend.
Misunderstandings abound of course. Jackson's wife Ari Graynor (doing her best Jennifer Tilly) is furious that best pal Jenni Barber got breast implants without telling her. Breaker is worried that even before marriage their relationship is getting stuck in a rut, which makes Silverstone think he wants to bang one of the many very available female porn stars. So she flirts with Henry Winkler, the aging veteran of the porn industry who is competing with Jackson for that Best Actor award.
Confused? Don't be. It's all very simple and very silly. Read starts off strongly, giving Jackson a very funny monologue about masturbating to the puzzle book Where's Waldo? Jackson has the most fun as the stupid, but kindhearted hero. The problem is that everyone is kindhearted. No one has any sex and much more time is spent politely turning it down. There's not even a hint of a villain or a problem that could drive the action. The second half slows down for some serious life talk between Jackson and Winkler when a more seasoned author would be turning up the action and piling confusion on top of misunderstanding, with quite a few slammed doors thrown in for good measure. So it's a tension free 90 minutes but it did allow for some happy cavorting and Jackson to add a distinctive turn to his already solid list of Broadway shows.
THE THEATER SEASON 2012-2013 (on a four star scale)
Thanks for reading. Michael Giltz is the cohost of Showbiz Sandbox, a weekly pop culture podcast that reveals the industry take on entertainment news of the day and features top journalists and opinion makers as guests. It's available for free on iTunes. Visit Michael Giltz at his website and his daily blog. Download his podcast of celebrity interviews and his radio show, also called Popsurfing and also available for free on iTunes. Link to him on Netflix and gain access to thousands of ratings and reviews.
Note: Michael Giltz is provided with free tickets to shows with the understanding that he will be writing a review.
Support HuffPost
The Stakes Have Never Been Higher
Related
Popular in the Community