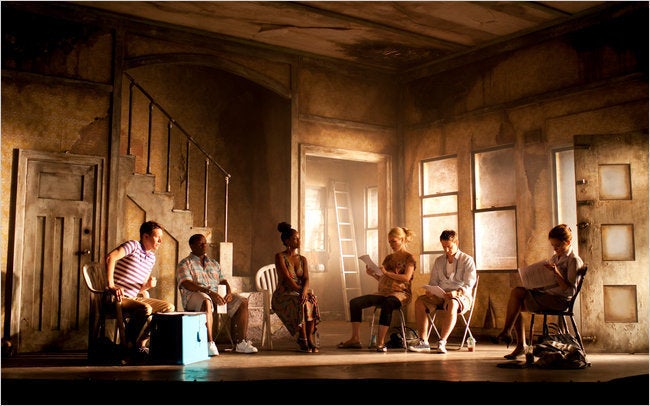 SLEEP NO MORE *** 1/2 out of ****
EVANS HAILE: SALON SOIREE ***
Punchdrunk is a theater company that specializes in "immersive" theater in which the audiences wanders in and throughout spaces, interacting with the cast to one degree or another and having a unique experience often quite different from the people they attend the show with. They're currently performing Sleep No More, a spin on Shakespeare's Macbeth that is one of the most entertaining and involving works of theater you're likely to see. Here's the artistic director of ART waxing enthusiastic about their work.
It's easy to just treat what they do as an event, as some sort of "experience" and leave it at that. While Sleep No More may be unusual and hard to classify, it is also most assuredly theater of the highest order. You enter the space, don a mask that's very Eyes Wide Shut, are enjoined not to speak a word and then spend several hours wandering through four or five floors of an abandoned warehouse, each floor filled with rooms that are bursting with specific and fascinating detail -- from a detective's office to a sweets shop to a graveyard and a banquet hall. Everywhere you go you'll spot people trailing this or that actor. Once you latch onto Macbeth or Lady Macbeth, friends suggested you follow them for a while until you feel the scenes repeating or just want to move on. That's what I did, following Lady Macbeth for about 45 minutes. At several points she stood inches from my face, peering into my eyes with a distracted, haunted look. Seeing hordes of masked people dog her every step, literally haunting her as she ran down a hallway must provide a thrilling energy to the cast and made this show intriguing to watch. Beyond a few whispered lines about "blood" and "damned spots," you don't hear much dialogue from her or anyone.
Then I started trailing Macbeth. When I felt the storylines crossing again (the basic plot seems to repeat two or three times), I began to stalk one of the secondary actors, a handsome fellow who danced a marvelous solo piece before being put into a sleep by one of the witches. Then I purposely stepped away from the "action" and just wandered into this and that room, opening drawers and peering into ledgers. I stumbled upon one actor stitching up a teddy bear and at another moment a woman grabbed one of the audience members and pulled him into her bedroom, shutting the rest of us out. Just when I felt I'd seen everything, an entirely new level of rooms and scenes opened up in front of me. One nursery tucked away into a corner (my guest never even saw it) was so haunting and beautifully done (headless and limbless dolls sprayed up from an empty battered crib) that I wouldn't have been surprised to see an identical installation at the Whitney Biennial. It's that good and this sort of attention to detail continues throughout.
I'm making it sound like some sort of hipster interactive theater, but that's far from the mark. Time and again, I was blown away by some stunning scene: a banquet dinner with the cast moving in slow motion and set to overwhelming music and hypnotic lighting was thrilling, as was a dance scene and what might have been a rave or the witches' prophecies. The choreography, the sound design (which includes music from films by Alfred Hitchcock among other sources), the sets, the lighting are all wonderfully realized. I can't even single out individual castmembers since I rarely knew who was playing whom. Certainly a familiarity with Macbeth helps but it may not even be essential. It's not handicapped friendly and if you're not spry, this may not be for you. A LOT of stair-climbing is involved. But if you have any sense of adventure, this is theater you don't want to miss.
Evans Haile is a theatrical impresario and performer who has performed all over the world. He's perhaps best known for being the Artistic Director of the Cape Playhouse, America's oldest professional summer theater; his acclaimed recordings of 50 Million Frenchmen, Magdalena and Babes In Arms, among others; and the late, lamented series of NPR specials he hosted called Toast Of The Town that centered on Broadway and the theater world.
His current one-man show is typical of Haile, combining personal memories with casually informative anecdotes. A memory of watching Ingrid Bergman in Intermezzo leads into a performance of Christian Sinding's "Rustle Of Spring." A story about playing music with -- not "for" mind you, but with -- Gorbachev heralds a dive into Liszt's "Hungarian Rhapsody #10."
How to describe the lost art he displays of informed comments sprinkled with wry jokes and asides about polo season in Camden mixed with assured and sparkling renditions of everything from Gottschalk and Lecuona (the Cuban Gershwin) to Debussy and Strauss? If Liberace were witty and sophisticated rather than campy and silly, you might wind up with Haile, a performer never afraid of showmanship but with enough style to keep excess in check.
THE 2010-2011 THEATER SEASON (ratings on a four star system)
Blood Ties ***
Fellowship * 1/2
Fingers and Toes ** 1/2
Frog Kiss *** 1/2
The Great Unknown ** 1/2
Nighttime Traffic **
Our Country *
PopArt *
Shine! The Horatio Alger Musical ** 1/2
Show Choir **
Tess: The New Musical **
Trav'lin' ***
Without You *** 1/2
Note: Michael Giltz was provided with tickets to this shows with the understanding that he would be writing a review.
Popular in the Community