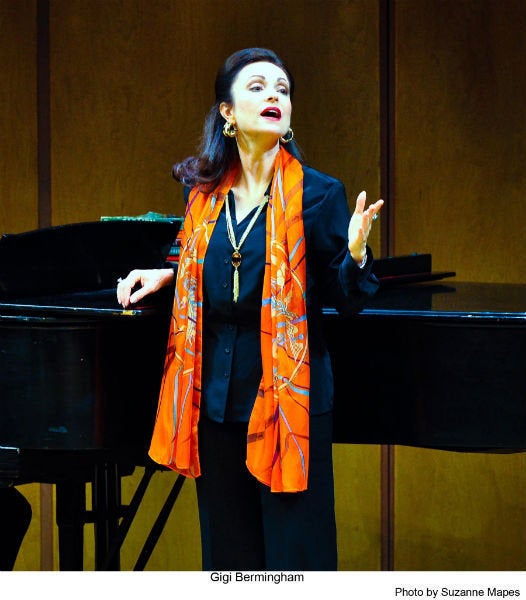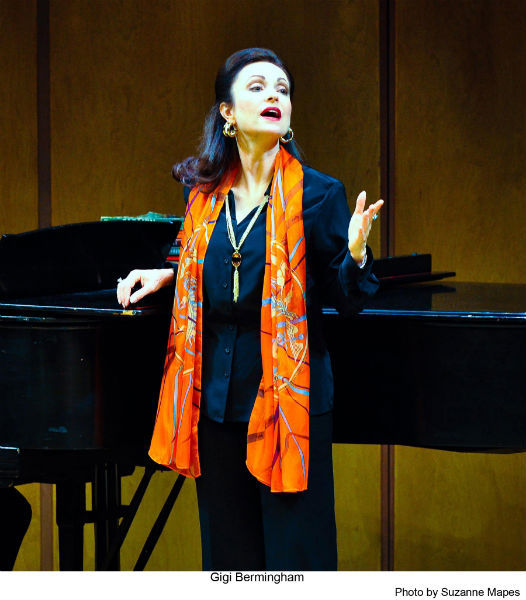 Gigi Bermingham, one of the leading lights of Los Angeles theater, gives a masterful performance in Terrence McNally's challenging portrait of opera diva Maria Callas. With a strong supporting cast under the skilled direction of Todd Nielsen, Bermingham brings Callas to life - make that larger than life - fascinating flaws and all.
Callas was a complex character, bootstrapping her way up from poverty to international stardom, largely through grit and the force of her personality. Although her voice was often considered controversial, her onstage magnetism and passionate approach to acting brought fresh life to the opera scene. Callas also achieved an international celebrity that few in the opera world have attained, in part because of her colorful life, which included her rivalry with Renata Tebaldi and her love affair with shipping magnate Aristotle Onassis, who jilted her for Jackie Kennedy.
McNally set his play in the early 1970's, basing it on a series of master classes that Callas gave at the Juilliard School of Music. The play is virtually a two-hour monologue, with Callas giving mostly scant attention to the aspiring singers and instead focusing on her philosophy of life and art, and her experiences onstage in her many roles. The play blends comedy and pathos, all spun into the complex psychological tapestry that was Callas.
It is a challenging role, to say the least, but Bermingham is more than up to the task, spewing Italian, French and German phrases mixed in with salty Greek-American slang. Bermingham portrays Callas as a fascinating mixture of high and low culture - at one moment assuming the haughty pose of the diva and, at another, the low-brow broad from the streets of New York. It is this quality that endeared the public to Callas, and that Bermingham captures in all its fascinating complexity.
Director Nielsen brings a deftly light hand to the production, giving it the sparse reality of a rehearsal stage, but at the same time transforming it into the LaScala opera house for a magical memory. Callas' students - Tyler Milliron, Jennifer Shelton and Danielle Skalsky - are more than simply fodder for the diva's diatribes. Milliron is charming and flirtatious as the tenor, Skalsky is lovely as a cluesless soprano and Shelton is dynamite (with a powerhouse voice to boot) as the second soprano. James Lent is a solid and light-hearted accompanist and Jeremy Mascia provides some humorous moments as a hapless stagehand.
Calling all HuffPost superfans!
Sign up for membership to become a founding member and help shape HuffPost's next chapter