THEATER REVIEW: GATZ *** out of ****
Gatz is both the most faithful and the most playfully inventive theatrical adaptation of a book I've ever seen. Running at the Public, this production of the Elevator Repair Service company includes every single word of The Great Gatsby by F. Scott Fitzgerald. While this sounds dutiful and slavish, the show is anything but. (Go here for tickets.)
It's set in a rundown office (late 80s?) with wireless phones and clunky old computers that take forever to boot up. One employee (Scott Shepherd) gets so bored waiting for his computer to turn on that he starts reading The Great Gatsby. Then the fun begins. As the man reads, he naturally takes on the role of Nick, the narrator of most of the novel. Shepherd looks like a younger Damian Lewis and has the same acting clarity. His reading is not rote, exactly, but he's a little shy as office work goes on around him. Sometimes he reads loudly, sometimes he's sheepish, but he keeps on going as other employees walk in and out of the room, stare at him quizzically, ask people to sign this or file that and so on. All these actions are mimed or mumbled so that the only words we hear are Fitzgerald's.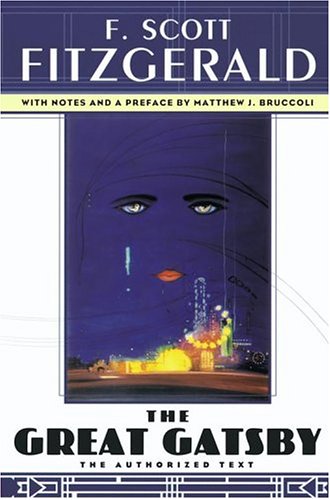 Just when Gatz might seem a staged reading with a little background noise, another employee (the excellent Gary Wilmes) bursts out with a line of dialogue that "Nick" soon realizes is the next line in the book, a line spoken by Tom, the blustery husband of Daisy, who is of course the long-lost love of Gatz aka Jay Gatsby. A bit startled, Nick keeps reading, adding in "he said" or "he exclaimed" as needed while the two of them converse. Suddenly the production blossoms open and during the next six hours (!) the most exciting tension comes not from the story of Gatsby and his doomed passion for Daisy and the American Dream but from the way that story is told.
It's almost impossible to keep track of how many levels this show works on. You have one man reading the text. Then you have coworkers joining in with dialogue of various characters, from Jordan, the pro athlete and romantic dalliance of Nick, to friends and shady types to Gatsby himself. This shades into full-on scenes close to a "real" performance with workers and characters merging, like the raucous afternoon party at a love nest for Tom and his married mistress, in which everyone is drinking and laughing and papers go flying everywhere. But the very next moment that feeling is undercut by another coworker walking into the room and wondering who made all this mess and slowly cleaning it up. At other times, Nick begins doing the voice of a character only to have a coworker step in and take over the role halfway through a scene. By the end of the show, some characters in the novel simply show up and seem to have no role in the office whatsoever.
This all sounds very meta. And it is. But it never distracts for a moment from the story in the novel. Cleverly, it even gooses up the novel at times. For example, a dry passage in which Nick details the many people who have attended Gatsby's parties is enlivened through onstage antics by Nick's fellow employees in the office.
Directed with unflagging invention by John Collins, this is unquestionably a unique theatrical event you'd be sorry to miss. Shepherd holds the stage effortlessly for the entire show, which includes four acts, two intermissions and a dinner break. He's surrounded by a terrific ensemble. As Gatsby, Jim Fletcher certainly doesn't cut the same figure as Robert Redford. But he slowly gains a gravitas that befits the man around which so much revolves. I never quite felt that Victoria Vazquez got a handle on Daisy, but Tom and Gatsby couldn't get a handle on her either, could they? Susie Sokol has a lot of fun as Jordan and virtually everyone else is sharp and memorable in their supporting turns, right down to the sound design of Ben Williams, who is on stage throughout and plays various small roles with aplomb. The simple fact that the sound designer is visible lets us appreciate the subtlety and importance of the work he does, work that plays an unsung role in most shows.
During the dinner break, after three hours of this show in which the ground beneath your feet is always shifting, I was exhilarated. So why only three stars? The final act was a bit of a letdown emotionally. That may simply reflect the deflating end of the novel, which I always felt puttered to a close after the melodramatic plot twists that point to the violent end. Or it may simply reflect six hours in the theater, where the excitement of a new approach to a literary work slowly flags. Shepherd, who is exceptional, stumbled a few brief moments over the words towards the end. Ross Fletcher, who plays the father of Gatsby, seemed out of sync with the role and the rest of the cast and his plaintive, sad turn didn't quite register. Maybe it's just my own prejudice against a novel that never enthralled me (it's not even my favorite Fitzgerald work). Despite these momentary lapses, when the show makes one final twist and Shepherd goes "off book" and simply puts down the novel and delivers the final passages of the work, Gatz regains the surprise of the beginning of the show and finds the emotional core in Fitzgerald's aching farewell.
It would be fascinating to see if other novels could be illuminated and opened up by this approach. Since it works much more interestingly than a gimmick, I imagine it would. Just please, don't tackle Proust.
Calling all HuffPost superfans!
Sign up for membership to become a founding member and help shape HuffPost's next chapter