The central character in Fin Kennedy's How to Disappear Completely and Never Be Found might be a dead man. If nothing else, he's the walking dead. Asleep in a life that probably seemed like a dream in his early youth. A dream that has now become an inescapable nightmare. His name is Charlie (Brad Culver) and his life started on a downhill slide long before we see him for the first time. Like many in his generation, Charlie is an X-er who fully bought into the allure of the worldwide over-achieve/over-consume culture and has ultimately become the victim of the choices he made.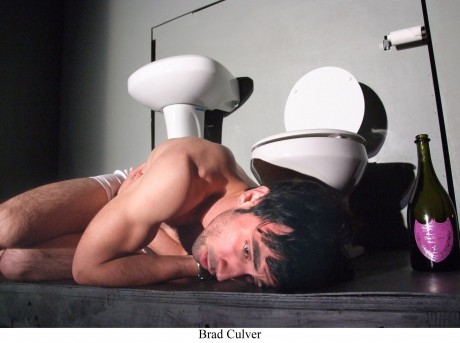 This brilliantly written and deftly directed play currently running at Pasadena's Boston Court Performing Arts Center raises so many important questions about the nature of life in our hyper-technological, modern world that it's impossible to avoid personally experiencing the overwhelmingness Charlie faces throughout.
Charlie, we quickly learn, has been a dead man for a long time. Not only because of his aforementioned life choices, but because of his inadequate response and reaction to stress and crisis. So while he may be a marketing whiz, well-prepared by university and nurtured in his specialty by the corporation to which he gives most of his waking hours, he hasn't been prepared for the life-realities of grief, disappointment, disillusionment, and, maybe most importantly of all, tedium. So Charlie digs himself in deep. Deep into dysfunctional corporate culture, to the point where his very identity is in question. He turns to drugs, he schemes, he cheats, he steals, he gambles, until he gets caught. Then he tries to run away.
It's always tricky to reference a play using words like "profound," "thought-provoking," "insightful," and "disturbing." While these adjectives all elicit great pride in the artists being lauded with them, often a potential audience will balk because theater is and always has been, first and foremost, entertainment. How to Disappear... is all these things, along with intense, confronting, enlightening, and thoroughly entertaining.
First produced in 2007, the world Kennedy presents us with, which was still on a worldwide economic upswing at the time, is terrifying and all too familiar, especially in the post-crash world in which we now find ourselves. His words flow with careful intention and a great deal of humor, which works extremely well to temper the heaviness of Charlie's angst-ridden journey. He paints a cold and often superficial world where self-absorption is the norm, and asks us to wake up with Charlie as he realizes that, while this may be the norm, it most certainly isn't normal. The play opens and we already know it's too late for Charlie, and maybe too late for most of the seemingly soulless characters in his life, but in the end there's still hope. Not for him maybe, but for us.
Given the depth of the writing and difficulty of the themes presented, I can only imagine the task one undertakes when agreeing to direct such a play. Nancy Keystone not only hits every note with precision and perfection, she manages to add great depth to the words with her brilliant use of lighting, music, props, and projection. At times the experience becomes surreal and cinematic. The characters become very real in this environment of unreality. The staging is complex and its intricacy continuously forces the audience to stay out of any sort of usual playgoer comfort zone. Keystone also designed the starkly functional set which comes alive in unexpected ways throughout.
One also can never know the process a group of actors goes through with the director to achieve the seamless balance of performance this play presents. Having been in theater myself for a very long time I can tell you with complete certainty that this group worked very, very hard and the result is the illusion of effortlessness.
Brad Culver's fearless and extraordinary portrayal of Charlie in part works as well as it does because this is a true ensemble piece to which every one of the actors brought their A+ game. Culver constantly puts himself in danger by allowing a level of vulnerability that one rarely sees, even on the live stage. Time Winters (not a typo) beautifully manifests several diverse and often hilarious characters with highly skilled timing and a mastery of accents and dialects to bring every character to life with their own uniqueness. Nick Mills, often the youthful male counterpart to Winter's more "mature" characters, likewise is able to cast off the last incarnation to bring us the next. Valerie Spencer, relegated to playing almost all the women in the play, did so with fantastic skill and some challenging costume changes. Carolyn Ratteray rounds out the ensemble with her sensitive and subtle portrayal of Sophie, the only character in the play who seems to have genuine empathy and care for Charlie. All five actors play off each other with the grace and competence of a ballet troupe.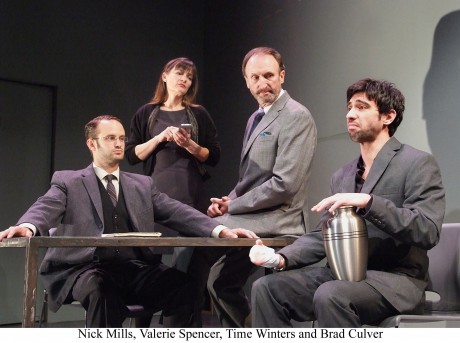 The difficult technical aspects of the play -- lighting, sound, costumes, video, and props -- are all seamlessly and imaginatively integrated to further dimensionalize this multi-dimensional journey.
How to Disappear Completely and Never Be Found plays Thursday through Sunday until May 29 at the Boston Court Performing Arts Center in Pasadena. 626-683-6883.
Calling all HuffPost superfans!
Sign up for membership to become a founding member and help shape HuffPost's next chapter