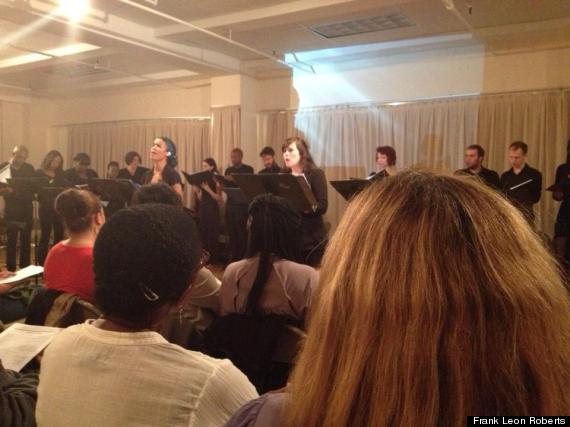 Photo Credit: Frank Leon Roberts
This weekend select audiences in New York were treated to a special workshop reading at Chelsea Studios Soundstage for a new musical that offers an innovative take on a key moment in American and European history. Madame Infamy follows the lives of three extraordinary women who lived during the same historical period but whose stories have never before been told in relationship to one another: Sally Hemings, the slave and scandalous mistress to Thomas Jefferson; Marie Antoinette, the last Queen of France; and Madame Marie Tussaud, the revered 18th century European wax sculptor. Set in Paris, France and Monticello, Virginia in the late 18th century, Infamy suggests that not only did these women lead lives that had striking thematic similarities; it is also quite possible that they were acquaintances.
Produced by J.P. Vigliotti (Concept and Book), Cardozie Jones (Music and Lyrics) and Sean Willis (Music and Lyrics), the musical provides an intimate side-by-side portrait of the lives of Hemings and Antoinette (as narrated by Tussaud). In doing so, the play reveals a fascinating, little-known historical tidbit (fascinating, if only for the sheer serendipity of it all): Hemings lived in Paris as Jefferson's handmaiden (while Jefferson was serving as the U.S. Minister-to-Paris) at the exact same time that Tussaud had been commissioned by the court of Queen Antoinette as wax sculptor for the royal family. Operating from the provocative premise that these three women could have possibly come in contact with each other in this context, the musical offers a creative untangling of their potentially interwoven lives.
The musical is thus a brilliant example of what might be called creative, feminist historiography: it utilizes the genre of theater to add depth and nuance to the interior lives of these important women. The musical is particularly provocative in its treatment of Hemings, a woman whose story has been recounted many times before but whose voice has nonetheless remained absent from most historical scholarship about Jefferson. In a vein somewhat similar to Suzan Lori Park's award-winning play Venus, the musical symbolically allows Hemings to tell her own story.
Pressed against a transatlantic backdrop (in the age of the French revolution and the era of American chattel slavery) Madame Infamy is a soaring musical meditation on enduring tropes such as slavery and freedom; motherhood and matrimony; ideology and individualism; desire and betrayal; family and fame.
The musical -- which is still being workshopped throughout the New York area under the direction of Vigliotti, Jones and Willis -- is slated for a full-scale release in 2014.
REAL LIFE. REAL NEWS. REAL VOICES.
Help us tell more of the stories that matter from voices that too often remain unheard.