Sometimes, a mildly pleasant night at the theater can't quite be recommended. Such is the case, unfortunately, for A.R. Gurney's The Grand Manner, a modest little comedy that serves as an ode to theater in general and Katharine Cornell in particular. It features a marvelous cast, some amusing moments, and just the right setting (the intimate Mitzi E. Newhouse stage) to squeeze maximum enjoyment out of very little play.
The set-up is quite winning. Pete (Bobby Steggert) steps forward to describe his one and only backstage meeting in 1948 with the First Lady of the Theater, Katharine Cornell, who grew up in the same hometown as Pete, the decidedly unglamorous Buffalo. In about four minutes, it's over: he waits for Cornell, she chats with him politely, signs his program and then he leaves.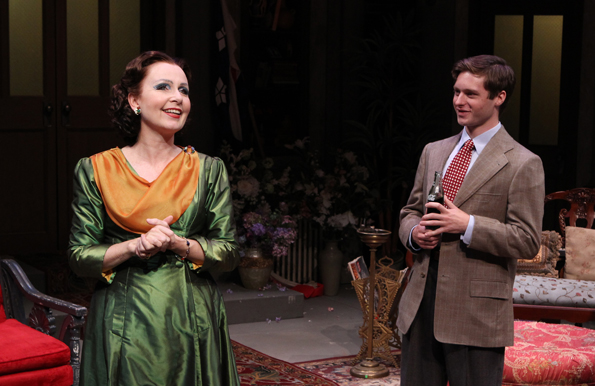 But Pete -- the stand-in for Gurney -- admits the moment had such impact on him, setting the high school student on the road to playwriting, that he can't help embellishing. And it starts all over again, this time with Pete dealing with Cornell's assistant (Brenda Wehle) who is determined to keep the star in a positive frame of mind; Cornell's gay husband (Boyd Gaines), who finds the young man comely enough to offer him a job for the summer that mostly seems to involve skinny-dipping; and Cornell herself (Kate Burton), who agonizes over her performance and feels old hat compared to newcomers like Marlon Brando and yearns to have this boy tell her she still matters.
The set-up seems to cry out for a larger than life presence, an actress who never stops acting and chews up the backstage as easily as she does the scenery onstage. Burton utterly avoids that easy trap. Cornell is just as hungry for praise and affirmation as any star, but she's not an egomaniac, not a monster, not even a lovable one. That sacrifice of easy laughs allows the play to actually seem like a play, rather than a vehicle for grandstanding. Burton is solid. Gaines as always is effortless. And while Wehle seems more like a good friend than the lover of Cornell she is revealed as, Wehle has a sharp intelligence on stage that keeps the smallest of the four roles well defined.
And then there's Steggert. His role is straightforward: the acolyte overwhelmed by his first taste of theater people but someone we must believe will someday take his place alongside them. But simple roles are especially tricky to play, especially when you're playing a nice guy. Steggert is so comfortable onstage we're willingly drawn in to this sliver of a story as if it really mattered. This actor, who can be as complicated and driven as anyone (see his Tony nomination for Ragtime), delivers a performance of winning modesty, which is the only way a play as modest as The Grand Manner could work on any level.
I can't recommend the show, though it might well prove catnip for Lincoln Center's older audience, especially in its current setting. But the chance to see Steggert (next up on Broadway in Yank!) is always welcome.
I'm always fascinated by curtain calls: the endless variations on taking a bow, the attitude of actors ranging from shyness to -- my favorite -- the false modesty of those who love applause best. In this show, I was a bit astonished to see Steggert be the last to come on stage, when one assumed it would be Burton, even though it's clearly his character's story and he is onstage throughout. It was a nice acknowledgment of Steggert's rising profile. And the primacy of the star wasn't completely forgotten: Burton was the last to leave the stage and took one final, grand bow on her own.
NOTE TO READERS: I was provided with house seats to The Grand Manner during previews with the understanding that I would review the show.
Calling all HuffPost superfans!
Sign up for membership to become a founding member and help shape HuffPost's next chapter