The new production of Our Town currently Off Broadway at Barrow Street Theatre might just become the new millennium's Fantasticks -- a show of such solid, enduring values that it can run and run and run. Before I tell you that Helen Hunt is very good, let me tell you that this show doesn't need star casting to draw in audiences.
It opened in February 2009 to rave reviews, thanks to the pitch-perfect cast and director David Cromer's insightful touches. After 17 months, the show is still in good form, despite cast changes and a revolving door of talent like Michael Shannon stepping into the role of the Stage Manager for weeks at a time. (Cromer, who is helming the highly anticipated Yank! A WWII Love Story on Broadway this season, originally played that role.)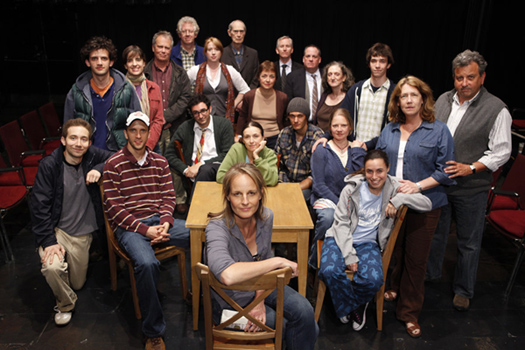 The story is deceptively simple: it's a snapshot of small town life, with a bare-bones set, seemingly casual asides like a "lecture" from a professor about the location's history and a close-up on two young people falling in love and getting married. It's a very easy show to do, but not an easy show to do well. For most of its history, Our Town has relied on whimsy and charm and gentleness in countless high school and community theater productions.
In fact, the play is surprisingly tough-minded and about as sentimental as a slap in the face. From the very beginning we're told when this character dies, how that character attended college but died in WWI and all that education went to waste. The world? It's been around a lot longer than humans. The universe? We're alone in it. After a wedding scene that emphasizes the panic of the bride and groom (too often played for easy laughs), you spend the third act in the graveyard. How could anyone think Our Town is sweet?
Oscar and Emmy winner Helen Hunt fits in perfectly, her no-nonsense demeanor just right for the Stage Manager. She's matter of fact at first, but allows just enough wryness to leaven the play's brutal attitude, allows just enough emotion to color the edges of her lines to soften the blow of the finale. Unlike most productions of Our Town, this one comes much closer to the heart of Thornton Wilder's Pulitzer Prize-winning masterpiece.
The adults are good, with the always wonderful Daniel Marcus in a smaller role as the Professor. But it's the two lovers who have the heaviest burden. James McMenamin is in the shadow of Eric Stoltz's career-making performance in the starry Lincoln Center production from 1989, but does very well as the gangly, uncertain George. And surely Emily is one of the most difficult female roles in the canon. Jennifer Grace is good in this balancing act between tentative young adulthood and terror, though still not quite the Emily of my dreams. As mentioned, the show overall is perhaps not quite as tight as it was a year and a half ago, with the comic relief at the wedding (especially from an hysterical citizen) too broad by half.
But what a punch it still packs. Hunt (who played Emily during that Lincoln Center run back in 1989) keeps the audience on its toes, not allowing anyone to settle back in anticipation of homespun wisdom. And as the lights dim for the third act, everyone is drawn in completely. As usual, the set is bare-bones. But the theatrical coup of presenting Emily's flashback in a realistic set hidden behind a curtain is breathtakingly effective, especially in the small confines of Barrow Street Theatre where the room is so small it almost seems like magic.
If Cromer drops in every once in a while to keep the performances in line and they continue casting Stage Managers as acutely sensitive to the text and the tone of the piece as Hunt, this Our Town can be strongly recommended for a long time to come.
NOTE: I was given two tickets to the current run of Our Town with the understanding that I would be writing a review.
Calling all HuffPost superfans!
Sign up for membership to become a founding member and help shape HuffPost's next chapter