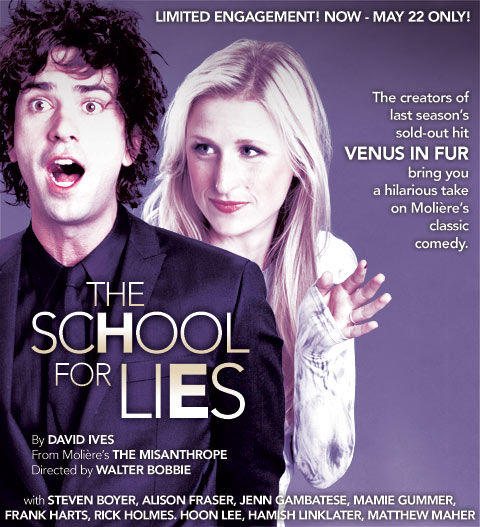 What a treat to reach almost the end of the theatrical season and unexpectedly discover one of its best offerings: The School For Lies at Classic Stage Company (which also scored handsomely this season with an excellent Three Sisters revival). This fresh spin on Moliere's The Misanthrope has it all:
*It confirms the talent of rising stars Mamie Gummer and Hamish Linklater
*it showcases the always amusing Alison Fraser (hot off The Divine Sister)
*It demonstrates what veterans like Scenic Designer John Lee Beatty and Costume Designer William Ivey Long can do with a small space and presumably smaller budget
*It adds another gem to the credits of playwright David Ives
You know you're in good hands the moment you're seated because Beatty's set is so striking. It features a pure white floor pattern that stretches across the stage, up the wall and over half the ceiling. A chandelier hangs dangerously close to the ground. This spare but good-looking set contains one large armoire and one chair. Both serve many purposes: the chair seats one person and then two and gets moved and tossed about here and there while the armoire is a writing desk, a closet, a hiding place and more. And yet the stage is bursting with life because real theater doesn't need more than a handful of props.
Frank (Linklater) is our hero, a man so famed for his distaste for everyone and everything and -- more unusually -- his inability to disguise this fact that everyone is just delighted to make his acquaintance. Which displeases him all the more since everyone in society is so flippant and foppish and downright foolish.
The immediate exception is the beautiful Celimene (Gummer), a woman with the brightest salon in town and a brighter wit even though she is surrounded by toadies. Celimene is being sued for slander (an almost daily occurrence in the world of the play) but this time it might ruin her since letters that seem incriminating have been stolen from her. The usual lies/misunderstandings are spread (Frank believes she loves him; Celimene believes Frank is the bastard son of the King and can use his influence to save her) and soon they are sparring with delicious verve. Here's the great William Ivey Long discussing the strikingly silly costumes he created for this show.
Most truly great comedies are not played for laughs. (The movies of the Marx Brothers are some of the many exceptions to this rule.) That's true in this work by Ives where Frank is ruthlessly despairing over the state of the world and Celimene is genuinely torn between the memory of her late husband (lost at sea years ago and presumed dead) and her respect and growing passion for this mysterious man who despises everything except -- somehow, at moments, against his better judgment -- her.
And yet, for all the pain and genuine emotion at work under the surface, The School For Lies is sparkling fun. A tray of canapes is tossed with hilarious regularity. A bit of buffoonish business between Frank and his friend Philante (a very good Hoon Lee) is the best sort of physical comedy. Celimene's other suitors are a trio of asinine twits, especially Acaste, the self-proclaimed exemplar of stupidity (embodied to perfection by Matthew Maher).
Jenn Gambaste has a tricky part. She's the squeaky clean cousin and ward of Celimene who is desired by Philante but immediately develops a hankering for Frank and pounces on him at the first opportunity. Like most of the cast, she avoids the broad clowning such a part might engender and manages to tread that fine line of taking Philante quite seriously in her desire even as she is rolling around the floor and begging Frank to relieve her of the tedium of virginity. Fraser is still shaking off the German accent she deployed to devastating effect in The Divine Sister but is already sharply funny and will only improve with time as Celimene's most persistent foe. Steven Boyer plays a dual role which provides one of the show's best moments. He's quite funny but should take his cue from the rest of the cast and not play the frustration of the servant Dubois so obviously for laughs. It's a minor caveat on a solid performance. All credit to director Walter Bobbie for keeping everyone on the same page performance-wise and overseeing the production with such first-class verve and style, right down to the Shakespearean tradition of ending with a dance.
It's hard not to let Linklater overshadow Gummer, who it's already easy to take for granted. Linklater delivers a star-making turn here, holding the stage with such fierce and funny conviction you immediately start casting him in this drama and that comedy and wondering if he can sing. He's that good and the deserved star of the night. And yet, time and again, when someone else was holding forth with some hilarious diatribe, I looked at Gummer. At every moment she was self-possessed and deeply aware; just a glance at her and I knew exactly what Celimene was thinking and feeling as well as the emotions she might not even be aware of and the face she hoped to present to the world. She's that good, too.
And David Ives has plenty of garlands already, from All in the Timing to last season's Venus In Furs, which launched Nina Ariadna right onto Broadway and a likely Tony nomination for Best Actress in Born Yesterday. His New Jerusalem remains an unappreciated work of drama of the highest order. And now Ives scores again with disarming ease, employing dialogue brilliant enough to stand the test of time with just a hint of modern slang to jolt you awake with a sudden realization: The School For Lies isn't a revival or merely a new translation of The Misanthrophe, it's a lovingly inspired reshaping of that masterpiece into a thoroughly delightful new form.
THE 2010-2011 THEATER SEASON (ratings on a four star system)
Blood Ties ***
Fellowship * 1/2
Fingers and Toes ** 1/2
Frog Kiss *** 1/2
The Great Unknown ** 1/2
Nighttime Traffic **
Our Country *
PopArt *
Shine! The Horatio Alger Musical ** 1/2
Show Choir **
Tess: The New Musical **
Trav'lin' ***
Without You *** 1/2
Note: Michael Giltz was provided with tickets to this show with the understanding that he would be writing a review.
REAL LIFE. REAL NEWS. REAL VOICES.
Help us tell more of the stories that matter from voices that too often remain unheard.