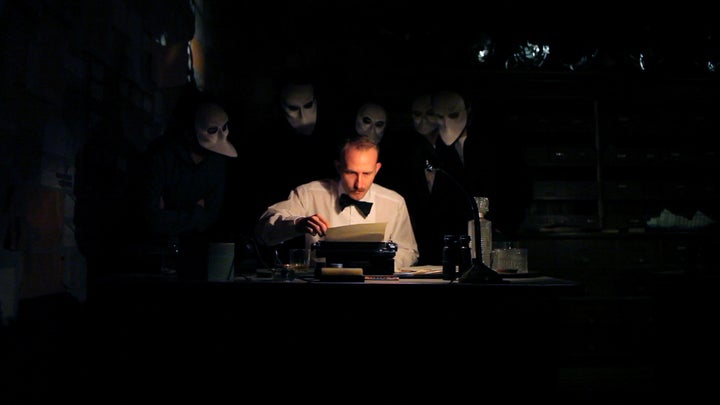 Here's a list of my favorite shows of the year, followed by other highlights, a recap of the year and a brief word on each show.
*Catching return engagements of the operas Nixon In China and Satyagraha at the Met, plus finally seeing Charles Busch's hilarious The Divine Sister.
*Nina Arianda AND Hugh Dancy in Venus In Fur
*The sparkling ensemble of Milk Like Sugar
*The set, music and sound design of Adam Rapp's Hallway Trilogy joined with an exceptional cast
*Andy Mientus bursting with talent in Crazy, Just Like Me at the New York Musical Festival
*Philip Glass's Koyaanasqatsi at Lincoln Center with a full orchestra and the Philip Glass ensemble
*Santino Fontana beginning the year on Broadway as the foppish Algernon in The Importance Of Being Earnest and ending the year as the moving central character in Sons Of The Prophet while doing those hilarious Oscar Wilde riffs on Jersey Shore in his spare time.
*Mary Testa in Queen Of The Mist
*Playwright Paul Rudnick and actress Harriet Harris scorching everyone in sight with laughter in Standing On Ceremony: The Gay Marriage Plays . (Harris was also hilarious in Yeast: The Musical)
*The first act of Parker & Dizzy's Fabulous Journey To The End Of The Rainbow at FringeFest
*Mark Rylance in Jerusalem (I'd give anything to see his return to the Globe in London next summer.)
*Two great sets -- John Lee Beatty's marvelously detailed home for We Live Here and David Zinn's clever, inventive work on The Submission
*Jay Armstrong Johnson in Wild Animals You Should Know
*Ali Hughes of Ali & The Thieves tearing it up in her concert revue Leonard Cohen Koans at FringeFest
2011 RECAP -- THE BEST SHOWS OF THE YEAR
Talking about the best shows of the calendar year feels a bit odd since the theater season runs from the fall through the spring. That's why Tony Awards are held in June. But the calendar is king so it's time for a best of the year wrap-up. I've seen 165 theatrical events this year (including every new show on Broadway), an average of more than three a week. I always make an annual list of my favorite movies (I see hundreds), albums (I listen to hundreds), TV shows and books. But I've never made a list of my favorite theater shows because I've never seen enough of the big events to pass judgment. You can't name the best films of the year if you haven't at least seen The Descendants and Tree Of Life and A Separation. How could you name your favorite shows if you hadn't seen The Book Of Mormon? This year I have. It's a rare privilege and I know it.
First, most people simply couldn't afford to go to that many shows even if they wanted to. Second unless you live in New York City, your options are severely limited in the US, with the rare exception of theater towns like Chicago. Great live theater can (and should) be seen all over the country but New York City and London are still meccas. Third, I get to see the shows in ideal seats. Not since I was on staff (briefly) at New York magazine in the 1990s have I had this much access to theater.
So believe me when I say I know how lucky I am. Thanks to all the publicity firms and shows that accommodated me this year. Thanks to all the artists who put in the hard work to create the shows. It should be clear from my reviews that I like championing a good show much more than ripping apart a bad one. When something doesn't work, it's agony for actors to have to go onstage and face that fact night after night. (I only have to face it once.) Even a spectacle like Spiderman: Turn Off The Dark that clearly has its eyes on being a blockbuster is a labor of love for all involved that means years of hard work. So my negative reviews try to be constructive. I'm no show doctor but if I can encourage the elements that do work and see some way towards making a show better, why not speak up?
1. Sons Of The Prophet -- the best play of the year with the best cast. Stephen Karam is the real deal. I paid to see it when money was tight and it was the happiest purchase I made this year. 2. Once -- a show that seemed a rather iffy idea delivers beautifully; here's hoping they make it even better when transferring it to Broadway 3. Sleep No More -- Punchdrunk's work is always gripping but this immersive extravaganza spin on Macbeth is the most welcome hit of the year 4. The Interminable Suicide Of Gregory Church -- Daniel Kitson's one-man show was my first chance to experience his considerable skill. He returns to St. Ann's Warehouse in January in a new show. Buy your tickets immediately. 5. PigPen Theatre Co.'s The Mountain Song and Nightmare Story -- these guys formed their troupe at Carnegie Mellon. Their shows combine some of my favorite elements -- folk tales, Americana music, puppetry -- into moving, whimsical and charming works that show them bursting with talent and ideas. One played at FringeFest in Manhattan and the other in Brooklyn and I would have gladly gone to the other three boroughs to see them three more times. Can't wait to see what they do next. Word is they'll be coming to Off Broadway in 2012 with a new show. 6. All's Well That Ends Well at the Globe in London -- the Globe is one of my favorite theatrical haunts in the world, thanks to rock bottom prices (five pounds if you can stand in the pit, which happen to be the best seats) and great quality. But this peerless production directed by John Dove and with a matchless cast headed by Ellie Percy was a marvel from top to bottom. 7. The School For Lies -- David Ives had a banner year, but I'd argue this brilliant adaptation of Moliere's The Misanthrope at Classic Stage Company was the peak, thanks to brilliance all around, led by actors Mamie Gummer and Hamish Linklater. Tremendous fun I wish I could see again. 8. Peter and The Starcatcher - People went crazy over the inventive staging of Cymbeline by Theatre For A New Audience, which I enjoyed. But I thought director Roger Rees did an even better, similar job in creating this tale about Peter Pan with the simplest and most pleasing theatrical devices. A winner. Another show I paid to see and thrilled to have done so. It's coming to Broadway in the spring so don't miss out. 9. Three Sisters -- another winner for Classic Stage Company, which had a great year, to say the least. Chekhov is exceptionally hard to get right but this production did it, led by Maggie Gyllenhaal, Juliet Rylance, Jessica Hecht and Peter Sarsgaard with subtle direction by Austin Pendleton. (I'm still heartbroken I missed his musical A Minister's Wife with Bobby Steggert.) No review because I paid to see it, knowing that CSC is one of the safest bets in town. 10. The Book Of Mormon -- yes, it's very funny indeed and for me the show soars emotionally and comedically thanks to Andrew Rannells as Elder Price.
11. How To Succeed In Business Without Really Trying -- Everyone else was gaga over Anything Goes but for my money this was the crowd-pleasing revival of the year. It's a great show with a terrific score and book that needs no "updating." And it was given a sterling production headed by Daniel Radcliffe, who definitely gets the award for Most Improved after Equus. He'll never be a belter but he held the stage with ease and light comedy is right up his alley. This is the show I sent tourists to again and again. Now if only I could see Darren Criss take it over for a month.... 12. Septimus & Clarissa -- an illuminating re-imagining of Virginia Woolf's masterpiece Mrs. Dalloway, this is the best adaptation of Woolf I've ever seen on stage or screen. (Vita & VIrginia ranks alongside it, though that's not strictly based on her work, but her letters.) It's a triumph for star and playwright Ellen McLaughlin and director Rachel Dickstein. 13. Blanche: The Bittersweet Life Of A Wild Prairie Dame -- I walked out of this charming pocket musical based on the life of the creator's grandmother determined to tell people to rush and see this offering at the New York Musical Theatre Festival before it disappeared...only to find out that the final show was just a few hours later. The heartbreak and beauty of live theater (it's there and then it's gone) brought home again. Bittersweet indeed. 14. One Man, Two Guvnors -- this rollicking London comedy has stayed in my mind. I enjoyed the British audience's thunderous appreciation even more than I enjoyed the show itself. It's coming to Broadway in April and promises to be one of the real wild cards of the season. James Corden is going to be the hardest working man on Broadway now that Hugh Jackman is done. 15. Catch Me If You Can -- A real puzzle. Why did so many people dismiss or play down this show, even Tony voters who should have appreciated the craft on display? It made clear that Aaron Tveit is a Broadway star triple threat (four if you count his handsome looks). While the score is not as solid as Hairspray, every other element is top-notch from the terrific book to the smashing sets, costumes, choreography and ensemble. This is how Broadway is done. An ideal sexy show for businessmen who don't like musicals (how often can they see Jersey Boys?), it inexplicably came and went. Too bad. 16. Arcadia -- This revival was also passed over by many but I love Tom Stoppard and it was a treat to see Billy Crudup tackle another role after seeing him in the original Broadway production. A major work from a major playwright presented with care. 17. Follies -- what a curious show. I think this production is the best I've ever seen and it's bursting with great talent and great songs but I still think it could be done even better and the static second act brought further to life. Yet I'd love to see it again before it goes. 18. War Horse -- My favorite show for bragging rights since I could compare the Broadway production to the London version I saw a year or two earlier. Far superior to the Steven Spielberg film and indeed even the book. 19. Hand To God -- A show about a sock puppet possessed by the devil? A fun cast led by an inspired Steven Boyer make it work. But here's hoping they keep working on it to make a fun play that stays in your mind even better before transferring to Off Broadway. 20. Hugh Jackman: Back On Broadway -- I was afraid not to include it. If I didn't, Jackman might just show up at my apartment and perform the entire show in my living room until he'd won me over just like he wins over every single member of the audience every single night. Now let's get him into an honest-to-goodness musical so he can really shine.
THE ENTIRE 2011 THEATER SEASON (INCLUDING SOME CONCERTS)
1. The Importance of Being Earnest (w Brian Bedford) ** 1/2 2. The Interminable Suicide of Gregory Church (Daniel Kitson show) *** 1/2 3. Other Desert Cities (Jon Robin Baitz w Stockard Channing, Stacey Keach) ** 4. John Gabriel Borkman (Alan Rickman, Fiona Shaw, Lindsay Duncan) * 1/2 5. Mavis Staples at Bell House in Brooklyn *** 6. Fitz and the Tantrums at Bowery Ballroom *** 7. The New York Idea ** 8. Blood From A Stone with Ethan Hawke ** 1/2 9. Gruesome Playground Injuries *** 10. The Milk Train Doesn't Stop Here Anymore with Olympia Dukakis * 11. The Road To Qatar * 12. Nixon In China at the Met *** 1/2 13. The Whipping Man w Andre Braugher ** 14. The Hallway Trilogy: Rose *** 15. The Hallway Trilogy: Paraffin *** 16. The Hallway Trilogy: Nursing ** 17. Small Craft Warnings Tennessee Williams revival zero stars 18. The Diary Of A Madman with Geoffrey Rush at BAM *** 19. Timon Of Athens with Richard Thomas at the Public *** 20. The Broadway Musicals Of 1921 at Town Hall w Bobby Steggert *** 21. Nightingale at BAM dir Robert Lepage *** 22. Good People (w Frances McDormand) ** 23. Beautiful Burnout (Frantic Assembly at St. Ann's) ** 24. The Civilians at Joe's Pub w work-in-progress Let Me Ascertain You *** 25. Three Sisters (w Maggie Gyllenhaal, Peter Sarsgaard) *** 1/2 26. Orchestral Manoeuvres In The Dark at Terminal 5 *** 27. The Pogues at Terminal 5 ** 1/2 28. Room (Virgina Woolf piece at Women's Project) *** 29. Priscilla, Queen Of The Desert -- The Musical * 1/2 30. Ghetto Klown (John Leguizamo show) ** 1/2 31. Cactus Flower (revival with Maxwell Caulfield) * 32. Teddy Thompson at City Winery *** 1/2 33. The Dream Of The Burning Boy ** 1/2 34. Double Flasehood (Shakespeare play) ** 35. Macbeth (with John Douglas Thompson) ** 36. Between Worlds/Entre Mundos (w Siudy) * 1/2 37. Arcadia (revival with Billy Crudup) *** 1/2 38. Mike Birbiglia's My Girlfriend's Boyfriend *** 39. Ron Sexsmith at Highline ** 1/2 (voice shaky that night; he's great) 40. How To Succeed In Business Without Really Trying (w Daniel Radcliffe) *** 41. Bengal Tiger At The Baghdad Zoo (w Robin Williams) ** 42. Amadou & Mariam at Cooper Square Hotel ** 1/2 (bad acoustics, hard to see them) 43. Anything Goes (w Sutton Foster) ** 1/2 44. The Divine Sister (w Charles Busch) *** 1/2 45. War Horse (at Lincoln Center) *** 46. Catch Me If You Can (w Aaron Tveit) *** 1/2 production of ** 1/2 musical 47. Sleep No More (PunchDrunk's immersive Macbeth at McKittrick Hotel) *** 1/2 48. Peter and the Starcatcher (dir by Roger Rees) *** 1/2 49. Evans Haile at Etc. Etc. *** 50. The Motherf**ker With The Hat (w Chris Rock) *** 51. Being Harold Pinter at La MaMa ** 1/2 52. kd lang at Le Poisson Rouge *** (would have been **** if she had played a full concert) 53. Wonderland * 54. Jerusalem w Mark Rylance *** 55. Alexandria reading *** 56. Young Jean Lee's We're Gonna Die *** 57. Baby It's You * 58. Die Walkure at the Met w Deborah Voigt *** 59. Born Yesterday revival w Jim Belushi *** 60. The Normal Heart w Joe Mantello *** 61. The House Of Blue Leaves * 1/2 62. Sister Act * 1/2 63. The School For Lies (w Mamie Gummer) *** 1/2 64. Carson McCullers Talks About Love (w Suzanne Vega) * 1/2 65. The People In The Picture (w Donna Murphy) * 66. King Lear at BAM (w Derek Jacobi) *** 67. Pygmalion w Rupert Everett in UK ** 68. Lord Of The Flies (Open Air) * 1/2 69. Operation Greenfield (UK Christian rock band) ** 1/2 70. Much Ado About Nothing (UK Globe) ** 1/2 71. All's Well That Ends Well (UK Globe) **** 72. One Man, Two Guvnors (UK) *** 73. Much Ado About Nothing (UK West End w David Tennant) ** 1/2 74. Ladysmith Black Mambazo (UK) *** 1/2 75. The Cherry Orchard (w Zoe Wannamker) ** 1/2 76. The Book Of Mormon *** 1/2 77. Lysistrata Jones * 1/2 78. The Intelligent Homosexual's Guide To Capitalism and Socialism with a Key To The Scriptures *** 79. The Illusion (Tony Kushner at Signature) * 80. One Arm (Tennessee Williams screenplay) *** 81. Spiderman: Turn Off The Dark * 1/2 82. Broadway By The Year: 1996 (at Town Hall) ** 1/2 83. All's Well That Ends Well/Shakespeare In The Park ** 1/2 84. Unnatural Acts (at CSC) *** 85. Zarkana/Cirque Du Soleil at Radio City Music Hall ** 86. Measure For Measure/Shakespeare In The Park *** 87. Rickie Lee Jones at City Winery ** 1/2 88. Master Class (w Tyne Daly) *** 89. Silence! The Musical ** 90. Hair (revival on Broadway) *** 91. Olive and the Bitter Herbs ** 1/2 92. The Bardy Bunch (FringeFest) ** 93. 2 Burn (FF) * 1/2 94. Parker & Dizzy's Fabulous Journey To The End Of The Rainbow (FF) ** 1/2 95. Civilian (FF) ** 96. Rachel Calof (FF) ** 1/2 97. Walls And Bridges (FF) ** 98. What The Sparrow Said (FF) ** 1/2 99. Hard Travelin' With Woody (FF) *** 100. Romeo & Juliet: Choose Your Own Ending (FF) ** 101. Books On Tape (FF) ** 1/2 102. Paper Cut (FF) *** 103. Leonard Cohen Koans (FF) *** 1/2 104. Yeast Nation (FF) *** 105. Hero: The Musical * 1/2 106. Cymbeline at Barrow St. Theatre *** 107. The Select (The Sun Also Rises) ERS at NYTW ** 1/2 108. Sweet And Sad ** 109. Crane Story ** 110. Septimus & Clarissa *** 1/2 111. Follies *** 1/2 112. Araby (FF) * 113. The Mountain Song *** 1/2 114. Pearl's Gone Blue (FF) *** 115. Lake Water ** 116. The More Loving One (FF) ** 117. Ennio: The Living Paper Cartoon (New York Musical Festival) ** 1/2 118. Newsies at Paper Mill Playhouse ** 119. Kissless (NYMF) * 1/2 120. Crazy, Just Like Me (NYMF) *** 121. Time Between Us (NYMF) * 1/2 122. The Pigeon Boys reading (NYMF) *** 123. Fucking Hipsters (NYMF) ** 124. Ghostlight (NYMF) ** 1/2 125. Cyclops: A Rock Opera (NYMF) * 126. Blanche: The Bittersweet Life of A Wild Prairie Dame (NYMF) *** 1/2 127. We Live Here (Zoe Kazan play) ** 128. The Submission (w Jonathan Groff) ** 129. Jack Perry Is Alive (And Dating) (NYMF) * 1/2 130. The Mountaintop ** 1/2 131. Central Avenue Breakdown (NYMF) ** 1/2 132. Kiki Baby (NYMF) ** 1/2 133. Greenwood (NYMF) * 134. Madame X (NYMF) ** 135. Tut (NYMF) * 1/2 136. Gotta Getta Girl (NYMF staged reading) ** 1/2 137. Richard Serra exhibit at Gagosian ** 1/2 (space not tall and airy enough for piece) 138. The Agony & The Ecstasy Of Steve Jobs (at Public) ** 1/2 139. Man and Boy (w Frank Langella) * 1/2 140. Rumer in concert **** 141. Relatively Speaking * 1/2 142. PigPen's The Nightmare Story *** 1/2 143. Milk Like Sugar *** 144. Love's Labor's Lost (at Public) ** 1/2 145. The Atmosphere Of Memory (w Ellen Burstyn and John Glover) 1/2 * 146. Other Desert Cities (on Broadway w Rachel Griffiths) ** 1/2 147. 69 Degrees South (at BAM) * 1/2 148. Chinglish * 1/2 149. Sons Of The Prophet *** 1/2 150. Queen Of The Mist (w Mary Testa) ** 1/2 151. Godspell (on Broadway) ** 1/2 152. Hand To God *** 153. All-American ** 154. King Lear w Sam Waterston (at Public) ** 155. Satyagraha at Met w English National Opera production **** 156. Venus In Fur w Nina Arianda on Broadway *** 157. Hugh Jackman: Back On Broadway *** 158. Fragments (Beckett plays) *** 159. Standing On Ceremony: The Gay Marriage Plays ** 160. Radio City Christmas Spectacular ** 1/2 161. Private Lives (w Kim Cattrall and Paul Gross) ** 162. Seminar (w Alan Rickman) ** 163. White Christmas (at Paper Mill) *** 164. Wild Animals You Should Know ** 1/2 165. An Evening With Patti Lupone and Mandy Patinkin *** 166. Bonnie & Clyde ** 167. The Cherry Orchard w Diane Wiest and John Turturro at CSC ** 168. The Man Who Came To Dinner (at St. Clement's) ** 169. Misterman w Cillian Murphy (at St. Ann's Warehouse) ** 1/2 170. Once (at New York Theatre Workshop) *** 1/2 171. Maple and Vine ** 172. Krapp's Last Tape w John Hurt at BAM *** 173. Stick Fly ** 174. Titus Andronicus (at Public) * 1/2 175. On A Clear Day You Can See Forever (w Harry Connick Jr.) * 1/2 176. Shlemiel The First ** 1/2 177. Lysistrata Jones on Broadway * 178. Close Up Space *
For a list of every show and a link to their review, go to the alphabetical lists at the end of these two reviews:
Thanks for reading. Michael Giltz is the cohost of Showbiz Sandbox, a weekly pop culture podcast that reveals the industry take on entertainment news of the day and features top journalists and opinion makers as guests. It's available for free on iTunes. Visit Michael Giltz at his website and his daily blog. Download his podcast of celebrity interviews and his radio show, also called Popsurfing and also available for free on iTunes. Link to him on Netflix and gain access to thousands of ratings and reviews.
Note: Michael Giltz was provided with free tickets to most shows with the understanding that he would be writing a review or feature.
Calling all HuffPost superfans!
Sign up for membership to become a founding member and help shape HuffPost's next chapter