Whenever a company produces one of William Shakespeare's lesser plays, you can be forgiven for thinking, "Thank goodness!" Not another Lear right on top of the last one or the umpteenth Midsummer Night's Dream. Yes, let's tackle Titus and see what we can do with it! Unfortunately, then you actually see the play and remember why it is one of Shakespeare's lesser plays.
Whether it's the Julie Taymor film version or the numerous other productions from the past, I've never seen a satisfying Titus. Director Michael Sexton's messy, confused production is sadly no exception. Most of the tech work is indifferent or bad, but the scenery design by Brett J. Banakis is the central conceit. It involves essentially a stack of lumber some four feet high that provides a platform for people to stand on and declaim. OK, interesting enough and as they ceremonially remove the top few pieces of lumber to serve as grave markers for the dead, you can see intriguing possibilities as the stack of lumber shrinks and the bodies proliferate.
But nothing is made of this and in fact it's soon abandoned in a way when they pull out saw horses and use lumber to create other, quite unnecessary platforms in front of the original one. Why? Soon, the stage is littered with lumber tossed here and there, some of them covered with uninteresting drawings (like a sword or a crown or the word "rape") that have no impact whatsoever. One cannot however accuse them of not going for broke. By the end of the show, cast members trudge on stage with buckets of blood, toss them at other actors and then trudge off again, creating an unholy mess and some unintentional laughter. Rarely has the detritus of war been presented so completely.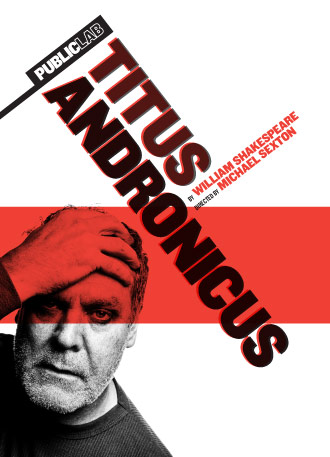 It's all in the service of Titus (Jay O. Sanders), a triumphant warrior who shows no mercy to the Queen of the Goths Tamora (Stephanie Roth Haberle) and then expects her to show mercy to him. Similarly, Titus turns down the love of the people -- who want him as Emperor of Rome -- and throws his weight behind the petulant Saturninus (Jacob Fishel) in a feud and then expects Saturninus to appreciate his loyalty rather than resent Titus for having such power over his fate in the first place. Titus is a better warrior than politician.
Everyone is soon chopping and raping and cooking up everyone else from Titus's daughter Lavinia (Jennifer Ikeda), who is raped by Tamora's boorish sons, to those very same sons being roasted and served up by Titus in revenge. When a play doesn't work, one raises silly questions. To wit, when Lavinia has her arms chopped off and her tongue cut out, why doesn't Titus ask her to simply nod yes or no while he lists the likely villains? ("Is it someone we know? Is it Saturninus? Is it...?")
Again, one lays the blame squarely on Shakespeare but Sexton is all over the map here and fails to deliver a coherent production. The nicest thing one can do is rescue what we can from the gore.
Sanders is a very good actor and delivers a credible Titus, given the circumstances. Titus isn't very interesting, but that isn't his fault and the scene where Sanders moans a death rattle of pain and woe is quite effective. Ikeda as Lavinia acquits herself nicely when she pleads for mercy from her rapists, though she is as lost as everyone else in the later scenes.
Best of all is Ron Cephas Jones as Aaron, a Moor and the lover of Tamora. Aaron is a villain here and Jones doesn't try to soften or explain Aaron's behavior as a balance to the hateful comments of those who despise him. Instead, he relishes creating a full-blooded, complex character that pleases his Queen, maneuvers intelligently when a crisis occurs and does everything in his considerable power to protect his new born child. And he has fun doing it. Even at his most confused, Shakespeare can offer some redeeming element. The same can be said for this roll of the dice production that came up craps on most everything but Jones.
The Theater Season 2011-2012 (on a four star scale)
NEW YORK MUSICAL THEATRE FESTIVAL 2011
Thanks for reading. Michael Giltz is the cohost of Showbiz Sandbox, a weekly pop culture podcast that reveals the industry take on entertainment news of the day and features top journalists and opinion makers as guests. It's available for free on iTunes. Visit Michael Giltz at his website and his daily blog. Download his podcast of celebrity interviews and his radio show, also called Popsurfing and also available for free on iTunes. Link to him on Netflix and gain access to thousands of ratings and reviews.
Note: Michael Giltz was provided with free tickets to these shows with the understanding that he would be writing a review.
Calling all HuffPost superfans!
Sign up for membership to become a founding member and help shape HuffPost's next chapter