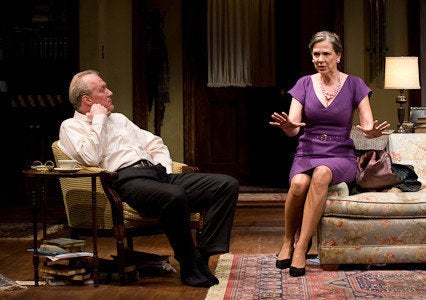 Edward Albee's drama Who's Afraid Of Virginia Woolf? is one of my favorite plays, but I've never seen it performed until now. I know the classic film version starring Elizabeth Taylor and Richard Burton and from what I've heard, every other actress who has played Martha knows it well, too. Taylor's definitive and marvelous scenery chewing made that part a veritable fireworks of stagecraft, full of braying and brawling and enough emoting to make Zero Mostel pause in astonishment.
We all know the story well: a middle-aged couple trapped in a small university invites a new professor and his wife over to their house for a late night drink and some serious gamesmanship. George is a failed novelist and failed husband. Martha is the daughter of the head of the university and a failed wife. Their barbs and recriminations barely pause when strangers arrive and, in fact, the mild new couple are the perfect pawns for these two to wreak havoc on one another. Virginia Woolf is caustic and nasty and above all very very funny. Ahh, how it reminds me of my youth.
The guiding principal of this Steppenwolf production, directed seamlessly by Pam MacKinnon, is to return to the text, avoid grandstanding and shoot for realism. It works very well at letting these characters breathe and come alive again. Tracy Letts and Amy Morton shine from the first moment, with Morton immediately striking the proper note as she conversationally says "What a dump" and asks George what movie that line is from. This isn't going to be a night of pyrotechnics, we sense, it's going to be a night of genuine emotion. Sometimes the show belongs to Martha, sometimes (rarely) it belongs to George. I think here it's a fair battle and both are wounded by the end. Madison Dirks is very good as the new biology professor Nick; he's less of a patsy here than on most occasions. Carrie Coon has the thankless part of Honey, the trickiest role in the show since she's pratfalling comic relief and easy to overdo. By and large, Coon succeeds.
I shouldn't have noticed the sound design by Rob Mlburn & Michael Bodeen, but at a few brief moments, I did. Otherwise, the tech elements are strong, with the book-strewn home by Todd Rosenthal dingy and fitting, with grimy wallpaper revealing missing framed photographs (of the child they never had?) and the second floor subtly pressing down on the people below thanks to a chunky staircase. The costumes by Nan Cibula-Jenkins are nicely drab as well, with Martha given just enough appeal in her second outfit to be convincing as catnip to a young stud rather than just a duty for a man with ambition. The lighting by Allen Lee Hughes is also solid.
Of course it's George and Martha you come for and Letts and Morton don't disappoint. Letts captures the simmering rage and Morton the steely laceration that is directed at herself as much as anyone. The tamped down explosions, the searching for realism do come with a price in this three-hour show. It's dependably funny and striking but runs out of a little steam by the time the finale approaches. The final revelation isn't the shocking end of their emotional world so much as the latest round in the blood sport that is their marriage. It's a crisp revival with a clear purpose that succeeds. But since they don't quite scale the heights, their fall is less powerful as well.
The only reason for this revival of Edmond Rostand's Cyrano seems to have been to bring Douglas Hodge back to Broadway in a good role as soon as possible after he won the Tony for La Cage Aux Folles. That's commendable, but it isn't nearly enough for this romantic drama, which feels amorphous and rather beside the point.
The set is dark and utilitarian, with a bricked wall with arches that starts in the back, moves forward and then moves forward again. The costumes are similarly drab (both are by Soutra Gilmour) and the gloomy lighting is by Japhy Weideman. This leads one to believe that director Jamie Lloyd is going to emphasize a more realistic Cyrano, rather than the flowery romantic, the Cyrano that rejects high honors and patronage and forges his own lonely path in life, nose or no nose. Hints of that continue throughout the show, but it doesn't pay any particular dividends.
The show goes through its paces in a translation by Ranjit Bolt that modestly modernizes the language, though without the ideal balance of wit, charm and drive reached in the Gerard Depardieu film version by Jean-Claude Carriere and director Jean-Paul Rappeneau. Hodge is too talented not to score some hits when fencing with this dialogue, such as the famous "nose" scene. We accept early on that he's going to be speaking quickly at times, so that not every line registers. Sometimes their dialogue is muffled quite a bit in a bid to avoid declaiming. But worse, this Cyrano stands alone with virtually no one to act against.
Kyle Soller plays the dim-witted Christian, the man with whom Roxanne falls in love at first sight, much to the besotted but unattractive Cyrano's bitter disappointment. Cyrano writes love letters for Christian, pouring out his own burning desire for Roxanne, and even gives him voice in the balcony scene in which she believes it is Christian talking rather than our hero. Throughout the show Christian's absurd good looks are referred to again and again by all and sundry, men and women alike. Soller is handsome in real life and a rising star in the UK but he's dressed frumpily and given a tired moustache, all of which conspires to make him look like Orlando Bloom's second cousin twice removed.
Just as unsatisfying is Clemence Poesy as Roxanne. She has a lovely visage but when the chemistry is off and Roxanne is falling head over heels for an uninteresting and not even terribly distracting Christian, the show falls apart. Her demands for him to embroider his love seem petty and tiresome. His thickheadedness isn't endearing as it should be but just dull. Standing to the side is Cyrano who should be lovelorn and heartbroken, but all we can do is wonder why he's wasting his time with either one of them.
A modest saving grace is Patrick Page as the Comte de Guiche. Smarter people than I insisted Page showed his talent as the Green Goblin in Spiderman: Turn Off The Dark. I thought the show was such a disaster that I couldn't enjoy his campy turn there, though in fairness what would you do in that costume in that role in that show? Page received a Drama Desk nomination and was arguably the only person in Spiderman to come out better from the experience.
Here in this Cyrano I can see others were right about him. His voice is commanding and striking, a real stage actor's instrument that he uses to excellent effect. The show isn't good enough to let him truly shine but Page is strong throughout, especially in his late scene where the Comte shows his bravery and towards the end when his compassion and humanity flower. When he and Hodge are on stage together, the story comes ever so briefly to life. I suppose in the end the real romance of the theater is always between the audience and talented actors, even in a production that doesn't serve them well.
THE THEATER SEASON 2012-2013 (on a four star scale)
Thanks for reading. Michael Giltz is the cohost of Showbiz Sandbox, a weekly pop culture podcast that reveals the industry take on entertainment news of the day and features top journalists and opinion makers as guests. It's available for free on iTunes. Visit Michael Giltz at his website and his daily blog. Download his podcast of celebrity interviews and his radio show, also called Popsurfing and also available for free on iTunes. Link to him on Netflix and gain access to thousands of ratings and reviews.
Note: Michael Giltz is provided with free tickets to shows with the understanding that he will be writing a review.
Support HuffPost
The Stakes Have Never Been Higher
Related
Popular in the Community