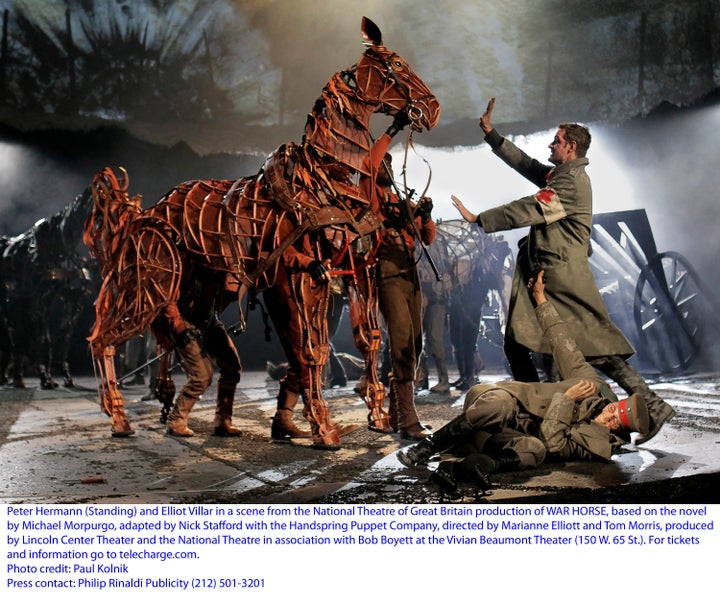 A massive critical and commercial hit in the UK (where I saw it first), War Horse comes to Broadway fully intact. It's a dazzling theatrical achievement that is sure to move audiences here as much as it has in London, where the children's book it is based on (by beloved author Michael Morpurgo) is considered a classic.
Let's be clear at the start: War Horse is an ideal introduction to the theater for young people (think of it as The Lion King with a solid story) but it is not children's theater.
It tells the story of a rough young lad and his love for the horse Joey, but that's really a way in to illuminating the horrors of World War I and war in general. Making the bleakness of battle hit home again is the real achievement of the show. If you would hesitate before showing your child Bambi, then you definitely should not take them to War Horse. Get a babysitter and see it yourself. Mature kids and teenagers will eat it up, even if they cry at the sight of wounded and dead horses (and people, but then audiences often silently watch a hundred men die and then gasp when a horse is caught in barbed wire).
As in the fine novel, Albert (Seth Numrich) is the son of a ne'er do well farmer (Boris McGiver) in rural England, a man who drinks and gambles away the family money. Out of sheer spite against his brother, Billy's dad wastes the rent money on a beautiful steed that will be useless for farming. Albert ends up befriending and caring for the animal, which soon earns its keep in unexpected ways. When the military offers a small fortune for the animal, Billy's dad breaks his word and sells the animal. Distraught, Albert runs away and signs up, stumbling from trench to trench and asking everyone he knows if they've seen his horse Joey.
The show focuses as much on Joey as Albert. Yes, the central character here is a horse, an animal brought fully to life with marvelous puppetry handled by two teams, one for Joey as a foal and one for Joey as an adult.
I love puppetry and this is some of the best work I've ever seen in a major show. Credit goes to Adrian Kohler with Basil Jones for Handspring Puppet Company. When the foal snorts into Billy's face, the audience giggles with delight. That animal is fully alive. Other distinctive moments include the dramatic moment when the foal is replaced onstage by the full-grown war horse that is Joey, not to mention a cavalry charge, scenes of horror, battlefields littered with the corpses of men and animals, and animals whipped and beaten to death as they drag cannons and dying men from one place to another in the ever-present mud.
We follow Joey from his bonding with Albert to the grim world of the trenches, then over to the German side where he is befriended by a horse lover who just wants to slip away with a widowed French woman and her daughter. Will Albert and Joey reunite? The show is so tough-minded you won't be so certain halfway through as you might be when you walk in.
Tonally, this production helmed by Marianne Elliott and Tom Morris is very similar to London, with a few modest changes that make it slightly more obvious and slightly darker. The goose, oddly enough is downplayed. I remember it vividly as amusing comic relief, but its role seems reduced. I believe -- but can't be certain -- that certain scenes featuring both the English and French and/or Germans included more dialogue in native tongues to mirror the confusion they felt. Of course, when the Germans or French are alone, they speak English with accents. Those accents feel less comfortable for this American cast than they did in the UK. Presumably imitating your neighbors is easier than imitating someone far away.
The score by Adrian Sutton is very prominent, almost ever-present, a la a film score. It's often stirring but sometimes seems intrusive. The very effective folk singing woven throughout (with songs by John Tams) works best at the stirring beginning and end, both of which will send chills up your spine. A second viewing hasn't deepened the show for me, unfortunately, but it's unquestionably solid entertainment with superlative technical elements.
It must be the way the part is written because I found the father a bit overplayed here, just like I did in the UK. Otherwise the cast led by the appealing Numrich is solid (with the exception of those accents). But it's the talent that brings Joey to life that is the real star here. (Tpby Sedgwick is the director of movement and horse sequences.) No wonder the young and adult Joey get the final bow and the biggest roar of applause.
THE 2010-2011 THEATER SEASON (ratings on a four star system)
Blood Ties ***
Fellowship * 1/2
Fingers and Toes ** 1/2
Frog Kiss *** 1/2
The Great Unknown ** 1/2
Nighttime Traffic **
Our Country *
PopArt *
Shine! The Horatio Alger Musical ** 1/2
Show Choir **
Tess: The New Musical **
Trav'lin' ***
Without You *** 1/2
Note: Michael Giltz was provided with tickets to this show with the understanding that he would be writing a review.
REAL LIFE. REAL NEWS. REAL VOICES.
Help us tell more of the stories that matter from voices that too often remain unheard.