New figures reveal how the Boko Haram crisis unveiled, starting with a spate of attacks on government buildings in Nigeria in 2009. The militant islamist group is widely considered as the world's deadliest terror organisation, reportedly having killed over 30,000 people after years of waging havoc in Nigeria, Cameroon, Chad and Niger.
Figures from the Armed Conflict Location and Event Data Project (ALCED) gathers reports of attacks from sources such as BBC, The Guardian, Al Jazeera and the Sahara Reporter.
The origins of Boko Haram date back to the 1990's, but most media outlets report 2002 as the year the islamic insurgent group was founded. Mohammed Yusuf led the group until his execution by Nigerian forces in 2009.
It is widely known that Boko Haram leaders are strongly against Western civilisation and education. "Boko Haram leaders, believe that education is not determined by the level of western education. They view education as something you achieve through your background," said David Otto, a counter terrorism specialist who has appeared on BBC News and Al Jazeera.
There are three main Islamic insurgent factions in northern Nigeria, Chad, Cameroon and northern Niger area. Abubakar Shekau leads the Boko Haram movement. "Most of leaders come from the Kanuri tribes," said Otto. "Boko Haram are the most powerful. The most fighters, tactically stronger. They have a charismatic leader and he is feared by everyone. The son of late Mohammed Yusuf, Abu Musab Habi Albarnawi is the leader of the Islamic State of West Africa."
Otto says the third group, Ansaru is based in Cameroon and is controlled by a Cameroonian called Mamman Nur. Its full Arabic name, Jama'atu Ansarul Muslimina Fi Biladis Sudan, means: "Vanguards for the Protection of Muslims in Black Africa".
"They worked hand in hand, but now they've split, so now they are rival groups. Now they are fighting against each other. Shekau was replaced by the Islamic state team. Albarnarwi is seen as the natural leader as he is the son of the movement's founder. Mana Noo considers himself the most experienced and tactful," says Otto. "Shekau has most of the Chibok girls, and also has most of the control within the groups."
The CIA has estimated a fighting force of around 9,000 but Boko Haram published a video in September showing thousands of members praying after Ramadan. Otto says it is likely that Boko Haram still have more than 30,000 members.
How do Boko Haram recruit jihadists?
According to Otto, Boko Haram are able to recruit and thrive as members do not have alternative options. "You have no money, no job, no family - any option that you see which gives you money and a job - is the better option," said Otto. "People are recruited more by the lack of a better option."
Otto says that people in Britain and Europe may have other options, but groups such as the so called Islamic State recruit based on individual options. "If you are anti-establishment, they recruit you through that. If you are anti-discrimination and you are not being integrated into a society, that's how they get them," said Otto.
Otto compares the virtual recruitment of jihadists in Europe to online dating. "It's a blend of strategy, they talk on the internet, they arrange a meeting. They have people that they use to recruit around Europe."
"The Boko Haram recruits have no opportunity to compare their situations. If you walk into a shop and there is only one pair of shoes, you are obliged to take it," said Otto. "Religion is powerful. Many fighters don't know they are considered a terrorist, there is no information. Like Charles Kimble wrote, there is no time when men are more happy to die than when they die in the name of religion."
Timeline of reported Boko Haram attacks. The darker the colour the more fatalities.
The Armed Conflict Location & Event Data Project (ACLED) collects real-time data in Africa using news reports from the BBC, Sahara Reporter, The Guardian, Al Jazeera and more. The ALCED data is used by many of those publications when reporting on Boko Haram.
The Nigerian government has repeatedly announced that is has Boko Haram under control. Earlier this year, President Muhammudu Buhari declared the insurgency "technically defeated." However, attacks as recent as 11th December have led to doubt of the government's claims to success in the battle against Islamic group.
In October 2016, 21 of the kidnapped Chibok girls were released after negotiations between Boko Haram, the Nigerian government and the Red Cross. Further counter attacks led by the Nigerian government have reportedly pushed insurgents from territory they once controlled.
But the scale of hunger and destruction has been revealed; the United Nations warned that 140,000 are at risk of famine in the northeastern areas of Nigeria. 75,000 of them could die from hunger within the next few months. The UN said it's the "greatest crisis on the continent."
Otto is leading a strategy aiming to restore stability and promote dialogue between the jihadists leading Boko Haram and state officials. He claims that now is the best time to advance, following the recent release of 21 of the 276 school girls kidnapped by Boko Haram in the northern Nigerian town of Chibok..
In Boko Haram affected areas, the estimated number of children with malnutrition rose from 149,000 in January 2014 to 195,000 in January 2016.
The United Nations said 400,000 children are at risk of famine in the North-Eastern areas of Nigeria. 75,000 of them could die from hunger within the next few months.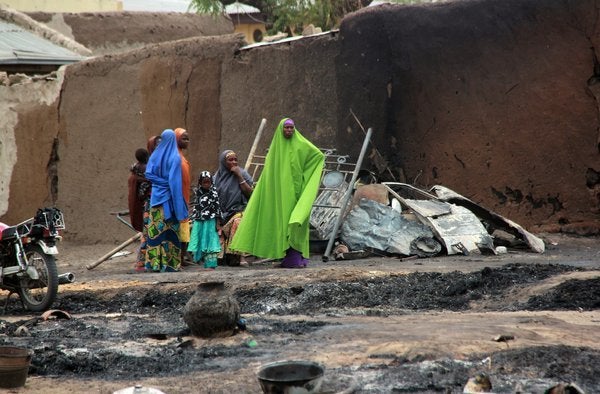 Calling all HuffPost superfans!
Sign up for membership to become a founding member and help shape HuffPost's next chapter