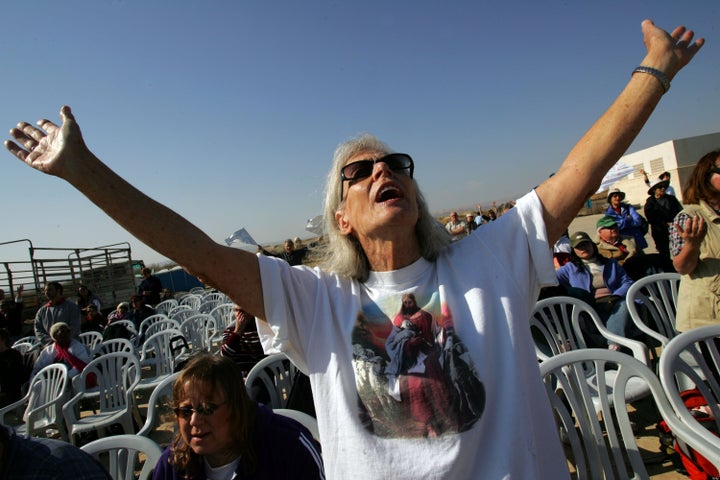 The situation in Uganda, where the anti-homosexuality "Kill the Gays" Bill still thrives, continues to deteriorate as news now comes of more radical and dangerous American Evangelicals going into the heated atmosphere of anti-gay hate to hold a huge homophobic rally.
Lou Engle, a radically anti-gay and anti-abortion evangelical, is scheduled to hold an all-day anti-gay stadium event, TheCall Uganda Rally, on May 2nd, at Makerere University Sports Field, Kampala, Uganda. If both Engle and TheCall sound familiar, it's because a similar event, a 12-hour rally to boost support for Yes on 8, was held in San Diego's Qualcomm stadium during the Prop 8 battle in California.
A major figure in the New Apostolic Reformation that I've been writing about, Engle has close ties with the violent anti-abortion movement called The Army of God, who stirred up such a frenzied atmosphere of attacks on abortion clinics that they finally incited someone to assassinate the well-known doctor George Tiller.

His own movement also calls for acts of "martyrdom" -- meaning followers who are willing to commit violent acts, including murder, who will willingly go to prison or be shot down by police, so they can rid the world of the movement's "enemies," namely prominent abortionists and LGBT leaders and the like.
Now Engle is taking that dangerous message and rhetoric to Uganda, already a powder keg of hate and violence against Lesbian, Gay, Bisexual, and Transgender people.
The Danger of TheCall Uganda & Lou Engle
The web site for "TheCall Uganda" announces the stadium rally and encourages those attending to fast for twenty-one days before the massive rally in Kampala. Their goals are to fight against:
Witchcraft and human sacrifice
Homosexuality and increased immorality
Disasters and the resultant suffering of the people
The decay of morals and infrastructure of our city Kampala
With the Anti-Homosexuality Bill under consideration, "TheCall: Uganda" threatens to export homophobia at a time when it could have deadly consequences. Threats and violence against LGBT people are already increasing. Many have had their photos in Ugandan newspapers with headlines describing them as "Top Homos."

Frank Mugisha, president Sexual Minorities of Uganda, said, "Gay people are already fleeing their homes and have to move from house to house because of threats to their lives. Americans need to stop Lou Engle from coming to Uganda."
An American Evangelical History of Anti-Gay Rhetoric in Uganda
Lou Engle is just the latest American Evangelical to go to Uganda. ABC Nightline News has a good piece on the Ugandan "Kill the Gays" Bill and the direct connection to the rabid anti-gay movement in the US. Three evangelicals from the United States - Scott Lively, Caleb Lee Brundidge, and Don Schmierer - held a three-day conference on homosexuality in Kampala, Uganda, in March 2009.ABC focuses on Scott Lively- professional gay-hater, holocaust revisionist, and recognized hate group leader from the US who has traveled to Uganda to whip up anti-gay animus in the country, leading to the "anti-homosexuality" bill. Video of Lively at this conference shows him saying gay people were behind the Nazi holocaust and labeling all gay people as child molesters.
Now Engle is going to Uganda. Engle's encouraging of followers to be martyrs for their faith and telling them to cast out "homosexual spirits" will only inflame the seeds of hate and violence already sown by other American Evangelicals and their Ugandan allies.
Engle's message is condemnation, judgment and exorcism. Lou Engle has said:
The most "dangerous terrorist" is not Islam but God. One of God's names is the avenger of blood. Have you worshipped that God yet."
It's not hard to see the danger in a man like Engle exporting his violent rhetoric to Uganda.
We Need to Stop TheCall Uganda
LGBT faith leaders in the United States are calling for bloggers and other media to expose an upcoming anti-gay TheCall Uganda.
Rev. Patricia Ackerman of the Unitarian Universalist United Nations Office said:
Only a public outcry will be able to stop TheCall from exporting more hate from the United States to Uganda in the name of religion.
The "Kill-the-Gays" Bill and the growing danger for LGBT people in Uganda isn't going away.
We have to keep on it, keep the pressure on, and keep shining a light on the people behind it, whether they be porn & hate peddling pastors in Uganda like Martin Ssempa or the anti-LGBT religious forces supporting them from the United States like Lou Engle.
(Crossposted from my home blog, Bilerico Project. Come visit me there to see why both the Washington Post and the Advocate magazine named us one of the top 10 LGBT political blogs in the nation.)
Popular in the Community