Have you ever met a person and thought, I have for sure already met this person in a past life or, if you don't believe in past lives, I was for sure meant to meet this person in this life? This is what it felt like when I met my extremely dear friend Justin Baldoni and his wife Emily Baldoni. It felt like I had been reunited with family members that I hadn't seen for a long time. These extraordinary people live their lives doing incredible things for the world just because. Justin and I could probably be fraternal twins, and if you haven't seen his documentary My Last Days, or his show Jane the Virgin, you should; but that's beside the point.
He recently sent me an email about an extraordinary experience he is working on for the homeless. It all started 8 years ago when Justin decided to celebrate his birthday by connecting with the homeless living in downtown LA. He knew he couldn't make a dent or effect any real change to the homeless epidemic by just rallying friends for a day and passing out some food or clothing. But he thought if he could simply connect, learn their names, and listen; then maybe him and his friends could at least remind them, they haven't been forgotten. Maybe they could even make them feel like it was their birthday. Year after year, more friends wanted to join and eventually his friend Alex Cornejo and the team at the Union Rescue Mission gave him their parking lot to invite more people.
The next natural step, (to some it may seem like a crazy idea), was for Justin and his friends to throw a carnival. Since carnivals exist to bring joy and provide a break for people, as well as an opportunity to connect with their community, Justin thought why shouldn't we provide a massively underserved population an experience that is so often looked at as a luxury?
Shouldn't happiness and connection be an experience that we provide to everyone on earth, particularly those who most likely need a break from their current reality? So, Justin and his friends created The 1st annual #weloveyouskidrow "Carnival of Love" which had 300 + Volunteers, 800+ homeless attendees, a live DJ, food / ice creams trucks, a rock Climbing Wall, a bounce house, face painting, photo booths, hair cuts, a feet washing station, tons of clothing, pet grooming and more. This carnival wasn't about selling anything to anyone, it wasn't promoting a charity, or religion or political agenda, it was about one thing; unconditional love; and that's really what the Baldonis stand for.
This year's carnival will be held on Saturday Jan 23rd from 12-3pm. They are permitting the ENTIRE STREET and will be using the huge parking lot of the URM as their base camp. I highly recommend you 1) watch this video, and 2) attend this experience. There are so few things in life that allow for us to just be present with the people around us, and remind us of all of the things we should be grateful for. When you watch this very short and poignant video, you will see why I was inspired to write this article. Something Justin said stood out to me; when referring to the homeless attendees, he said "their current situation is not their final destination." Isn't that life? Wouldn't you want to be more than a circumstance, a situation, a place? These individuals are not their current scenarios, and they just need a little love to remind them of that.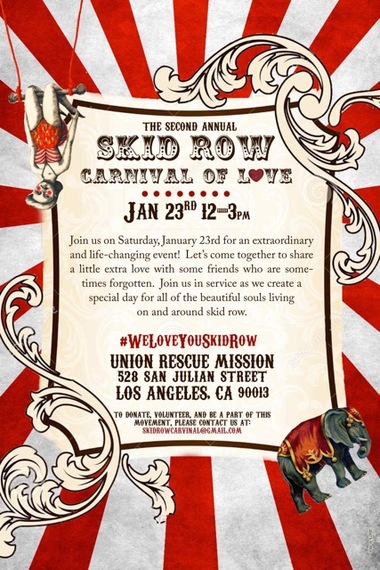 REAL LIFE. REAL NEWS. REAL VOICES.
Help us tell more of the stories that matter from voices that too often remain unheard.