Two massive earthquakes ravaged Nepal within 17 days of each other last year, killing 9,000 people and demolishing at least half a million homes. The quakes also destroyed some 35,000 classrooms, leaving almost 1 million children without access to education.
Nepal is slowly picking up the pieces, and its children are still struggling to go to school. A new video, which global children's charity Theirworld shot in February and released Thursday, shows the country's shoddy makeshift schools and the treacherous journeys that children undertake to get to them.
The film crew visited some regions hit hardest by the earthquakes, including capital city Kathmandu, the ancient city of Bhaktapur and a remote mountainous area called Sindhupalchok.
Children who don't go to school for extended periods of time are more likely than others to be exposed to dangerous circumstances like child labor and trafficking, particularly in developing countries like Nepal, Theirworld's senior campaigns and communications manager Claire Wilkinson told The WorldPost.
Watch Theirworld's video above. It is best viewed on a mobile device, and you can explore the video in 360 degrees by tilting your device or by swiping the screen with your mouse or finger.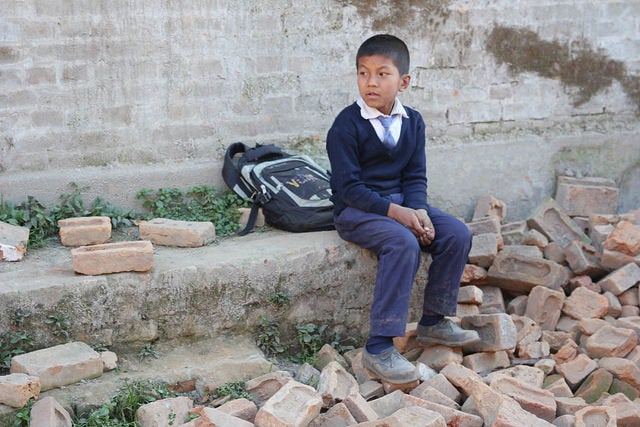 Although international donors pledged $4.1 billion to Nepal last spring, the earthquake-prone country has been slow to allocate the funds. Reconstruction efforts have only just begun in many areas, Reuters noted Wednesday.
While global volunteer groups and nongovernmental organizations have constructed temporary learning centers to help some kids get an education, not a single school has been rebuilt in the country, Wilkinson said. Only 30 percent of the children forced out of school have been able to return so far, she added.
The makeshift learning centers typically have chairs and tables underneath a shelter made of tin, bamboo or tarpaulin, and are vulnerable to wind and rain, Wilkinson noted. Tin structures are particularly susceptible to the elements, as the classrooms can grow incredibly hot or cold depending on the weather.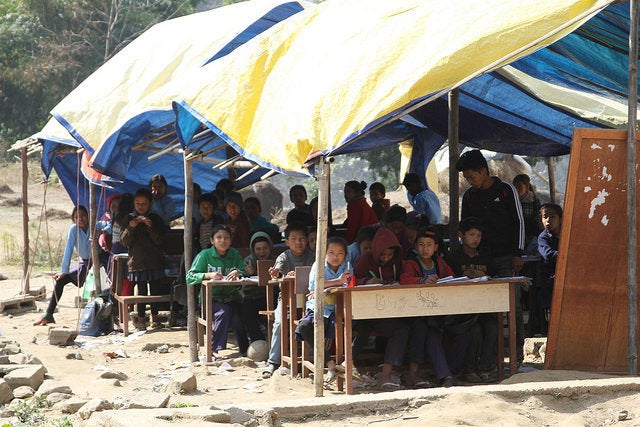 Last year's quakes destroyed numerous schools and roads, leaving children to endure long, often dangerous journeys to the nearest learning center -- frequently without adult supervision.
The video shows a group of schoolchildren crossing a river in the Dhading district. They use a metal crate suspended by two wires, which Wilkinson explained serves as a makeshift cable car or school bus service. The contraption typically stops moving halfway across the river, and two people, often children, have to climb on top of the wire and push the cart to the opposite side, she said.
This perilous wire crossing is a common journey for many people in Nepal. Some wire crossings don't even have crates in place, meaning commuters have to use their bare hands to pull themselves across the wires -- a trip that has led some people to lose their fingers or lives. Nepali Prime Minister Prasad Sharma Oli announced a plan in October to replace all of the country's wire crossings within two years, but only one had been replaced with a suspension bridge as of February, according to The Telegraph.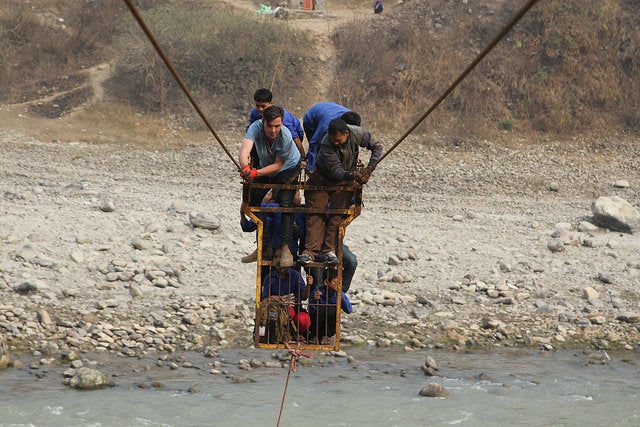 Despite the tragedy and difficulties, the country's children remain resilient and determined to go to school.
"Children themselves are desperate to be in a school," Wilkinson said. "They are all walking distances, six hours a day, to get to a school. That is absolute determination because they want to have the chance to rebuild their own lives and have a better future."
The video is part of Theirworld's #SafeSchools campaign, which calls on world leaders to create a fund to help send children back to school after natural and humanitarian disasters. The charity also invites viewers to sign their petition asking world leaders attending next month's World Humanitarian Summit for help.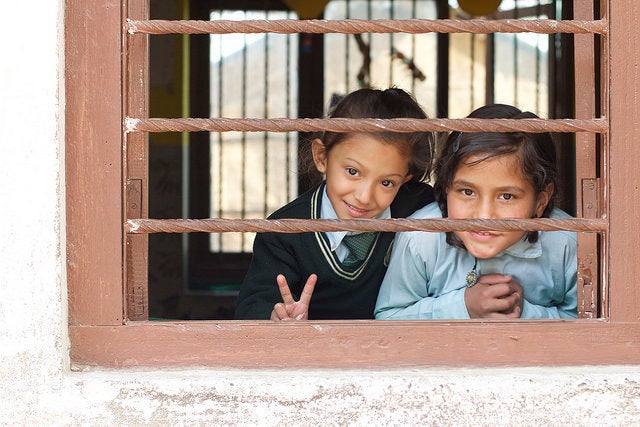 Read more:
Popular in the Community