The Merchandise Mart has been a landmark hub of workplace design for many years. And if one thing was obvious at NeoCon 2016, it's that Chicago's Merchandise Mart is positioning itself to be a building at the forefront of workplace design for years to come. With the show Vornado Realty Trust, owner of the theMART, unveiled transformative architectural renovations. The creative force behind these changes is New York-based architecture, design and strategy firm A+I, cofounded by Brad Zizmor and Dag Folger.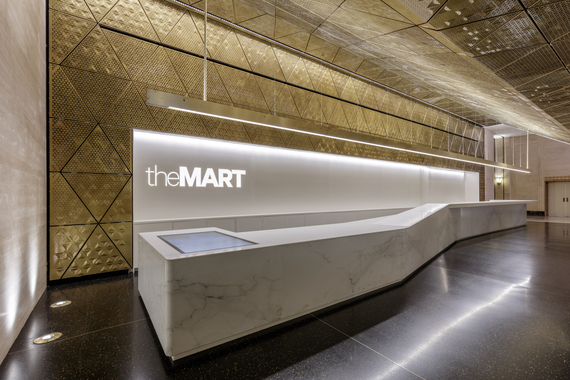 Founded in 1996, A+I has grown to be an internationally renowned practice of architecture, strategy and design, but perhaps what is most unique is a prominent focus on design research. Peter Knutson, Director of Strategy says, "We don't believe in 'build it and they will come.' We think about building it, talk about building it, design it, think some more, build it, and THEN they will come - because we got it right."
Ownership of theMART has supported this iterative, well-researched approach. Through grassroots initiatives, A+I solicited (and continues to solicit) great feedback from tenants and visitors that shapes designs before they are built. The enhancements and changes are prototyped in full before they are built in an effort to gain insight from users of the space. Last year at NeoCon 2015, what is now known as 'The Grand Stair' was created in a 1-1 mock up with 790 silver Christmas ornaments. This gave visitors a clear impression of the scale of the space that eventually would be there. The park out front is another good example. A small park was originally built. As feedback has come back, it already has been expanded, and there are many more inspirational ideas on future expansion.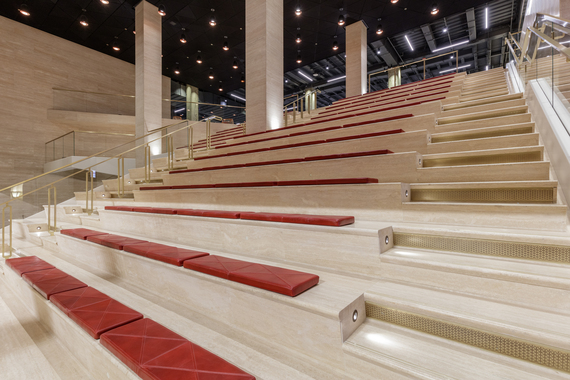 Brad Zizmor, Co-Founder of A+I, describes the firm's unique approach: "We have been spending 20 years innovating in the workplace. What has been happening inside office lease holds has been transformative with teleworking, a move to openoffice, and other innovations, however the buildings that house these forward-thinking tenants have been woefully left behind. We have an increasing number of building owners coming to us to create public spaces that, for lack of a better word, 'catch up.' We are at the forefront of this 'catch up' as our interest is in improving the office space beyond the walls of the office." Dag Folger, Co-Founder of A+I, adds "Because of the sheer size, the relative cost of the recent upgrades in relationship to the total number of leaseholds is reasonable. We saw this project as a huge opportunity for proof of concept for our focus on these public spaces. With 4.2 million-square-feet of space, theMART could afford to try it... and they weren't wrong!"
What's Changing?
Highlights of the $40M project (to date) include a new park along River Drive, theMART's entry drive overlooking the Chicago River, interior renovation of 27 elevators, new wayfinding, and the full renovation of the Food Hall (formerly known as the food court), and the pinnacle: The Grand Stair, theMART's new portal, featuring The Lounge at the Top of the Stairs, and new Reception below. The Grand Stair spans 5,600 square feet, covered with 300 slabs of classic Roman Travertine stone. While beautiful, it's also interesting to know that it's not just the first impression, but the behavior that A+I in partnership with Vornado is looking to change.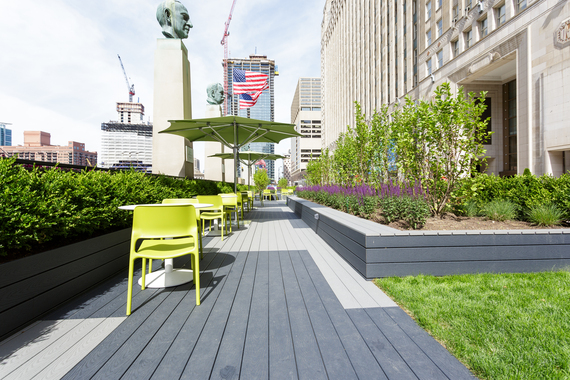 Zizmor says, "From the beginning, the original research phase, we sat and watched the building work. It has been an intense exercise in listening and responding back to the tenants. Tenants would walk into a marble or travertine hallway and realize immediately it wasn't speaking to them or their company's brand. A spicket of commuters who come off the L into that building would leave as quickly as possible through a fire stair. The building was not communicating with them, either." This project is an adventure in designing public space that is functional for commuters, tenants and show spaces alike. theMART is already a huge tech hub and the contract furniture epicenter, but could it be more? Zizmor continues, "The ownership of theMART has challenged us to reinvent the future without forgetting the past. It is up to us to figure out how to continually reinvent another extremely successful community."
What's Driving the Changes?
Anyone who has spent multiple years in the contract interiors industry can attest that theMART is a key component to the contract interiors industry; creating a uniquely tight-knit culture for designers, dealers and manufacturers in Chicago. But far beyond the Midwest, many tour groups fly clients in to Chicago because of this one central location. Folger says, "A whole generation of furniture companies have been built at theMART. Chicago became the single most important place to do one-stop shopping for strategic launch practices with a breadth of furniture companies within the workplace interiors industry. That's incredibly powerful."
While theMART was 60 percent showrooms and 40 percent tenants just three short years ago, now these statistics have flipped, but rest assured that theMART is not looking to unseat showroom tenants. Aaron Whitney, Senior Associate at A+I, says, "Events like NeoCon and others that create reoccurring community connections are really important in a showroom building. They create more buzz and connectivity. This is healthy for a community. Just like any city with music/art festivals. Showroom business is a natural generator."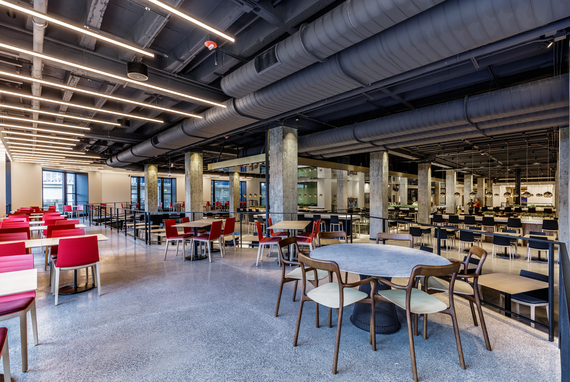 Zizmor adds, "One of the major drivers of these changes is that buildings now, by necessity, need to design in 'third places.' As we lose privacy in open-office settings, many people find themselves in stairways to make phone calls. We see the spaces we create as a way to find privacy in public spaces. It's like hiding in plain sight." Zizmor continues, "As this personal, private office within the leasehold is disappearing, attention needs to be paid to the lobbies and public spaces of the office building. These are being challenged by providing anonymity and room for free thinking."
What is to Come for the Mart?
Vornado already has said this is just the beginning. Upcoming renovations include more changes around the food hall, enhancements to the lounge at the top of the stairs, and more new programming put into place this summer. Peter Knutson, Director of Strategy, says, "We will be creating even more spaces for workplace lifestyle amenities and programming including activities such as: yoga, watching the view in lobby, meeting space outside of the office, or even playing shuffleboard and bags. This is just the beginning of what could be."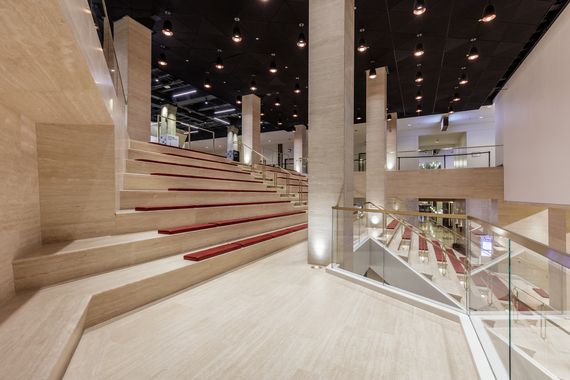 Zizmor closes us with this thought: "As far as the future goes, there is a huge opportunity. It already has been an incredible experiment on how forward-thinking office buildings can function in the future. All indications indicate that Vornado is more energized than ever to continue this research and reimagine these public spaces to see what's possible for the knowledge worker economy." It will be fun to watch - and possibly shape with our feedback - just how profoundly architectural changes can instigate changes in human behavior.

A special congrats to the team involved in this project:
Brad Zizmor, Founding Principal
Dag Folger, Founding Principal
Aaron Whitney, Senior AssociateStrategy: Peter Knutson & Ashley Bryan
Project Managers: Paul Privitera & Tom Zook
Design Team: Alexis Coir, Debbie Chen, Bernard Peng, Marielle Vargas, Matt Deluca, Kyle Digby
Architect of Record: Valerio Dewalt Train Associates
About the author: Amanda Schneider is a trends researcher, blogger for the Huffington Post, and the founder of Contract Consulting Group www.contractconsultinggroup.com, a consulting practice serving the Contract Interiors Industry focused on business strategy, market research and marketing content development.

REAL LIFE. REAL NEWS. REAL VOICES.
Help us tell more of the stories that matter from voices that too often remain unheard.