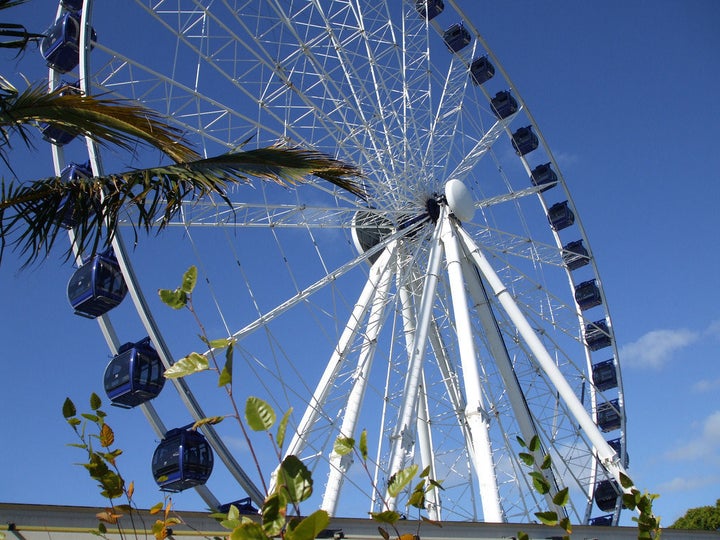 brings families and marine life together. The park maintains a large number of aquatic animals such as penguins, dolphins and Hudson and Nelson, the orphaned polar bear cubs. Inside the park, enjoy rides, shows and animal encounters.
is the new $6 million attraction in Sea World Australia. The Sky Fortress is a five-level play structure for children of all ages. Battle Boats is a water ride with more than 80 water guns.
The
is a roller coaster designed to mimic a Jet Ski trip at speeds up to 70 mph. Sit back and watch "
," a swashbuckling pirate show. Watch penguins above and below the water in Sea World's
It is the only place in Australia that includes Gentoo, King and Fairy penguins.
The Dockside Tavern, Plaza Food Court and Top Terrace Food Court all serve burgers, chicken and, of course, fish and chips. Sweet Treats serves cookies, doughnuts and pastries. The Colonial Ice Cream Parlour serves a wide variety of ice cream flavors, both simple chocolate and vanilla and more exotic flavors such as boysenberry.
reported that a Jet Ski jumped out of the water and into the audience during a show at Sea World Australia in 2003. In October 2010, the
reported that a killer whale died suddenly, leading to protests against large marine mammal captivity.
takes riders from 0 to 62 mph in less than two seconds. The entire ride is a show and a roller coaster. Riders start on a subway then experience an earthquake that threatens the world. Superman arrives, diverting riders to a vertical lift that starts the roller coaster experience.
For a spookier ride, try the
. This indoor roller coaster is inspired by the Scooby-Doo film. For a unique roller coaster experience, try
This coaster takes you upside-down as your car is suspended from above. Based on the movie of the same name,
takes the audience on an adventure as an expedition to Iceland leads to a world far below the center of the earth.
Rick's Cafe American, Gotham City Cafe, Outback BBQ and Wiki West Burgers all serve full meals of burgers, salads, hot dogs and sausage. Santa Fe, Sweet Treats and Ben & Jerry's serve pastries, ice cream and frozen drinks. The Stars Cafe and Dirty Harry's serve ale, alcoholic and non-alcoholic beverages.
Our research revealed no notable news reports of accidents or safety issues at Movie World.