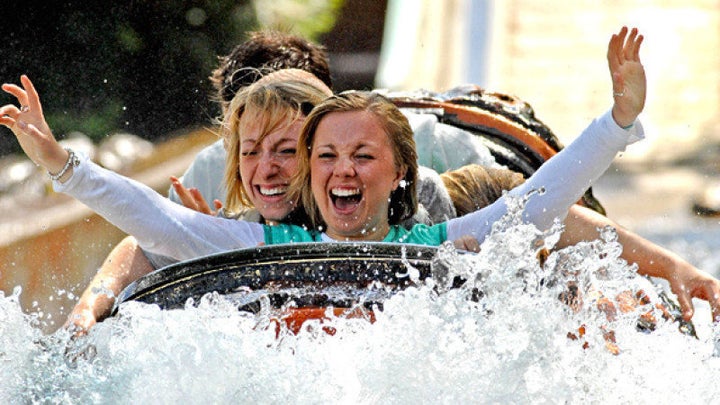 The United Kingdom's Thorpe Park is conveniently situated just outside London. Notable attractions include Saw, a horror-movie-themed coaster and Stealth, one of Europe's fastest-moving roller coasters. Those seeking a water adventure will enjoy both Neptune's Kingdom and Canada Creek.
is the world's first roller coaster that takes passengers through 10 dizzying loops. According to Themeparks-UK, it reaches speeds of 45 mph and lasts 1 minute, 32 seconds.
Thorpe Park is divided into
. Amity Cove is a "fishing village" that provides tidal waves and other water rides while Calypso Quay is Caribbean-inspired and Canada Creek provides water rides. Lost City is a thrill-seeker's paradise, Neptune's Kingdom is wet-and-wild and exotic Ranger County is carnival themed. Saw Island is inspired by the horror-flick series.
Both sit-down restaurants and grab-and-go food is available. Options include Mexican, American, barbecue, asian, cafe fare and traditional UK meals like fish and chips.
Reported accidents involving injury at Thorpe Park are uncommon but like any theme park, they do occur. According to the
, the most serious incident involved a brain injury suffered by a boy riding on the No Way Out ride. Another rider claimed to have suffered whiplash on Saw -- The Ride.
One of the most notable rides is
, a ride that swoops passengers over rivers of blood and rock and reaches G-forces greater than a space shuttle launch.
Because Alton Towers was built around a
, it provides a one-of-a-kind entertainment and educational experience. The park contains 11 themed areas and country-specific attractions like the Towers and Gardens.
Guests can enjoy a variety of restaurants throughout the theme park, including grilled food, American, pizza, barbecue and traditional UK meals like fish and chips.
Recent incidents include the runaway mine train going off the tracks and resulting in 29 injured passengers, according to the
. Also, a man dislocated his shoulder when he raised his arms on the Queen of Speed.