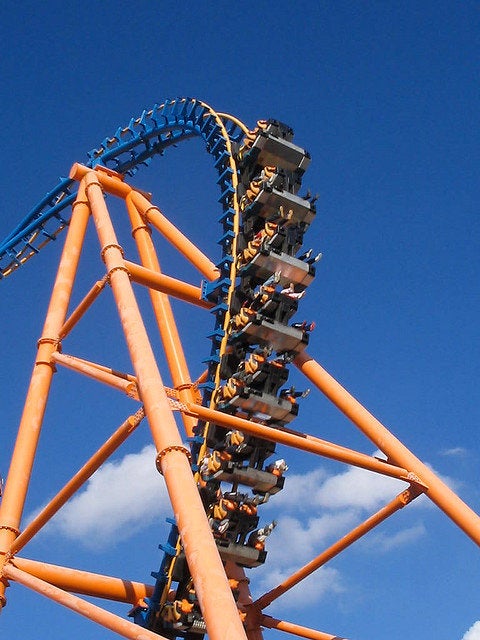 Part of the U.S.-based Warner Brothers family of theme parks,
has rides and attractions based on this famous entertainment company's many characters, movies and television shows. The park has five thematic areas with shows for adults and children, as well as shopping and dining. New attractions include a Yogi Bear wet ride and a family roller coaster, Correcaminos Bip Bip.
ACME Factory Tour, a 425-meter (1,394 feet) rapids water ride, is a family favorite. For six minutes of splashing wet fun, riders will be chased by the Tasmanian Devil and encounter various Warner Brothers' characters along the way.
Visitors will encounter many characters in the Cartoon Village of Parque Warner, where a visit to Bugs Bunny's house makes a great photo opportunity. There's a 3D Chinese Theater on the park's version of Hollywood Boulevard where visitors can enjoy live performances like Hairspray. The park is home to plenty of thrill rides with comic book themes such as Superman and Batman.
You'll think you jumped right into a movie when encountering some of the many themed eateries in every area of Parque Warner. Gotham City Grill has park classics like hamburgers and chicken fingers, while Daily Planet serves pizzas and sandwiches. There's also the Penguin when you're ready for wickedly sweet milkshakes, waffles and ice cream.
Adults, 39 euros ($56); children under 140 cm (55") are 30 euros ($43); seniors over 60, 30 euros ($43) and disabled, 20 euros ($29). There are discounts after 4 p.m. Check
for online discounts. There is also an 8 euros ($11) charge for car parking.
Our research revealed no notable news reports of accidents or safety issues at Parque Warner.
not only has an
with rides and shows, but it also has an
. There are plenty of options for
and
as well as a Wild West resort for accommodating overnight stays. The park also hosts special holiday events throughout the year.
The
, located in the
section of the park, is a thrill ride named after a Mayan god. It is one of the tallest rides in PortAventura and includes a 100-meter (328 foot) free fall.
has
for all ages and thrill-seeking levels in each of its five internationally- themed areas. The rides and shows at
(Sesame Adventure) feature the cast of the popular
children's show. There are music, variety and family
as well as plenty of
.
PortAventura has various à la carte and self-service restaurants, and stands for snacks, tapas, juices and ice creams.
A one-day PortAventura Park pass for adults ages 11-59 is 44 euros ($63); juniors ages 4 to 10 and seniors 60 and over, 36 euros ($51); disabled visitors 22 euros ($31) and children 3 and under, free. A one-day Aquatic Park pass for adults is 24 euros ($34); juniors or seniors, 19 euros ($27); disabled visitors, 12 euros ($17) and children 3 and under, free. Check
for details and online promotions for special rates for multiple days.
While accidents at PortAventura are infrequent, incidents do occur. In May 2009, an employee performing maintenance work was run over and killed by a roller coaster, according to ThinkSpain.