TED and The Huffington Post are excited to bring you TEDWeekends, a curated weekend program that introduces a powerful "idea worth spreading" every Friday, anchored in an exceptional TEDTalk. This week's TEDTalk is accompanied by an original blog post from the featured speaker, along with new op-eds, thoughts and responses from the HuffPost community. Watch the talk above, read the blog post and tell us your thoughts below. Become part of the conversation!
__________________________________________
Yes ... my TEDTalk ... a long time ago it was. Back in 2007, the short, 20-second movies on YouTube of my work were well visited, but after the TEDTalk, the number of viewers exploded. I didn't realize this effect then. Coming from Europe, I certainly was aware of the importance of TED, but I totally underestimated its effect on the Internet. Even now, after six years, people still remind me of that crucial nine minutes of my life. Though I am not a fluent speaker like Sir Ken Robinson or Alain de Botton, my work got a lot of attention.
Let me tell you about the evolutionary development of Strandbeest after 2007.
In my talk, I mentioned that the Strandbeest would develop a digital brain. But it turns out that working with an analogue brain is much simpler and weighs far less. The "brain" of the animal, which is actually a digital step counter, works -- but is a lot of work to make, and it uses up extra walking units simply to carry the brain itself.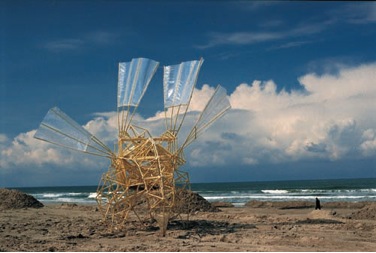 Photo courtesy of Theo Jansen
In fact, it's much easier to connect a pump to one leg and let it pump air into PET bottles with every step. As soon as the pressure exceeds a certain limit, an air switch turns over, and the animal knows it walked a certain distance.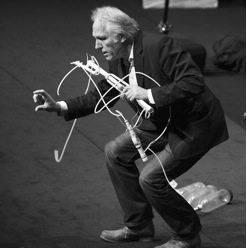 Photo courtesy of Theo Jansen
These days, the beasts only walk parallel to the coast when the wind blows either southwest or northeast. They walk back and forth between two places on the Dutch coast: Kijkduin and Scheveningen. In a way, Strandbeests have turned into migration animals, and the step counter gives them an idea of where they are. While counting their steps, they know more or less where they are between Kijkduin and Scheveningen.
Even more exciting is that they've seemed to develop a fascinating navigational mechanism that relies solely on the softness of sand. This clues them in on how far they are away from the sea. You must realize -- these animals are technically blind and deaf -- they cannot hear or see the sea.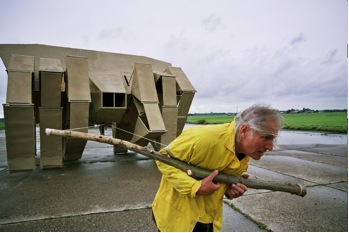 Photo courtesy of Theo Jansen
I've also thought a lot about the reproduction of these animals. Imagine these Strandbeests making copies of themselves simply by feeding them plastic tubes. I'm sure this is possible, but I need a few more million years to make that a reality.
Today, Strandbeests have an ability to multiply that I wasn't aware of in 2007. Let me explain. The leg system of the beach animals works because of a combination of certain lengths of tubes. Because of the proportion of lengths, the animals walk smoothly. You could say that this range of numbers is their genetic code. I published this genetic code on my website and since then, hundreds of students, especially in the United States, have been able to produce their own Strandbeests. (Search YouTube for "theo jansen mechanism" and you will find them.)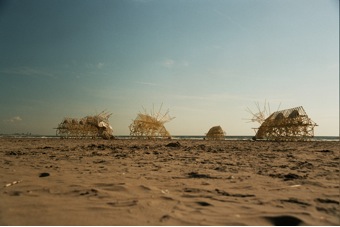 Photo courtesy of Theo Jansen
You may argue that humans do this replication, but I see it differently. The Strandbeest is a self-replicating meme, a brain virus. It infects the student's brain. In fact, the Strandbeest abuse students for their reproduction. For two years, this reproduction fell into a flow acceleration. Now, 3D printers produce walking mini Strandbeests. They are born, not assembled, and walk on the table, which you can see here.


Photo courtesy of Theo Jansen
This story appears in Issue 54 of our weekly iPad magazine, Huffington, in the iTunes App store, available Friday, June 21.
Read HuffPost's earlier report about the strandbeest here.
Ideas are not set in stone. When exposed to thoughtful people, they morph and adapt into their most potent form. TEDWeekends will highlight some of today's most intriguing ideas and allow them to develop in real time through your voice! Tweet #TEDWeekends to share your perspective or email tedweekends@huffingtonpost.com to learn about future weekend's ideas to contribute as a writer.

REAL LIFE. REAL NEWS. REAL VOICES.
Help us tell more of the stories that matter from voices that too often remain unheard.