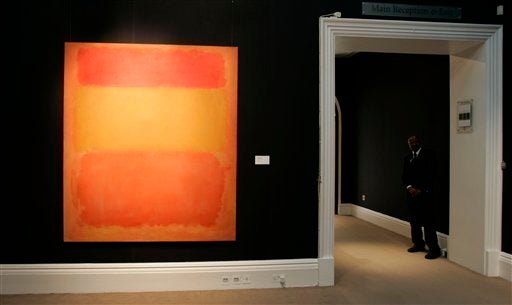 Many artists are forgotten after they die, and some before they die. Theodoros Stamos wasn't so lucky. Stamos (1922-97), a painter who was part of the New York School of abstract expressionists, which included Jackson Pollock, Willem de Kooning and Franz Kline, is remembered, but not so much for his artwork. Stamos is best recalled for his role in the epic lawsuit by the heirs of painter Mark Rothko against the people who were supposed to protect Rothko's legacy. (Hint: Stamos was one of Rothko's estate executors.)
Legal disputes may well be Stamos' legacy, currently being played out in both Greek and United States courts over who is permitted to determine the authenticity of his work: a collector, Zacharias Georgiou Portalakis, to whom the dying artist assigned all his copyrights and sole authenticator in a 1995 letter, or the artist's sister, Georgianna Savas, to whom the artist granted authority over his estate in his will shortly before his death in 1997.
For the last 30-plus years of his life, Stamos was an art world pariah, at least in the United
States, although over the years one New York City art dealer after another has sought to exhibit the painter's work. Blatant anti-Semitism is overcomeable -- look at poet Ezra Pound -- or stabbing a wife (author Norman Mailer) or spray-painting a Picasso (art dealer Tony Shafrazi), so why not one artist selling out another? Martin Friedrichs, assistant manager of Hollis Taggart Galleries, which has shown Stamos' work within the past decade, noted that "I've talked to Rothko collectors who've told me they would never look at something by Stamos, but how long does someone have to repent before his work is viewed as art for art's sake?"
So we reach the central question of Theodoros Stamos. Part of the New York abstract expressionist group, Stamos was never completely an abstract artist -- there were always references to the landscape or seascape as well as Greek myths -- but he distorted and arranged recognizable shapes into whimsical patterns, gaining plaudits from critics and collectors. A critic for ARTnews praised the "quiet poetic quality" of his work on exhibit in 1946, and a critic for ART Digest lauded a painting's "low-keyed beauty of a subtle, sensuous nature" at a show in 1947. A more sour note was sounded by art critic Clement Greenberg, writing in The Nation in 1948 -- "Stamos, as it happens, has borrowed most of his style from the lower registers of William Baziotes, a serious and vastly superior artist" -- but most others were more positive.
So things went on throughout the 1950s and '60s: Solo shows at the Duncan Phillips Gallery (later the Phillips Collection) in Washington, D.C. in 1950 and '54, the Corcoran Gallery of Art (1958) and the Andre Emmerich Gallery (1966), among others. A growing number of museums began to collect Stamos' work, including the Albright-Knox Gallery in Buffalo, New York, Detroit Institute of Art in Michigan, Tel Aviv Museum in Israel, Art Gallery of Ontario in Toronto, Hirshhorn Museum and Sculpture Garden in Washington, D.C., the Guggenheim, Metropolitan, Museum of Modern Art and Whitney Museum in New York City. In 1951, he received a Tiffany fellowship and, five years later, a fellowship from the American Academy of Arts and Letters. Sales were not always brisk, but they took place, allowing Stamos to close his frame shop after seven years in 1948 and devote his time to painting and occasional teaching.
In February, 1970, his good friend Mark Rothko committed suicide (Rothko's wife died of heart failure six months later). Stamos offered the Rothko family a part of the Stamos family burial plot in East Marion, Long Island and was asked to take over the installation of the Rothko Ecumenical Chapel in Houston, Texas. Two years before taking his life, Rothko had drawn up a will, naming three executors who would create a foundation that would receive the bulk of his paintings: Bernard Reis, an art collector and accountant; Morton Levine, an anthropology professor at Fordham University, who was also named guardian of the artist's youngest child, Christopher Rothko; and Stamos. One of the executors' first actions was to sell 798 of Rothko's paintings to New York's Marlborough Gallery for $1.8 million and consign to the same gallery 698 more at a 50 percent commission. It was because of these two actions that, in 1971, Herbert Faber, the guardian of Rothko's older child, Kate, filed a lawsuit accusing the three executors of conspiracy to defraud the estate and waste its assets: Frank Lloyd, the owner of Marlborough Gallery, had purchased a huge quantity of artwork by a major American artist for far below its actual value, and some quick sales that he made on a number of those paintings realized profits of 800 percent for him. In the legal complaint, Reis was charged with self-dealing for being the accountant to both the Rothko family and the Marlborough Gallery at the time of these contracts, while Stamos was accused of going along with the deal in order to be taken on as a Marlborough artist. In fact, in 1971, Stamos became part of Marlborough's stable, and his first exhibition at the gallery was held the following year.
In a ruling handed down in 1975, Stamos and the other two executors were removed from the Rothko estate and the contracts they made selling and consigning the 798 paintings to Marlborough were canceled. In Stamos' case, conflict of interest was not proved, but the judge found that there was a "self-serving breach of loyalty" and that he acted "improvidently and negligently in view of his own knowledge of Reis' self-serving and the entire case of events." As a result, Stamos and Reis, jointly with Frank Lloyd of Marlborough, were deemed liable for the present value of the paintings sold by Lloyd, or $9.3 million. Stamos appeal of the enforcement of the decision, claiming hardship -- his only assets were his house and paintings -- was denied in 1977. However, since Lloyd was the only one charged who actually profited from the sale of Rothko's paintings, he was required to pay all $9.3 million in fees and fines, returning some of the paintings to the estate for credit. The court awarded Stamos' Manhattan residence to the Rothko estate in lieu of legal fees, but Kate Rothko gave Stamos a life tenancy. He lived there four months a year thereafter, spending the remaining months in Greece, on the Island of Lefkada. Although born in New York City, he cemented his relationship to his parents' homeland with a gift of 45 of his own works to the National Gallery of Athens in 1975; he was celebrated there as one of Greece's great artists. In 1997, the exhibition, Theodoros Stamos: 1922-1997, A Retrospective, went up at the National Gallery Alexandros Soutzios Museum, Athens, Greece.
The Rothko case blackened Stamos' reputation, and he did not have another New York exhibition until 1977. He was represented by a number of dealers, one of whom -- Louis K. Meisel, who handled the artist's work from 1976 to 1982 -- claimed that the Rothko trial "put Stamos on the radar scope for a lot of collectors. A lot of people had heard of him, but now they decided to look at his work, and many of them became buyers." In 1983, Stamos filed a $5 million libel suit, which he later dropped, against the BBC for the production and broadcast of a docudrama based on the Rothko case, called The Rothko Conspiracy, which aired first in England and later in the United States.
Also in 1983, a small number of mainly European collectors of Stamos' work formed a group called "The Circle of Friends of Theodoros Stamos," which aimed to promote Stamos' work primarily in Europe, but also in the U.S., believing that the Rothko scandal hurt Stamos' reputation, and his work had been greatly undervalued. In a coda to the controversy, Kate Rothko successfully sued in 2008 to have the remains of her father and mother exhumed from the Stamos burial site and moved to a Jewish cemetery in Westchester County.
In the realm of artists whose lives have colored appreciation of the work they created, Stamos fares better than Nazi filmmaker Leni Riefenstahl and convicted pedophile filmmaker Roman Polanski but worse than filmmaker Woody Allen (who began an affair with, and later married, his long-time girlfriend's adopted daughter) and author P.G. Wodehouse (whose humorous wartime radio addresses on behalf of the Nazis damaged his postwar reputation). Perhaps, the art market will rescue his reputation by providing material to avid collectors of abstract expressionism who have been priced out of the top tier. Just a few years ago, Stamos' 1957 oil Home of the Sun earned $283,150 at Christie's London, setting a new auction record for the artist. The resuscitation of his career may well be underway.

Popular in the Community