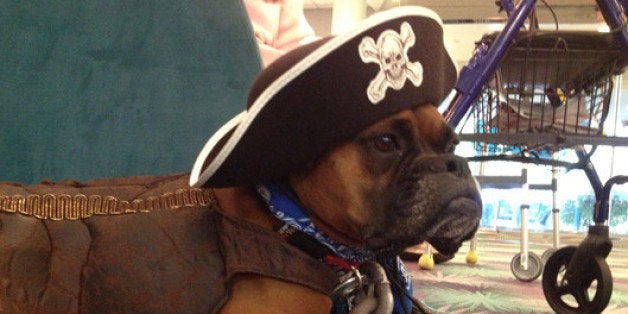 Each year, 6 million to 8 million pets enter shelters and half are euthanized. This is the story of one dog that beat the odds and now works as a therapy dog.

Dianne DaLee was adjusting to life without her beloved dog Simba.

DaLee's home felt emptier without her little lion roaming the halls or snuggling on the couch, even though DaLee was also caring for another dog, 4-year-old Pixie. After watching Simba's short, painful bout with cancer earlier this year, DaLee felt it was too soon to take in another animal. Instead, she continued her work as president of Atlanta Boxer Rescue, helping a steady stream of dogs find forever homes.

About a month after Simba's death, the boxer rescue group found a severely injured dog that needed a foster home. DaLee thought caring for the pup would be a good distraction, and she offered to serve as a short-term foster. Kayla the boxer arrived at DaLee's home in early March with a broken leg. Within 36 hours, Kayla underwent surgery to have her right rear leg repaired, but the injury was so severe that the leg had to be amputated.

Within a few days, it became clear that Kayla was no ordinary boxer.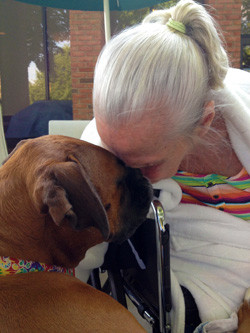 Kayla, therapy dog, boxer, nursing homeWhat DaLee noticed first was that Kayla possessed an unusually calm demeanor. She would stand quietly as children and adults petted her as long as they wanted, then she would run around the dog park with reckless abandon. At the dog park, she was just as fast as her four-legged friends.

In less than a month, DaLee knew Kayla was staying for good, and she decided that her good fortune in finding her new companion was a good reason to pay it forward.

"I called a nursing home and said, 'I have a good, calm dog with three legs' and asked if they would like her to come visit the residents who live there," DaLee said. "I brought her up there to meet them and filled out paperwork to become a volunteer, which included volunteer experience and a background check."

During their initial visits, DaLee and Kayla spent a happy hour in the main room as residents gathered for snacks and wine. Kayla was an instant hit.

"Since it went really well — I enjoyed it and she enjoyed it — I started Googling 'therapy dogs' to see how to get her certified," DaLee said. "I trained her myself because the testing is a lot like the AKC's Canine Good Citizen [CGC] test, and I already had been through two CGC training classes with Simba and Pixie."

Therapy dogs provide companionship and comfort to people at facilities such as hospitals, nursing homes or rehabilitation centers. While rules vary from facility to facility, most require that the dog understand basic obedience commands and become registered with a therapy animal organization. Pet Partners, one of the oldest organizations in the country, offers detailed information online for handlers and their dogs, including aptitude tests and liability insurance. DaLee registered with Therapy Dogs Inc., which had a similar process that ended with an evaluation of Kayla in action.

You can learn more about the important role of therapy dogs in the video below:
DaLee worked to get Kayla acclimated to the sights and sounds of medical equipment, including wheelchairs and motorized scooters. She also walked around the house with crutches so the boxer could learn to nimbly step aside when necessary. Kids in the neighborhood helped with training as well, riding bikes and scooters past the pooch during practice sessions.

"It's a matter of getting them accustomed to stuff happening around them so it doesn't disturb them or make them anxious," DaLee said, noting that Kayla passed her handling test without any issues.

When she returns home each week, Kayla's sister Pixie greets her with plenty of sniffing. Sometimes the two dogs have quite a conversation about those therapy visits, which will continue as long as Kayla enjoys them, says DaLee.

"I wanted to share her with other people — especially others who may have had to give up their pets when they moved into a nursing home or facility," DaLee said. "They say, 'I wish I could get a dog.' I say, 'At 3:30 every Friday, you can have a dog.'"

Does your pet have what it takes to be a therapy dog?
These resources offer more info about the process: Angel on a Leash, Pet Partners Therapy Animal Program, and Therapy Dogs.com.
Support HuffPost
The Stakes Have Never Been Higher
Related
Before You Go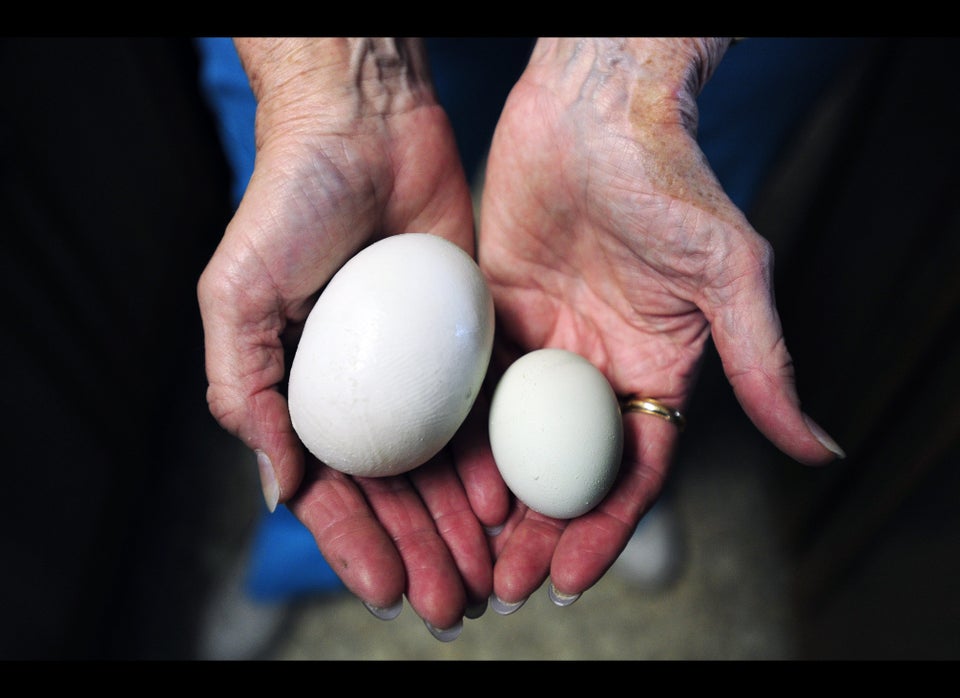 Animals In The News
Popular in the Community