Her name is Blue, but she makes people who meet her anything but.
The South Florida pot-bellied pig isn't just a budding fashionista and Instagram star — she's a certified therapy animal who spends time bringing joy to seniors at an assisted living facility in Palm Beach Gardens.
"The nursing home residents and even the nurses just LOVE her," Blue's owner, Jahaira Zamora-Duran, told HuffPost in an email. "All we see are smiles and all we hear is 'You just made my day!' Everyone's eyes light up when we walk in and they just can't believe it's a pig."
For many residents, simply petting and visiting with Blue is therapeutic. She's also learned a number of tricks, like spinning, sitting, kissing, bowing and even playing "piano."
"She is very sweet and I began to notice how great she was at reading emotions when she was about 1 year old," Zamora-Duran said.
She then began to go about getting Blue officially certified, which she said is "somewhat complicated" for a pig. Not all organizations certify pigs, and the process involves online training for the owner and a health screening, and thorough behavior evaluation for the animal.
"It is important for people to understand that not all pigs are qualified to do this, it takes a lot of preparation due to the fact that pigs are prey animals and get startled very easily," she said.
But with training and preparation, Blue passed the tests, and it's been rewarding for both pig and people. The potbelly helps residents "get out of their element" and forget about pain or depression they may be experiencing, Nu Vista Living Facility lifestyle director Pamela Collins told WPTV in February.
"It's amazing how much Blue is drawn to the people at the nursing home, it is as if she just knows that they need her," Zamora-Duran told HuffPost.
But as wonderful as Blue is, her owner notes that pigs are not the best pets for everyone. She emphasized the importance of properly researching them if you're interested in owning one.
"It is very important for people to understand that pigs take work and you should not get one just because they are cute," she said. "Owning a pig is a 15+ year commitment and they will not stay baby size forever. A mini pig is considered anything under 300 pounds, this is mini compared to a 900 pound farm hog."
Zamora-Duran added that pigs are highly intelligent and that if you aren't able to invest enough time and patience, you may end up with "a destructive and aggressive" animal.
"Most people are not aware of this and this is why sanctuaries are overcrowded with pigs that are surrendered daily," she said. "Please do not get a pig if you are worried about the size or if you do not have the time for one."
But for Zamora-Duran, Blue is perfect.
"She loves attention and loves to learn," she said. "When she is not on duty she is practicing tricks with me, dressing up in adorable outfits and taking pictures for her Instagram friends."
And in case you were wondering, Blue seems to enjoy those outfits as much as you do.
"Blue loves the camera," Zamora-Duran said. "She will hold a pose until the flash goes off, and contrary to what people may think she really enjoys dressing up and posing!"
Related
Before You Go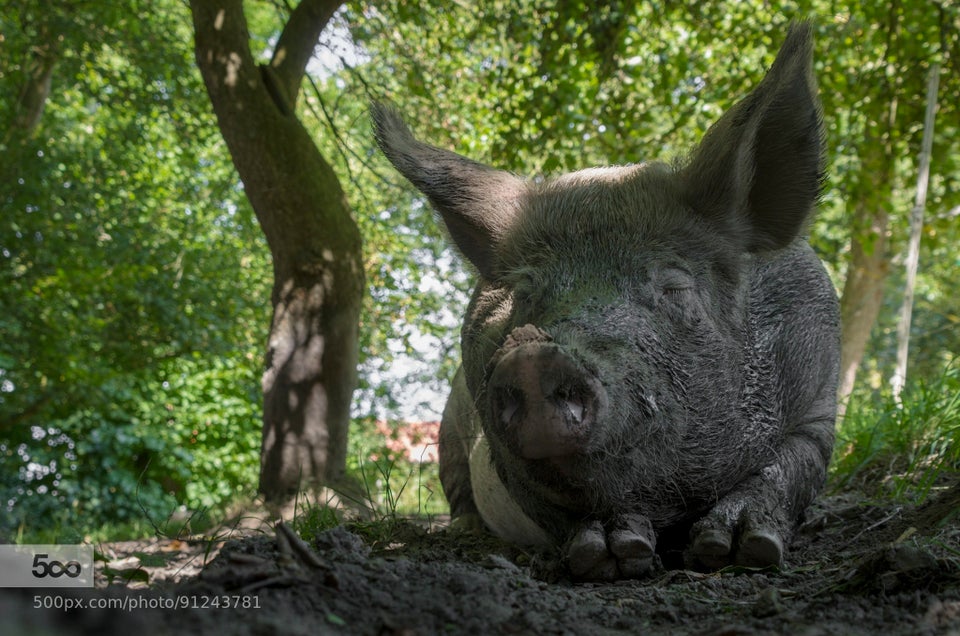 Pretty Pigs
Popular in the Community