It sounds almost too hopping cute to be true, but Teddy the therapy rabbit's first job was tending to his little sister Lulu.
Lulu is the most recent addition to Minnesotan bunny enthusiast Jennifer Smith's multi-rabbit household. The animal had been left in a cardboard box next to a dumpster on a cold night this past winter. "A woman saw the box and opened it to find a beautiful rabbit freezing to death," Smith says.
Lulu was brought to a local animal shelter, where -- against all odds -- she survived. Smith adopted her soon after that, but the rabbit clearly wasn't well, and Teddy was determined to help.
"Our tiny house rabbit Teddy Graham would spend his days lying next to her pen. He rarely left her side," she says. "Lulu just laid there in her sick, broken kind of way. Teddy went right up to her and started kissing her face. ...Teddy saved Lulu, and Lulu adores Teddy for his devotion to her."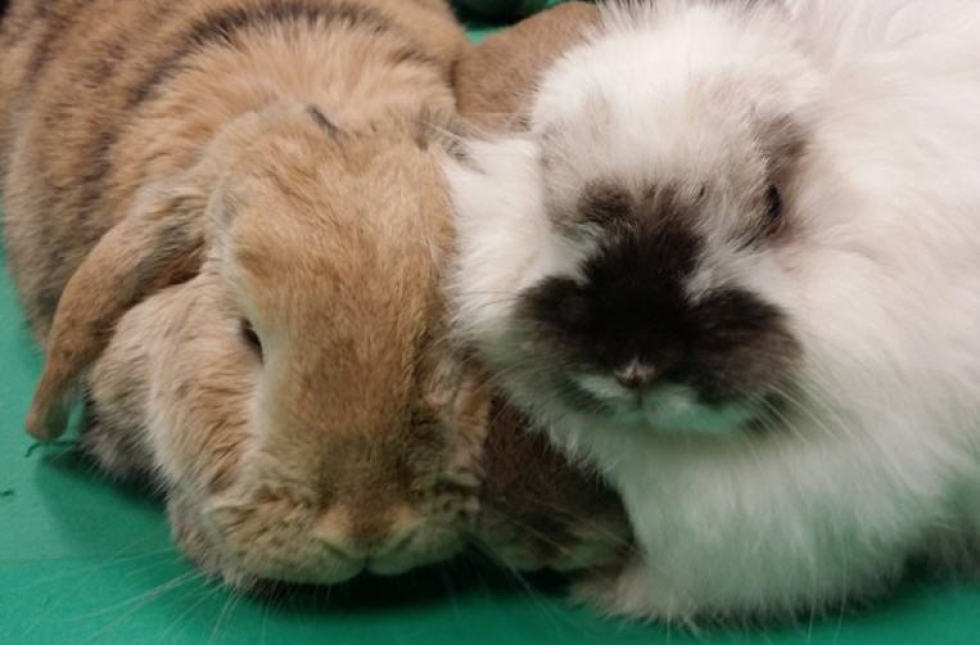 Teddy Graham and Lulu. Photo credit: Jennifer Smith
As of early August, Lulu and Teddy Graham are able to comfort those outside their nuclear family. They're now certified therapy rabbits, and "they love the work they do," says Smith.
That work includes visiting nursing home visits, where the rabbits spend time with Alzheimer's and dementia patients.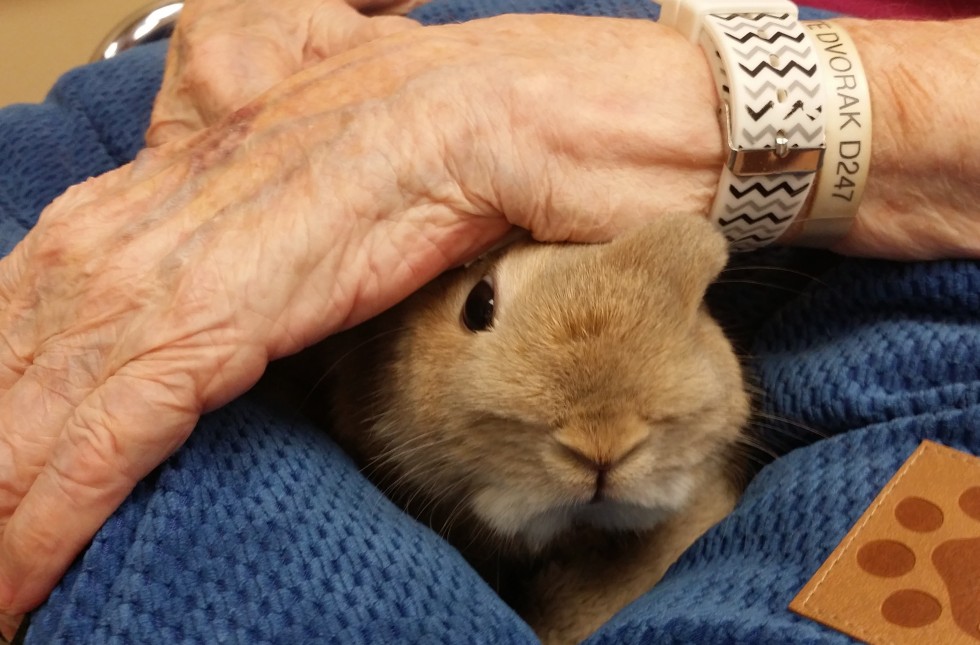 Smith also brings her rabbits to schools and camps, and she says she hopes to start volunteering at the Minnesota children's hospital and a local homeless facility.
It's hard to say how many therapy animals there are in the United States; therapy pets are certified and registered by all sorts of different groups, like Pet Partners and the American Kennel Club, and there isn't any centralized data collection. But it's safe to say therapy rabbits are pretty rare, at least relatively speaking.
"I cannot give you a total number of therapy dogs and rabbits in the U.S. but as the nation's largest and most prestigious nonprofit training handlers and evaluating multiple species for Animal-Assisted Therapy I can give you our numbers," says Pet Partners' representative Glen Miller, noting that his company has seen a 3 percent increase in the number of registered therapy rabbits this year, but the overall figure is still quite small.
"Total dogs registered as Pet Partners: 9,867," he says. "Total rabbits registered as Pet Partners: 97."
"Five of those are mine," Smith says, listing off Piper, Penelope, Mr. Mini Cooper, Teddy Graham and then Lulu. "All of our rabbits have had so much time and attention and training. "
Indeed, with training, Smith says she believes that calm, non-aggressive, well-socialized, people-loving rabbits can do a pretty much any therapy job a therapy dog can do -- and then some, since their petite size can be a boon.
"People don't seem to find rabbits threatening," she says.
Ultimately, Smith says she's trying to help both people and rabbits, by showing that these big-eared animals -- those that are therapy pets, like hers, and those who aren't -- are worthy of affection and respect.
"Across the globe rabbits are so mistreated. There is a reason why so many animal cruelty groups use the rabbit in their logo," she says.
Still, if all rabbits deserve to be treated well, some rabbits -- like her Lulu -- really are extra special.
"I believe that her journey to us was meant to be," Smith says. "This bunny was not trash but a beautiful little soul waiting for her chance to help others heal just by sitting on laps and letting people love on her."
Jump on over to the Bunny Besties Facebook page for more photos of therapy rabbits in action. And get in touch at arin.greenwood@huffingtonpost.com if you have an animal story to share!
Calling all HuffPost superfans!
Sign up for membership to become a founding member and help shape HuffPost's next chapter
BEFORE YOU GO
PHOTO GALLERY
Animal Photos Of The Week