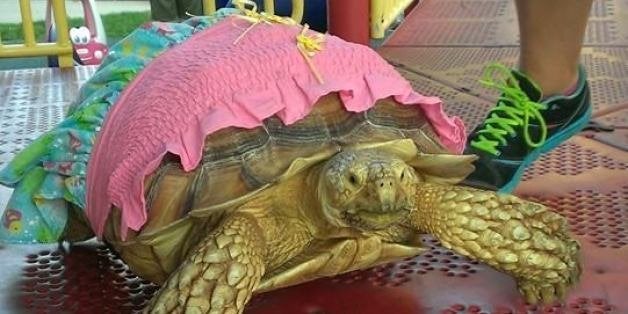 You may wonder: What makes a 42-pound African spur tortoise well-suited for work as a therapy pet?
In part, the same qualities that you'd look for in a therapy dog or cat or rabbit, like being calm and friendly, and pretty impervious to outside stimuli.
Wasabi the therapy tortoise has some unique advantages, to boot.
"She's a distraction. It's not every day you see a giant turtle in a dress," says owner Lisa Chicarella .
Wasabi wasn't born into life as a well-dressed mental health professional.
She was a timid 8-year-old when she came to Chicarella about 8 years ago, after being given up by her first owner, a reptile collector. She didn't leave her shell for nearly two weeks, back then.
"I gave her the name Wasabi. She was so shy I wanted to give her a name that said she was hot stuff," says Chicarella. "Little did I know how well she would live up to it."
Indeed, she's grown into her name: Wasabi demands attention; she loves affection and likes to sit and stare out the window of their Maryland home, which can be disconcerting for passers-by.
When she's annoyed, Wasabi will shove furniture all over the house. She likes going for walks. She will often climb into Chicarella's lap for snuggles or to munch on pizza crusts.
"Wasabi can be a real force of nature. Wasabi wants what she wants when she wants it," says Chicarella.
The therapy pet gig came about, in 2010, by sad accident. Chicarella had a dog named Chief, who was in the process of becoming certified as a therapy pet, when he unexpectedly died.
At the time, Chicarella got talking to Vicki Rummel, then executive director of Pets on Wheels, now with Therapy Pets Unlimited.
"I mentioned it's a shame that my tortoise can't be a therapy pet, she'd be good at it," says Chicarella. "Vicki said, 'why can't she?' The rest is history."
"Wasabi is a cool tortoise. She is friendly, She gets attention and seems to love the attention. She is an asset to our organization," says Rummel (who adds that she doesn't personally know any other therapy tortoises, though "we have therapy cats. We had Humphrey, an angora rabbit but he recently passed away").
These days, Wasabi visits with folks in nursing homes and schools, and is a "regular" at the Ronald McDonald House in Baltimore. At all these places, Wasabi spreads comfort and delight, and provokes a lot of reactions like "OMG!! Look at the size of that TURTLE!! Why is it wearing a dress?"
Wasabi is also something of a reptile ambassador. People's automatic interest in her helps spread awareness about these often-misunderstood, ecologically threatened animals.
They're often thought of as moving rocks -- but in fact tortoises like Wasabi grow to be very large, live for decades and are very smart.
"She's not a goldfish in a shell. She is an intelligent animal. She can learn. She has and shows emotions," says Chicarella. "People underestimate the intelligence of tortoises. I am not saying she's going to be doing long division anytime soon but she knows her name and usually comes when she's called."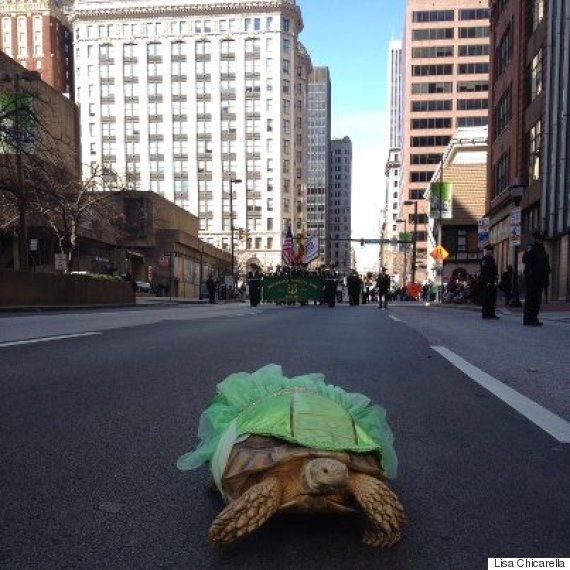 But of course not all tortoises wear dresses. Wasabi began wearing her fancy clothes for practical reasons. That first winter as a working tortoise, Chicarella got her bundled up in some heat wraps, secured by a diaper.
"You can imagine the remarks we got. A giant turtle in a diaper. So, my friend made her a dress to cover the diaper," says Chicarella.
Turns out the outfits were a hit. Chicarella decided to keep them on her tortoise year-round. She began ordering them from specialty tailors, who make bespoke frocks (and the occasional other sort of costume).
"Sad truth is, she has more dresses than I do. And hers are custom made," says Chicarella.
Life with a special animal like this one can sometimes require accommodation. Chicarella is even thinking of moving to a one-story house, so that Wasabi no longer needs to climb up and down stairs.
But Wasabi cheers people up with her very unusual presence. She helps folks take their minds off things.
"She gives people the opportunity to forget, even if it's just for a little while," Chicarella says. "She's my girl and I wouldn't trade her for the world."
Get in touch at arin.greenwood@huffingtonpost.com if you know a well-dressed tortoise, or have another animal story to share!
Calling all HuffPost superfans!
Sign up for membership to become a founding member and help shape HuffPost's next chapter
BEFORE YOU GO
PHOTO GALLERY
Tortoise cosies