By Vera Luiza Da Costa e Silva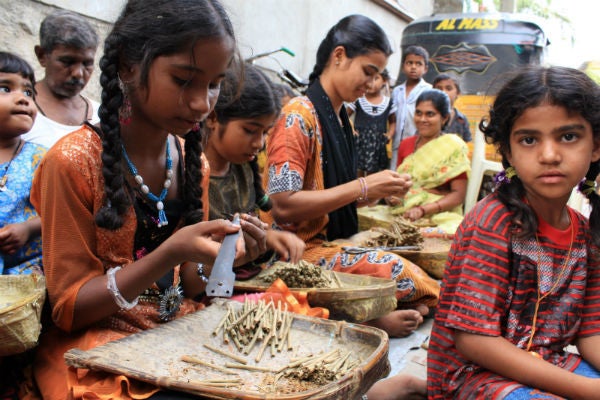 Those of us in the tobacco control movement, like the Secretariat of the World Health Organization Framework Convention on Tobacco Control (WHO FCTC), which I lead, are still amazed at the way the tobacco industry insinuates itself into the policy-making process. This month, we have an opportunity to roll back the tide.
For years, the tobacco companies have been sending money to the International Labour Organization (ILO), the United Nations agency which promotes decent employment standards. This now totals some US$ 15 million for programs including attempts to roll back child labor in tobacco-related agriculture. Despite this, the ILO notes that shifts in tobacco production to the developing world may have resulted in increased child labor.
Information gathered from the Parties to the treaty support this grim picture of child labor in tobacco-growing areas. My own experience in a number of countries has shown that the industry's "solutions" cannot be trusted, and this is equally true with tobacco farming where children are used unscrupulously for cultivating and harvesting this deadly product.
The ILO's work is rightfully admired and respected, which is why we all need to help its ensure it lives up to the highest standards on tobacco.
The draft decision presents two options – the executive body can either to request the Director-General to continue its engagement with the tobacco industry, or it can discontinue partnerships with tobacco companies and tobacco-related institutions.
I do not say this is an easy decision for the ILO. All intergovernmental entities, including my own, are under acute budget pressure, so refusing tobacco money might be seen as difficult.
But easy cash comes at a high price, and that price is rising. Tobacco causes an estimated 6 million premature deaths annually and costs the world's economies more than US$ 1 trillion annually in healthcare expenditures and lost productivity. Tobacco growing specifically affects the health of the farmers, including children.
So, the WHO FCTC Secretariat will do all it can to assist the ILO and other intergovernmental organizations make the transition from tobacco industry cash and to seek alternative sources of support. We will engage with ILO colleagues in conceiving a well-structured program to curb child labor in tobacco farming to ensure delivery of the key objective:
supporting initiatives that prevent child labor in tobacco growing areas. We will work with other experienced partners in the United Nations system – the Food and Agriculture Organization (FAO), the United Nations Development Programme (UNDP) and the World Health Organization (WHO). But we won't work with the tobacco industry.
The fact is that accepting proceeds from this foul trade is increasingly viewed as reprehensible, and rightly so. Clearly the industry hopes to assist its business by funding responsible and respected organizations; it hopes to buy a seat at the decision-makers' table.
This approach may soon be a thing of the past, as organizations including many UN agencies are stepping up tobacco control. The WHO FCTC, under Article 5.3, requires its 180 Parties to protect themselves against interference by the industry.
In addition, the Secretariat is working with other UN agencies to embed this approach throughout the system. A draft model policy for preventing tobacco industry interference among UN agencies was adopted by the UN Interagency Task Force (UNIATF) on Prevention and Control of NCDs. This policy, accepted for voluntary use by the members of the UNIATF at its meeting in October 2016, states that: "UNIATF should reject partnerships, joint programs, non-binding or non-enforceable agreements and any other voluntary relationships with the tobacco industry."
It's clear which way the wind is blowing. Tobacco industry interference which would once have passed unnoticed, is now a live issue for policy-makers.
This is no accident. In the past two years, the WHO FCTC and others have worked hard for tobacco control to be placed at the center of global development. As a result, the recently adopted 2030 Agenda for Sustainable Development includes target 3.a, which calls for strengthened implementation of the WHO FCTC in full, and a related conference agreed that tobacco taxation should be a key source of funding for these development efforts.
The days when tobacco industry representatives could offer self-serving advice and influence policy-makers by providing resources are coming to an end. But we have to put the nails in the tobacco industry's coffin and ensure that its interference is ended. We can't trust in free lunches any longer. Never again.
Related
Popular in the Community