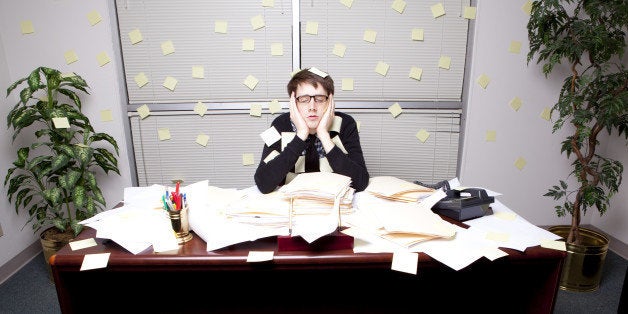 I just did this search on Google, and it yielded 69 billion results.
I didn't read any of the top hits, though, because let's be real: Pinterest boards and cute cubbies from Target aren't going to cut it for my organizational needs.
If you're an entrepreneur like me, you probably always have a ton of plates spinning. After all, you're trying to build a company. Evaluate prospects, vendors, potential hires and business opportunities. Coordinate a hectic travel schedule.
And do it all without forgetting to buy the Borax your 9-year-old needs for that "flubber" science project next week.
Keep Your Plates (not your head) Spinning
Staying organized is one of the most challenging - yet critical - ingredients for entrepreneurial success. I speak from experience. As the CEO of a leading professional search and staffing firm, and the mother of three, I'm intimately familiar with the endless stream of information and obligations that are part of owning a business. (Words like "assault," "barrage" and "torrent" sometimes don't even do it justice.)
Over the years, I've learned a few organizational tricks which have proven invaluable. Here's what's worked best for me:
Tech solutions
If I had to rely on a Rolodex and paper files, I'd need a shovel to find my desk. Thankfully, there are powerful apps to do the heavy lifting for me. Save a forest - and your sanity - by checking out:
•Evernote. This stylus-compatible app allows you to take notes, create to-do lists, scan business cards and more. Everything you do is immediately backed up to the cloud, so you'll never lose your ideas.
•Contactually. With dynamic templates and solid reminder features, this app makes digital communication convenient without being impersonal. Keep in touch with prospects, clients and colleagues with contact "buckets," and then decide how often you should follow up with people in each group.
•Trello. This flexible project-management and collaboration tool organizes projects into "boards." At a glance, you can see who's working on what, and where every project stands.
•Asana. Both a web and mobile app, Asana is a great team collaboration and productivity service. It's ideal for organizing everything from daily planning to weekly staff meetings and even yearly goals. The free version supports up to 15 team members.
Mental solutions
Sometimes, "mind games" are good tools for staying organized. Here are a few you should consider playing:
•Project-based thinking. Like many entrepreneurs, my team includes local staff, as well as virtual employees and third-party collaborators for specific functions and services. It is, in a word, complicated. One way I've found to simplify it is by approaching everything we do with a project-based mentality (i.e., thinking of business as a series of systems, comprised of projects and individual tasks). By viewing our business this way, we've been able to keep communication efficient and work on track. If you'd like to learn more about the concept, this Inc.com post provides a nice introduction.
•Touching things once. Instead of filing things away to tend to later, make decisions about how to handle them as they come in: act on them; systematically delegate them; or get rid of them. When you approach your work with this mental discipline, you won't bog yourself down with follow-up items that rob you of time and focus.
•Unitasking. Multitasking has been much-hyped, but it spreads your attention thin. Being a serial-focuser helps you stay organized and accomplish more. When you give one task your undivided attention, you allow your brain to reach a depth of focus that simply isn't possible when it has to continually switch from one activity to another.
Basic solutions
Nothing replaces disciplined habits when it comes to staying organized. Remember these fundamentals:
•Make a "to do" list. Start each day with a solid plan for what you want to accomplish (try one of the tech options listed above, and apply project-based thinking to ensure your tasks support the projects you're working on). Highlight three items as things you absolutely must check off, and make those your top priorities for the day. Then, even if everything else falls by the wayside, you'll make sure your most critical "to dos" are accomplished.
•Condense. Use one calendar for every aspect of your life (color-coding works wonders).
•Purge. Block off time monthly to declutter your phone, computer, voicemail, desk and office.
Over the years, these are the organizational strategies which have worked best for me as an entrepreneur. How do you keep all your plates spinning? I'd love to know - please share your ideas below!
Related
Popular in the Community