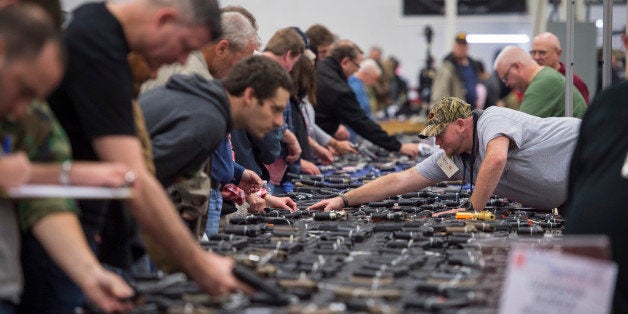 A standing joke in American culture is our country's overabundance of Starbucks locations, with one seemingly on every corner and in certain circumstances, even directly across the street from each other. Even The Simpsons way back in 1998 hit the nail on the head when Bart goes to the mall to get his ear pierced, but is told that he better hurry before the store is turned into another Starbucks. According to some estimates, this isn't far from the truth, with more than 80 percent of United States residents living within 20 miles of a Starbucks location.
While the number of Starbucks locations in the United States sat at 11,563 as of May 2014, when compared to the number of licensed gun dealers in the United States, this reputation feels misplaced.
In a data visualization called "firearms and frappuccinos", the comparison between America's favorite coffee shop and licensed gun dealers is made painstakingly clear. By typing in your city and state, the interactive map will display all of the licensed dealers and Starbucks within a 30 mile radius of your location. According to data from the Bureau of Alcohol, Tobacco, Firearms and Explosives, there were 64,747 licensed gun dealers in the United States as of December 2015, meaning that there are almost six licensed gun dealers for every Starbucks in the United States.
While this map highlights an interesting comparison of familiar stores, the data is open-ended and stops short of drawing any conclusions. I've written about the negative impact of guns in the past, and immediately after this was published, I wanted to dive in and try to connect some of these dots. Instead, I took time to sift through the mountains of negative comments and critically look at what this comparison really tells.
There are some caveats to this map. The number of licensed gun dealers was found by including only the first two categories from the ATF Listing of Federal Firearms Licensees: dealer in firearms other than destructive devices (includes gunsmiths) and pawnbroker in firearms other than destructive devices. While the numbers used for this comparison could be higher if all eleven categories were included, the threshold to fit into these two categories is quite low. Depending on what is being sold, it costs only a couple hundred dollars for renewal every three years to keep your license. So having one of these licenses is not necessarily the best indication that you are regularly selling weapons.
However, for the obsession that this country has with firearms, we do a terrible job of tracking where they are. There is data on the number of registered firearms per state, but it does not distinguish how many people that number is split between. There's no national gun registry and the only available data on ownership rates are estimates via survey which found that about one-third of US residents own guns, varying widely between states. Without any great data on where these guns are going, tracking the number of gun dealers is a logical next step if we assume that gun dealers set up shop where there is demand.
So what does the prevalence of gun dealers actually tell us then? Similar studies have also approached this issue, such as a story in The Washington Post that compared the saturation of museums and libraries to the number licensed firearm dealers per state. Along the same lines as their conclusion, the dispersion of gun dealers is not an indication of one's moral fiber, but it does reveal the values of a community. Not to say that owning a gun means that you can't also enjoy going to a museum or getting a coffee from Starbucks, but a focus on the availability of guns shows what a certain community finds important.
We often seem to forget that guns are extremely powerful and divisive by nature. They are tools used for drawing lines in the sand and represent the use of force over words to protect your interests. Owning or selling a gun does not make you a bad person, but legally purchased guns can be used to threaten or result in tragic consequences. Can you say the same for a book, an exhibit, or a cup of coffee?
It is impossible to use a gun that you don't have, and we need to focus on fostering discussion rather than flexing our muscles. If it's true that an eye for an eye makes the whole world blind, then a gun for a gun leaves everyone dead. Call me crazy, but I would like to live.
Calling all HuffPost superfans!
Sign up for membership to become a founding member and help shape HuffPost's next chapter