The severing of diplomatic ties with Doha by a number of Arab and Muslim countries — most notably fellow Gulf Cooperation Council (GCC) members Saudi Arabia, Bahrain and the UAE — is not something that should be taken lightly; nor should it be assumed that such a tough measure was sudden or came out of the blue.
In fact, anyone who has monitored the recent heated exchange of angry editorials — which has been going on for over two weeks between the Arabic-language media outlets of Qatar and those of Saudi Arabia and the UAE — would have easily predicted that relations were heading rapidly toward this unfortunate point.
However, the only party that seems to have ignored the clear signals of where things were headed was the government of Qatar. This is surreal, given that it has the most to lose.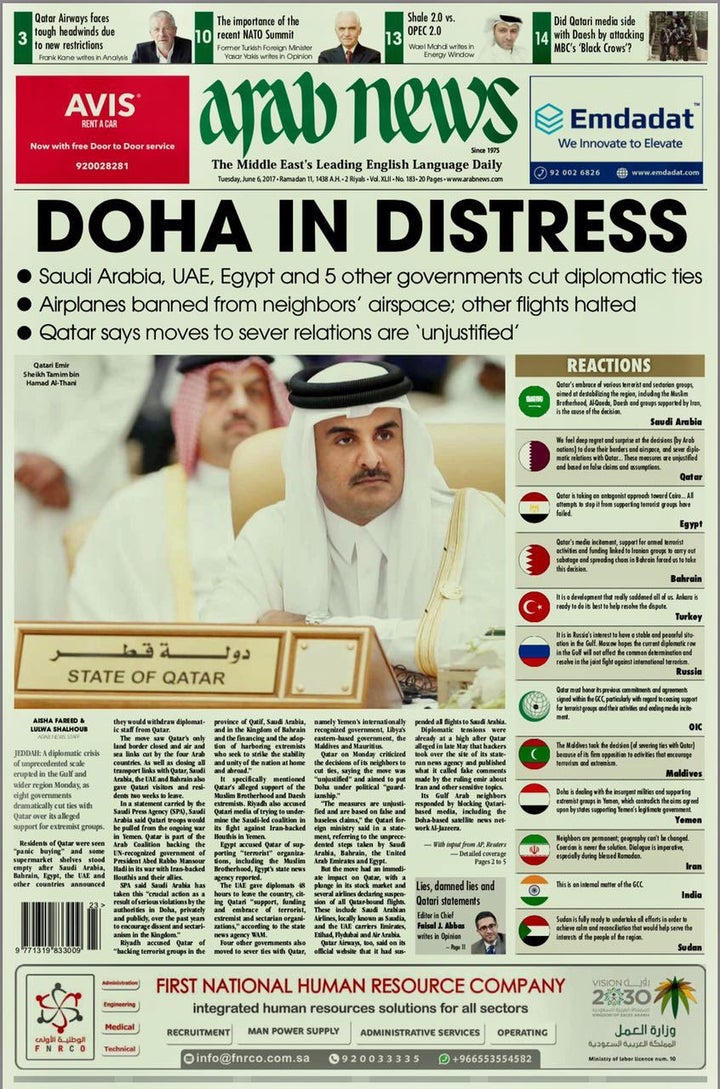 It is also bizarre that Doha did not genuinely do more to contain the anger of its neighbors when it knows far too well that Riyadh, Abu Dhabi and Manama are fully capable of acting upon it, just like they did back in 2014.
This time however other countries, such as Egypt and the eastern-based government of Libya, are on board in boycotting Doha. What is also different this time around is that Riyadh, Abu Dhabi and Manama are cutting off ties completely with Qatar, as opposed to only recalling their ambassadors as they did three years ago.
Of course, the question on the minds of many is: What was the tipping point? Or rather, what caused the anger to suddenly flare up?
If it was indeed the recent comments allegedly made by Qatar's Emir Sheikh Tamim bin Hamad Al-Thani, then why were Doha's claims that these statements were fake not taken seriously?
The answer to that question is that the Qatari government has become like the "boy who cried wolf."
In other words, the overwhelming belief among Saudi, Emirati and many Arab officials is that there are three kinds of lies: Lies, damned lies… and Qatari statements. This is particularly the case given that more often than not, Doha's actions simply do not match its words.
Take the official denial that Sheikh Tamim praised Iran, Hamas and Hezbollah in those recent statements. Even if we were to believe that Sheikh Tamim never said those things, Doha is still a home for the Hamas leadership. There are still posters in Lebanon hung by Hezbollah that say "Shukran Qatar" (Thank you, Qatar). Even after the controversial alleged statements were made, the Qatari emir reached out publicly to President Hassan Rouhani of Iran and said he had instructed his government to enhance bilateral relations more than ever before.
'You are a liar, just like your father,' were reportedly the last words of the late King Abdullah of Saudi Arabia to Qatar's Sheikh Tamim. Apparently, King Salman has quickly reached the same conclusion. - Faisal J. Abbas
The truth is that the Qataris — at least when it comes to their foreign policy — are known to be pathological liars. One only has to recall what Qatari Foreign Minister Sheikh Mohammed bin Abdulrahman Al-Thani told Arab News last month, just a few days before the recent GCC spat began to emerge. "We don't, won't and didn't support the Muslim Brotherhood," were Al-Thani's shocking words in that interview.
I do not know who he was trying to fool, but it became evident as I read the transcript of that interview that Qatar was more concerned with pretending to be innocent — such as falsely claiming they only backed the Brotherhood at the time they were elected in Egypt — than actually cleaning up its act and adhering to the commitments made to its fellow GCC countries when the ties were restored following the 2014 standoff.
Commitments made by Qatar then were stopping its support of extremist groups, ending its "interference" in the domestic politics of its neighbors and stopping inciting hatred through its state-supported media outlets.
Saudi and UAE officials would tell you none of these commitments were adhered to. While many had thought the young Sheikh Tamim only needed time to shift away from the controversial foreign policy of his father (Sheikh Hamad, who willingly stepped down in 2013), what Doha was doing made it clear that the young emir was nothing more than a chip off the old block.
"You are a liar, just like your father," were reportedly the last words of the late King Abdullah of Saudi Arabia, who oversaw the 2014 recall of GCC ambassadors from Doha, to Qatar's Sheikh Tamim. Apparently, King Salman has quickly reached the same conclusion.
*This blog post was originally published in Arab News.
Related
Popular in the Community