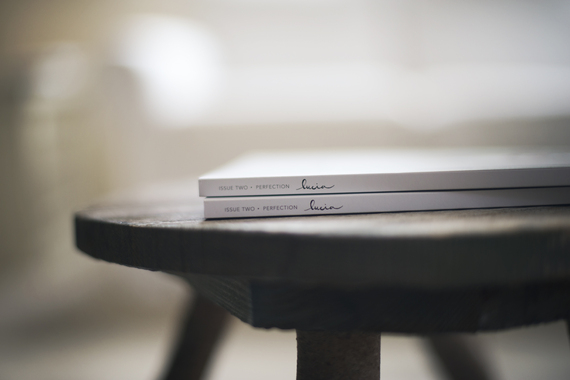 Sample copies of Issue Two of Lucia arrived last week. I was so overwhelmed with my day job and the accompanying client communications (emails, deadlines, deliverables) that for a couple of hours I just let the FedEx box sit on my kitchen table. Unopened.
Our design advisor Karly's package must have arrived at the same time mine did because I got a text message with a photograph of her holding the new issue, "Congrats, lady, she is gorgeous!"
That's when it hit me. I am not too busy to open that FedEx package. I am too scared.
Why? Because my ducks are not all in a perfect row yet. I thought they would be by now. I haven't lined up the draft emails and blog posts and order buttons and social media messages and website photographs and new sales plans and...these things are all quacking around in my brain like a flock of nervous chaos with feathers.
I want them all in perfect order before opening that box. I want to be breathing calmly and have everything prepared so it will fall effortlessly into place.
Perfectionism is a insidious and debilitating state of mind. Just when I think I've conquered my addiction to being seen as perfect, I catch myself putting joy on hold and refusing to open the most treasured creation I've made in months until I can write a perfect email about it and have a bulletproof plan for exactly how everything will unfold from here.
Karly's text snapped me back to reality. Ready or not, Issue Two is here. It's all about perfection. Which is, well, perfect.
Today I'm working to herd those fluttering plans into line because on March 1 we'll be unveiling the new cover and shipping Lucia Issue Two : Perfection.
There is a little piece of paper pinned to the bulletin board above my iMac as I work. It has some words I heard Oprah Winfrey say recently: Just ask yourself, what is the NEXT right move? Because there aren't any mistakes.
My next move is to upload the pre-orders we've received. One step at a time, I keep going. Whatever you are creating, I hope you will too.
Popular in the Community