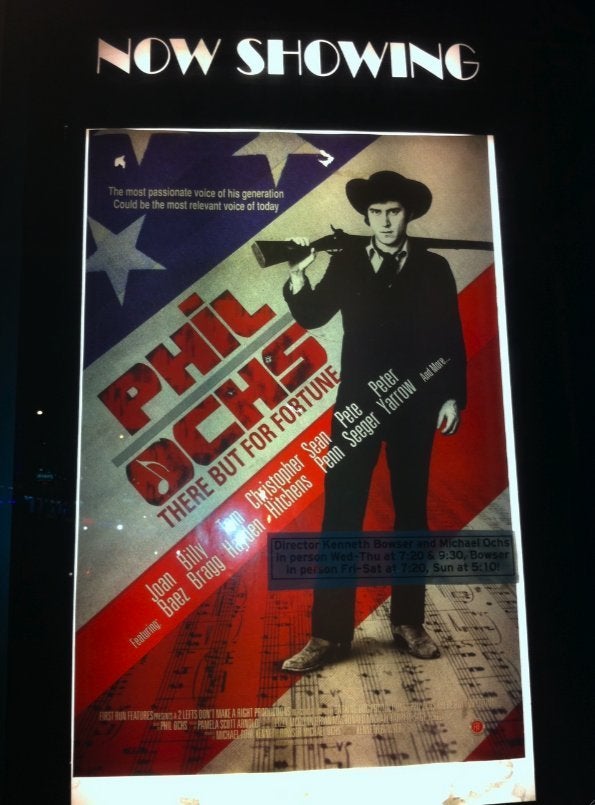 "Phil Ochs - There But For Fortune", a new documentary about the late folk singer Phil Ochs, had its New York premiere on Wednesday. Friends and family of the protest singer, best known for his 60's anti-war anthems like "I Ain't Marchin' Anymore", gathered at the IFC theater to see the film (which took an incredible 19 years to make it to the big screen).
The documentary, directed by Kenneth Bowser, chronicles the complicated life and times of the protest singer. A contemporary of Bob Dylan and Joan Baez, Phil Ochs was part of the Greenwich village folk scene in the early 60's that produced dozens of important acts, and acted as an incubation period of revolutionary ideas and ideals.
The film depicts Ochs as an optimist obsessed with saving America from its demons, and how the decline of progressive optimism ultimately destroyed the singer. Ochs was also a manic depressive, and internalized the tragedies of the era so deeply that he became an alcoholic schizophrenic, and eventually took his life at the age of 35 in 1976.
Ochs found some notoriety as the seminal protest singer of his time, with hits like "Changes" and "Here's To The State Of Mississippi". His lyrics, while bracingly honest about the horrors of the sixties, were also drenched with a sharp, sardonic edge. His use of irony and satire, as well as a frankness and anger that acts like Dylan's lacked, made Ochs an incredibly important voice of the anti-war movement.
The film examines how Ochs matured as an artist while experiencing let down after let down-- first with assassinations, wars and coups that came to define the era, then with personal problems that changed the sweet-natured songwriter into a cruel and absurd drunk, a sort of self parody. His lyrics and music morphed from upbeat and catchy folk tunes to mournfully beautiful, almost haunting classical pieces, all the way to garish, gold-lamé pop songs (a choice which alienated his most ardent fans).
"There But For Fortune" is a fascinating journey of the turbulent sixties through the eyes of one sensitive soul, but more than that it's a fantastic tribute to one of the most unsung heroes of the folk movement. For those unfamiliar with Phil Ochs' impressive oeuvre, this documentary is an incredible introduction and explanation of the man behind the music, and the era that defined him.
WATCH the trailer:
'There But For Fortune', directed by Kenneth Bowser, opens Wednesday at the IFC theater.
Calling all HuffPost superfans!
Sign up for membership to become a founding member and help shape HuffPost's next chapter