The Pope is scheduled to visit a school across the street from my apartment in East Harlem. In the build up to this historic presence, I have witnessed reporters from various forms of media ascend upon my block like locusts harkening a plague... easily identified by their ill fitting suits, in stark contrast to the casual street wear of over sized pants and tilted baseball caps or tight fitting stretch denim paired with crop tops that are the norm. The street has been blocked of parking days in advance and my neighboring hair salon has seen a steady stream of investigators that I suspect are laying the groundwork for a buddy system to best witness the regalia. However the next few days play out; I have a few suggestions to the visitors that will walk these streets and if he is listening, possibly a revised Papal route.
East Harlem has a charm that many neighborhoods in Manhattan have lost. Where most parts of the island have become a glorified outdoor shopping mall filled with tourist attractions; East Harlem mixes cultures and offers a variety real life amenities that are affordable. To the East, there is the river front and Thomas Jefferson Park... the park offers a recreation center surrounded by a track, baseball fields, basketball courts, a gorgeous pool, picnic areas with barbeques, a dog park and sitting areas. To the West, we have North Central Park, which is rugged and less crowded than the lower parts; you can get lost and feel as if you have ventured out of the city chaos.
The Pope is on a tight schedule and security is an issue so maybe he wants to stay within a few blocks of Our Lady, Queen of Angels school. He can still get a fulfilling visit with just a few short walks.
First stop: Rise and Grind Coffee on Second Avenue is offering a "Pope discount". For a limited time, all Popes that stop by get 50% off of their coffee. If it is a little warm with his layered attire; he might opt for an iced coffee that comes chilled with ice cubes made of their signature brew...so there is no need to worry about those last sips becoming watered down. Max is usually behind the counter; he knows everybody and everything that is going on the area.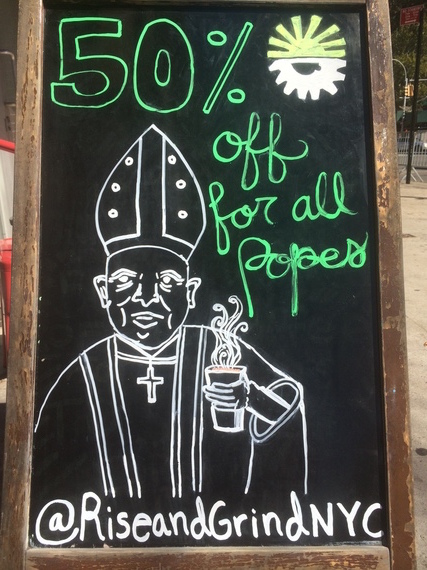 Second stop: Animal Care & Control of NYC on East 110th St. There he can not only bless the animals but take them on a short walk to the dog park. I won't get started on all the virtues of adopting a rescue animal because I am loved by one and this could go on for hours.
Next stop: Ricardo's Steak House on Second Avenue (I would suggest Rao's but it is impossible to get a table). Not only is the food amazing but you feel like you just stepped into a spontaneous party. Every time you go it feels fresh and exciting plus the grilled bread they bring to the table is worth paying for but it is free. He recently had a birthday so I am sure they will bring out a sparkling dessert while the entire restaurant breaks into a chorus of 50 Cent's "It's Your Birthday".
Next stop: Cross on over to Third Avenue to do some shopping. There is everything on this section of Third: sneaker shops, hat shops, dollar stores, boutiques with names like "Slam Dunk" or "MadRag". He can get anything he wants without paying downtown NYC prices. Pretty much everything you see trending in these shops will be walking a runway in Milan or Paris next year. The street style here is the real thing.
Circle back to the start and drop into The Duck: Okay, why would I suggest the Pope stop into a "dive bar" on the corner of East 112 Street? This place is truly multi-cultural...the essence of what it is like to be in NYC but with cheap drinks and pinball machines. The jukebox is a certified historical monument with songs so old that nobody gets into a fight over what to play next. People who come to this bar leave behind notions of race, age, nationality, and sexual orientation. Humans are just humans and if Reena is behind the bar; she can give you the scoop on everyone.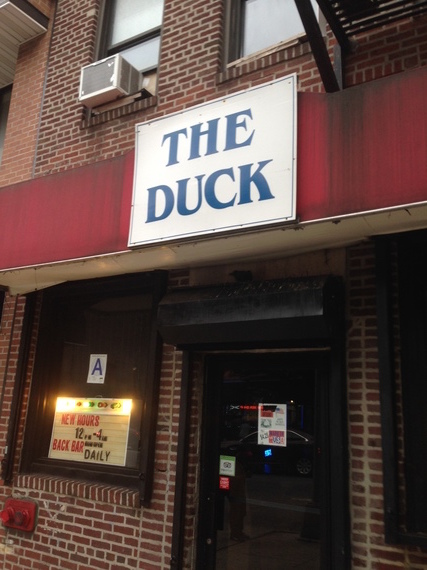 So there you have a quick route suggestion for the Pope or you in East Harlem. It is the best neighborhood in Manhattan without a doubt. One more suggestion, play "Spanish Harlem" by Ben E. King a few times before you visit because they don't have it on the jukebox at The Duck and never play it at Riccardo's. See you on the pool table.
Popular in the Community