This is how I met Elvis, one of the 68 black rhinos that are protected by the Lewa Wildlife Conservancy in Northern Kenya. Lewa is one of the organizations that have helped bring the black rhino population back from near extinction and is the founding conservancy of the Northern Rangelands Trust (NRT), which oversees 20 community conservancies covering more than 3.5 million acres.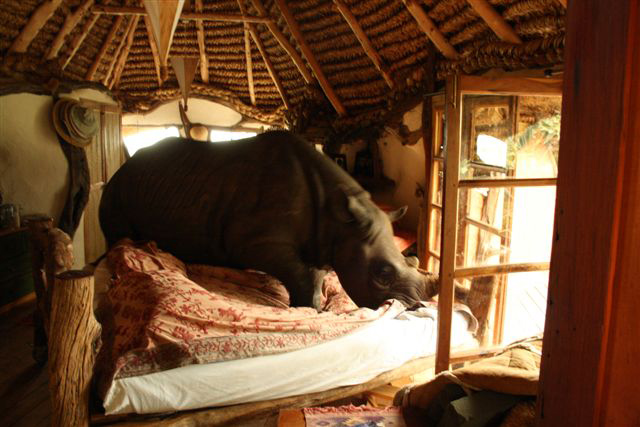 Recently, Ian Craig, CEO of NRT, wrote an essay for our Social Innovation special in McKinsey's flagship publication, What Matters. In it, Craig describes the NRT's unique approach to conservation that the organization has pioneered in the heartland of one of Kenya's most volatile regions -- for humans and animals alike.
I had a chance to visit the vast NRT-protected lands and see first-hand how the organization's unique brand of conservation is not only protecting wildlife, but is driving conflict resolution and development between communities. The Trust is not only home to a broad range of endangered wildlife, but also to 60,000 indigenous people whose interests have often been at odds with one another and with the goals of conservation.
The Mobile revolution in Kenya
Kenya has also been home to some of the most sophisticated technological advances in mobile banking. As Wolfgang Fengler, Michael Joseph, and Philana Mugyenyi point out in What Matters, "Kenya now has 25.3 million mobile subscribers, which is more than the adult population, and 17.3 million registered mobile money users." And as my driver in Nairobi confirmed, "it is virtually impossible to remember life before M-pesa. I do everything on my mobile phone today -- pay bills, transfer money, make loans. People even pay their bar bills on their phone because they're too lazy or drunk to go and withdraw cash from an agent!"
This innovation has not only simplified financial transactions to a level I can't even imagine (despite my [American] bank's seemingly sophisticated online tools), but it has created an entirely new paradigm that can take beaders from Lewa and turn them into entrepreneurs, farmers into international businessman. As Joseph et al point out "In Kenya, mobile money enables traders and small businesses to reach wider markets thanks to its accessibility, low cost, security and convenience." They also point out its impact on the empowerment of women now that they have an independent place to manage funds.
While this is not news to many people who have followed the mobile revolution, it was made all the more real to me when in the most remote part of the Bush in northern Kenya, you regularly encounter men carrying spears in one hand and mobile phones in the other. Not to mention that nearly every member of Lewa's security forces have active Facebook accounts.
Linking Mobility to Prosperity in Northern Kenya
It is linking this opportunity for global connectivity and economic prosperity to the desperate conditions of northern Kenya that makes the NRT not only unique, but also imperative. The NRT is taking on the holy trinity -- human development, wildlife conservation and environmental sustainability -- and they are doing it all in the context of longstanding ethnic rivalries, and an increasing number of poachers willing to gun down local protective forces. In the four days I spent in the region, there were more than two poaching attempts that we knew of, one of which involved NRT security forces being subjected to gunfire. Needless to say, the conservation stakes are extraordinarily high, making efforts by NRT ever more important.
The NRT is at a powerful inflection point in its young history. It has more applications for new conservancies than it can support (23 are currently under review), and, in the next eight years, it is hoping to ensure existing conservancies will be entirely self sufficient. "The end goal of the NRT is to down-scale its role in developing Community Conservancies once they become institutionally and financially independent," explained Craig.
Elvis the Rhino is an example of the NRT's traditional conservation efforts -- taking in an orphaned black rhino and nursing him until he was ready to be released back into the wild. But Elvis's story is unique because it involves the combined efforts of previously warring communities who, as Craig discusses in his article, "now work hand in hand to combat the illegal killing of elephant and rhino."
To learn more about planning a visit to Lewa, you can visit their website.
* * * * * * * * * * * * * * *
And P.S. Please don't forget to vote for your favorite video in our Social Innovation contest. You are allowed one vote per day, and "polls" close on December 9th!
Related
Popular in the Community