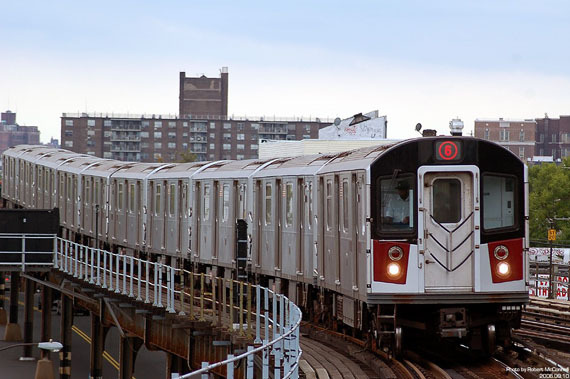 Co-authored by Ann Toback, Executive Director of The Workmen's Circle
Around Thanksgiving, in what is at the very least an epic display of tone-deafness, the Metropolitan Transit Authority approved an ad campaign in which every car in an entire subway train was decorated with Nazi and Imperial Japanese insignia. "Not political," the MTA protested in response to public outcry, pointing to an MTA advertising policy their Board passed in April allowing only "viewpoint-neutral" ads. A month earlier, referencing this same policy, the MTA ripped down ads, which had already been up for weeks, sponsored by Amalgamated Bank supporting the movement to raise the minimum wage for New Yorkers. In an ironic turn, had the ads simply promoted Amalgamated's banking options, they would have passed muster. But because they advocated for a living wage for our fellow New Yorkers, the MTA determined that the ads were "political," in violation of their new policy, and physically ripped them down.
It is difficult to understand how calling for a minimum wage increase is political rather than a matter of social and economic justice. We are living in a country where 46 million people are working for wages of less than $15 an hour. These same people often work multiple jobs to cover their family's basic needs. Further, many of these workers are forced to resort to government subsidies to feed their families, even as they work more than 40 hours a week. Raising the minimum wage would help solve this societal pandemic of working poor. Advocacy for a fair minimum wage is an issue that is not connected to a political party any more than opening a soup kitchen, and yet the MTA has deemed it too political to be featured on their subway car and station walls, even as they approve of a myriad of other ads including the unfortunate use of the Nazi Eagle and Japanese Imperial Sun symbols to promote the work of a private company.
The Workmen's Circle and Amalgamated Bank first partnered over a hundred years ago around the protection of workers. We also stood side by side in the fight against fascism over seventy years ago. Today we are again partnering in a fight for the rights of over 46 million Americans. And ironically, we find ourselves again facing off against those same fascist symbols that represented the politics of repression and murder, and despite what the MTA says, still do today. Almost nobody, with the exception perhaps of MTA overseers, thought this Nazi insignia-focused ad campaign was acceptable. Further, had they read down their own policy, they might have noted it prohibits "material that demeans or disparages an individual or group..." and likely should have precluded their use of these political images of hatred and murder throughout a subway train. And yet here we are, faced with a situation in which the MTA, acting arbitrarily and contrary to their own policy, doubled down in defense of ads which are offensive to most of the world while continuing to insist that ads that support the needs of at least 46 million Americans are "political." We have the right to expect and even demand better from the people running the largest transit system in the world.
Keith Mestrich is the CEO of Amalgamated Bank.
Ann Toback is the Executive Director of The Workmen's Circle.
REAL LIFE. REAL NEWS. REAL VOICES.
Help us tell more of the stories that matter from voices that too often remain unheard.