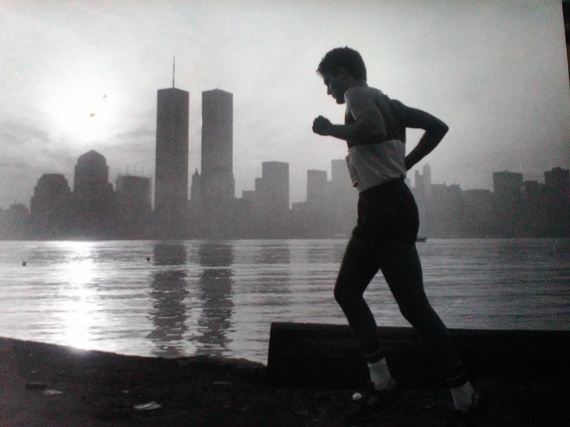 Every picture tells a story, but sometimes the story waits a long time to be told.
Thirty years, in the case of this long-lost photograph.
That's me back in 1986, preparing to take part in a race from the Statue of Liberty to the Liberty Bell in Philadelphia. A hundred miles of running and biking, on one of the hottest days of that year.
It was one of those "Our Man In The Race" assignments for the New York Post. I finished -- barely -- but that's not the story.
The story is that while I was trotting to the starting line at Liberty State Park, photographer David Rentas snapped this shot just as the sun was rising behind the twin towers of the World Trade Center.
What a shot. Look at the shadows, reaching all the way across the river.
Never dreamed I'd be standing longer than those towers.
The photo wasn't published with my story, but I kept a copy for myself. A copy I'd forgotten about, until I was digging through a drawer the other day in search of something else.
That's when I stumbled upon this fading black and white relic. Quite a jolt.
Ever notice how often you see those towers when you least expect it?
I was recently watching "When Harry Met Sally" and there they were, visible in the distance when Sally drops Harry off at Washington Square Park.
And the towers stand tall during the opening credits of "The Sopranos," as a cigar-smoking Tony makes his way from the Holland Tunnel to New Jersey.
Movies, TV shows, photographs....you see the twin towers, and the reaction is always the same. A sharp intake of breath. A tingle across the shoulders. A sense of disbelief that never fades.
It happened. It'll never un-happen. At a certain point, there's really nothing more to say.
Well, maybe just one thing.
David Rentas, you captured quite a moment.
Charlie Carillo is a TV producer and a novelist. His website is www.charliecarillo.co
Related
Popular in the Community