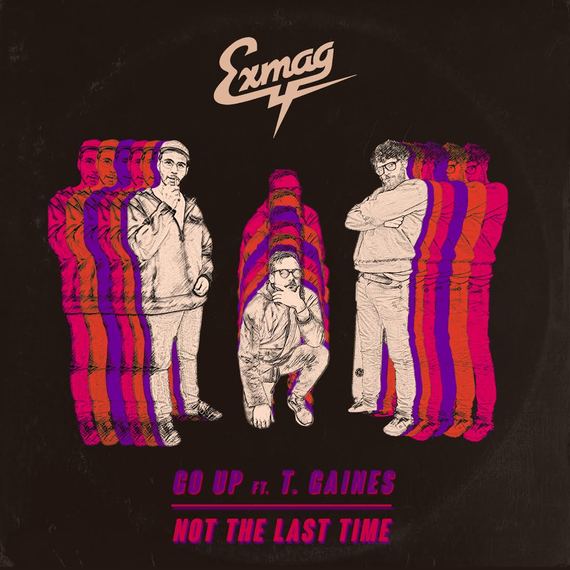 Working tirelessly in a garage somewhere in Pennsylvania to record their second full length album titled Part I is electronic-future-soul trio Exmag (Extraordinary Magnitude). After experiencing the dizzying rigamarole of working with record labels they decided to independently record this album in the comfort of their own garage. This 18-track collection of funky danceable soulful deliciousness is sure to find its way into the ears of their fans and beyond. Made up of Tyler Dondero, Eric Mendelson, and Dave Carls, these three have performed at some of the festival season's most popular events including Infrasound in Wisconsin, Summer Camp in Illinois, Camp Bisco in New York and many more.
With the freedom of an independent release, the trio decided to put the album out two tracks at a time as doubles instead of singles. The first two releases off of Part I are "Go Up (Featuring T. Gaines)" and "Not The Last Time." Sharing two tracks at a time showcases the diversity in songs of the album. "Go Up" is a sexy soul song that uses a slow pulsating beat to lure in listeners. Gaines' lyrical chemistry flows through the track, emanating heat as it picks up momentum, playing with the viscous melodies that vibrate between verses. With a dash of funk, a sprinkle of hip hop and a healthy heaping of R&B, Exmag and T. Gaines come together to craft a delightfully sensuous song that will make hips swivel on the dancefloor and in the bedroom.
T.Gaines is an emerging artist and songwriter from Chicago whose debut EP The Groove God garnered positive reviews from fans as well as music industry professionals. The success from his EP has propelled him closer to completing his next full length album as he has already established a solid fan base. In addition to rolling out a new album in 2017, T. Gaines is also preparing for a winter tour slated for the beginning of the new year.
From the sultry vibes of "Go Up" to the funky beats of "Not The Last Time," the listener goes from hip swivels to full body oscillations. Featuring only instrumentals on this track, Exmag exhibits their love of funk and soul as well as their skill in creating it. Thick and encompassing, "Not The Last Time" is as familiar as it is unique, reaching across genres and audiences. Their playful and uplifting sound can easily enliven any dancefloor, from the sticky floors of a night club to the dusty ground of a music festival. Though both tracks are different in rhythm, "Go Up" and "Not The Last Time" go hand in hand beneath the umbrella of soul. While one leans towards R&B and the other towards funk, Exmag's signature sound is present in both.
Focusing on this album during the winter puts them in the prime position for festival season, which begins in the spring. Exmag's double release tactic is unique not only because it displays their sonic range, but also because it gives fans more than one song to play on repeat. So far, Part I is off to a solid start and promises more swivel-worthy, tasty beats to come.
Calling all HuffPost superfans!
Sign up for membership to become a founding member and help shape HuffPost's next chapter