Christian Boesch, world famous baritone, discusses the success of Fundación Papageno, his non-profit music school for children in the south of Chile.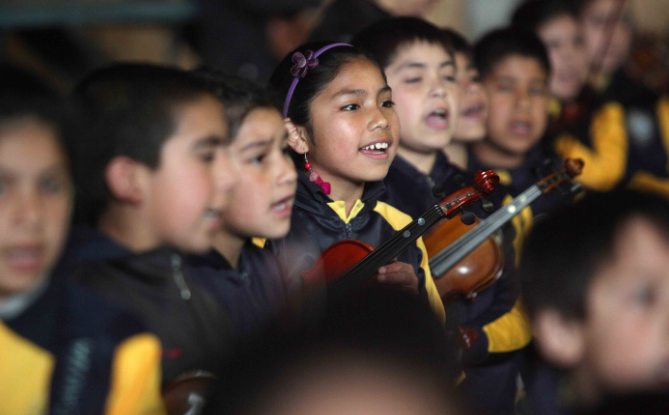 Straddling the much contested region of Araucania, where heated debates over land restitution continue, and los Lagos region, is the aquamarine Lago Calafquen. In the Mapuche language, Mapudungun, Calafquen means "lake like a sea." It is one of the deep teal-colored gems that dot the Region of Los Lagos.
From high up on a grassy promontory, there sits a cozy two-story wooden house. A sign that reads "Fundo Papageno" welcomes you. From the terrace of his house, Christian Boesch observes his paradise and transmits the deep satisfaction of a man who is living his dream.
Originally from Vienna, Boesch enjoyed a long, illustrious career in opera, having gained international recognition for his role as the playful Papageno in Mozart's The Magic Flute. That same role brought him to Chile and allowed him to realize another one of his dreams: becoming a farmer. Once settled in Chile, circumstances moved him to share his gift of music with others.
Since the first summer workshops of the Fundación Papageno in 2005, Boesch has made tremendous impact in the south of Chile, a region with many remote towns and schools. Without every having planned it, Boesch embodies the musician-philanthropist, and by doing so, has given remarkable opportunities to many children from the sparsely inhabited area.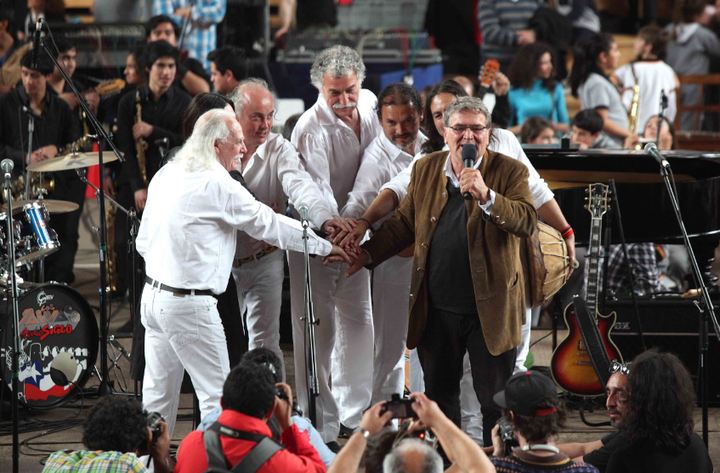 What made you want to study music?
My father was a farmer who had a great love of music and who played the piano beautifully. I think that apart from his children, music was the most important factor in his life. Growing up in my house, music was permanently present.
As a farmer, my father was an idealist. Initially, my idea was to continue in agriculture as he had. But after the losses of two world wars, the hard times in between and economic crises, my family had lost almost everything. My father told me, a farmer without land is a very sad thing, so you'd be better off earning your living with another profession and buying back what we have lost. They felt it was obvious that the little boy Christian had musical talent, and the rest is history….
When did you believe that you could do music professionally?
As a young man, I was fascinated by theater. I believe that every human has a great desire to change his personality from time to time. We all want to identify with different characters, with heroes or antiheroes. Along with my musical talent, the idea was born of combining the two talents of actor and musician.
What advice would you give to people who want to do music professionally?
That mere musical talent is not enough. To earn a living as a professional musician, as an opera singer, soloist, director, etc. many other elements and talents are needed. For example, you must have discipline for studying, very good nerves, great self-esteem, and one of your talents has to be far above average. For example, if you lack voice quality but you have tremendous musicality, or great talent as an actor, you can also achieve your goal.
Overall, a musical career isn't a "constant crescendo". There are unsuccessful periods, periods of crisis. An artist has to believe in his or her own talent.
What made you choose to move from Europe to Chile?
At the time, I was singing the role of Papageno at the Metropolitan Opera in New York. It was during the legendary production of Marc Chagall, when Mr. Raul Fischer, impresario of the Teatro Municipal in Santiago, came to the show and invited the whole team to Chile. During that first visit to Chile in 1982, when I visited the south, I fell in love instantly with this paradise. I told my family that I didn't know when I was going but it was very clear to me that I would live the last part of my life there, in the south of Chile. As a farmer!
Why did you choose to start a music school?
When I moved to Chile, to Villarica, everything changed when I went looking for a music school or conservatory for my children, where they could grow up in a musical environment. I did not find much, except for an excellent German school, but there was nowhere to learn music. If it doesn't exist, then you must create it. I started with a music school only within the German school, but the more involved I became, I understood the total lack of resources. I understood that in this paradise, there are schools and hill towns that are very far from civilization and especially far from culture. Then my path changed. Today, we have 50 schools with about 1,000 children in attendance.
What are the specific benefits that you believe practicing music brings to people's lives?
Well, I think it is not necessary to explain that music is an essential and basic human desire, that music is a language that everyone understands, etc. But we focus on music education for children. I think there is no such thing as a child without talent. In each child, a spark of God manifests, and that spark is his talent in something. Music — especially making music together — produces endorphins, the hormone of joy. When a child does something for which he has talent, the act will automatically produce that same feeling joy. Unknowingly, the child will continue to practice, in order to go back to that sensation of joy and automatically improve his talent. So a child who initially has no opportunity to make something of his life, no chance to work on something that he likes, may suddenly have many more opportunities.
What is your ultimate goal for your foundation?
As we know, there are tremendous problems in southern Chile. To try to resolve and eliminate all the world's problems, there is only one key: education and integration. It is very simple. You don't need to do anything more than focus on that.
We need to reach approximately 300 schools in the south of Chile, and, ultimately, I hope all schools in Chile, but with 300 schools, we can already make a change. You have to form happy children, who will then one day become happy adults, less aggressive and less conflictive, who will easily incorporate themselves into a better world. It is simple. You must multiply an idea that has been proven to work. That's all!
The motto of your foundation "There is no such thing as a talent-less child" is a striking phrase. Please tell me where it comes from.
I am convinced that this world is under construction, and that in the mind of its inventor it is perfect, except that humans, because they have free will, are abusing their privilege. The only thing we have to do is help children find and develop their talent. Nothing more.
What year did you start the project?
We started in 2005 but we have been growing remarkably for the past five years. For the first six years, we needed to convince Chileans that I was not out to take their money, that this was a worthwhile project. It was about creating confidence.
Since the creation of the first musical summer camp workshops, what has been the most remarkable moment for you since you began?
Every year, we do a concert together with all children who participate in the project. Last November, there were 850 children who played and sang "Ode to Joy" together. Imagine 850 children singing. If all the world's children could hear each other sing, this world would be better off, far better off. It is a great moment indeed, and so simple. That's all you need to do.
Related
Popular in the Community