Five years ago, my son Lucas was born. My wife Sarah had a very difficult birth, so Lucas was admitted to the Neonatal Intensive Care Unit (NICU).
Once there, the doctors ran a variety of tests and discovered that he had early signs of Alpha-1 Antitrypsin Deficiency. This terrible condition is a leading genetic cause of liver transplants in children, and ultimately leads to early onset emphysema and COPD (chronic obstructive pulmonary disease) as young as a person's 20s and 30s. Because Alpha-1 is genetic, the physicians asked our entire family to get tested.
Another wave of devastating news came when we found out our daughter Grace, now 7, also tested positive for Alpha-1.
You may be surprised to know that Alpha-1 is more common than cystic fibrosis worldwide, but we have not identified many patients, due to lack of awareness and minimal testing. Currently, approximately 10,000 patients in the U.S. have been diagnosed, but as many as 200,000 people may actually have Alpha-1 and don't know it. As a result, they don't know that they need to take special care to protect their lungs and monitor their liver, along with making other appropriate lifestyle choices. For instance, in the U.S., there is no testing required for someone to become a firefighter, so it's possible for untested and undiagnosed heroes to be fighting fires with lungs that aren't equipped with proper protection from the dangerous fumes.
There are three different groups of people in particular who need to be tested for Alpha-1: someone who is related to a known carrier of the Alpha-1 gene like myself; anyone with severe jaundice or unexplained liver disease; and anyone with signs of emphysema or COPD.
If my Lucas had not been admitted to the NICU, I don't know if he or Grace would ever have been diagnosed. I'm so thankful the doctors caught their illness early on. Because of this, my little guys know they must do everything they can to protect their lungs and must monitor their livers. They will also need to choose a career path that protects their health.
Although there is no cure yet, there are currently treatments that help patients slow the progression of their disease. And we must test early for this disease. I would like to see Alpha-1 screening for all newborns. This would be an expensive undertaking, but we need to look at the big picture. It would be more cost effective to catch the disorder early and have time to make healthy lifestyle changes rather than catching it too late once you are diagnosed with COPD.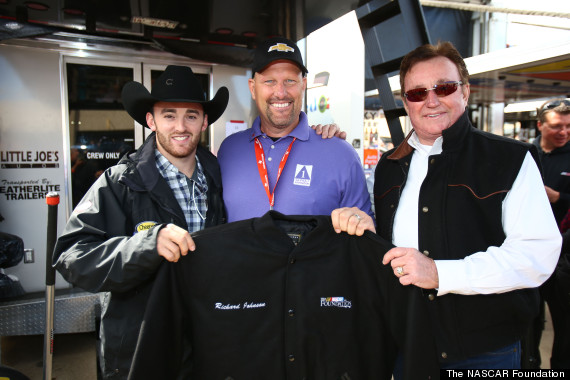 Meet and Greet with NASCAR driver Austin Dillon
Being nominated as a finalist for the Betty Jane France Humanitarian Award has been an unbelievable experience. I've always been a NASCAR fan, and The NASCAR Foundation is helping us create national awareness and get Alpha-1 on people's radars.
I have had so many people call to say that they've been able to tell their Alpha-1 story through the awareness created by The NASCAR Foundation award. We recently met the parents of a 4-year-old with Alpha-1 who may need a liver transplant soon. We are forever linked to them, and it was encouraging to both of our families to know that we're not alone.
If my name were to be called as the winner of this award, all of the money will be donated to the Alpha-1 Foundation, with a focus on building awareness for testing and funding for research to cure this condition.
Our dear friend, Alpha-1 Foundation President John Walsh, says there is nothing like the passion and urgency of parents who want to protect their children, and that goes right to the heart of what motivates me. We must find better treatment and ultimately a cure for Alpha-1, because there are other parents like myself out there who want nothing more than for their kids to live healthy lives. Advanced testing, treatment, and research are vital to bringing hope to Alpha-1 families around the country. Through The NASCAR Foundation's nomination for the Betty Jane France Humanitarian Award, the Alpha-1 Foundation and I have been able to tell our stories and raise awareness about this devastating condition.
For that, I am so grateful.
This blog post is part of a series produced by The Huffington Post and the NASCAR Foundation, in conjunction with the latter's Betty Jane France Humanitarian Award. HuffPost will feature a blog by each one of the four finalists on consecutive days, and each will appear on HuffPost Live that day. To see all the posts in the series, visit here. For more information about the Betty Jane France Humanitarian Award -- and to vote for the winner -- visit here.
Calling all HuffPost superfans!
Sign up for membership to become a founding member and help shape HuffPost's next chapter