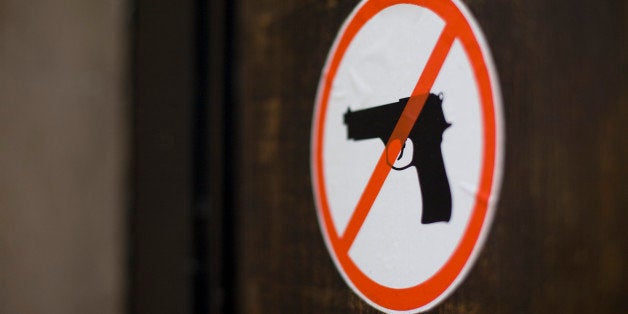 When I was growing up in suburban Chicago, my mother would welcome us home from school. After a quick hello and maybe a snack, we would drop off our school books and run off to a neighbor's to play baseball or whatever our favorite game was at the moment. She was never concerned about us returning home safe-and-sound for dinner, much less whether we would be a victim of senseless gun violence as we rode our bikes around the block with our friends.
That was then. Today, carefree kids and worry-free parents are things of the past and not just in Chicago, which has been experiencing a disturbing increase in fatal shootings. Across the country, movie theaters, military bases, shopping malls, and elementary schools are ever vulnerable to devastating gun violence. Stories of shootings almost seem commonplace. Just this month, two shootings and gun incidents were reported at schools in North Carolina and Kentucky.
Tragically, almost 3,000 children will die this year from gunshot wounds. An average of eight children and teens under the age of 20 are killed by guns every day. More children are killed by guns each year than police officers are killed in the line of duty. And where do these deaths occur? And where do the guns come from? Studies show that most youth gun deaths involve a gun from or in a home, including school shootings, unintentional shootings, or suicides.
The sad reality is that most gun deaths result from the 300 million guns primarily owned by decent, law-abiding people who assume they are bringing guns into their homes for self protection, and not anticipating a tragic accident. And, yet, these very guns wind up causing most deaths. Nine kids are shot unintentionally every day and thousands of youths commit suicide with a gun in or from a home every year. Such alarming statistics should outrage all of us, even those who aren't parents. We need to have a national conversation about the real risks of unsafe access to guns and, especially, what we can all do to keep children safe.
Let's make having an unlocked gun in the home like riding in a car without a seatbelt; driving a motorcycle or riding a bike without a helmet; and unprotected sex - a thing of the past. Let's change our attitudes and behaviors around guns so that when we look back on this era, it's like watching an episode of Mad Men as we gasp at the 1960s behavior that is no longer condoned - drinking and driving, sex in the workplace and chain smoking. Let's make asking about guns in the home as commonplace and acceptable as asking about pets in the house, discussing food allergies, or chatting about supervision.
Public health and safety campaigns aimed at parents can get to the root at this very problem. The ASK Campaign, for example, encourages parents to make one more question de riguer and that is: "Is there an unlocked gun in your house?" It's a simple question, but it has the power to save a child's life.
It's hard not to wonder how that very question or at least a conversation about responsible gun ownership might have changed the events of December 14, 2012 when Adam Lanza stormed Sandy Hook Elementary School and killed 26 innocent people. If someone had talked to Nancy Lanza about the guns in her home and responsible gun ownership, would that conversation have changed the course of events? Sadly, we'll never know. That uncertainty is what makes a provocative new advertising campaign by the Brady Center to Prevent Gun Violence so impactful.
In digital advertisements now running on websites nationwide in time for America's Safe Schools Week (Oct. 19-25), David Wheeler, whose son Ben was killed in the shooting at Sandy Hook, says "My son will be six years old. Forever."
Ann Marie Crowell, whose son Brian died in an unintentional shooting at a friend's house, shares in another digital advertisement this gut-wrenching memory,"My son's last words to his friend were: "I can't believe you shot me.'"
In both tragedies, the guns came from a home.
As a longtime supporter of the work of the late James Brady and his namesake organization, the Brady Campaign/Center to Prevent Gun Violence, I know and understand the crucial work that needs to be done in Congress. But, we can't continue to rely only on our legislators to solve our problems. In the meantime, we as citizens need to talk with each other about the urgent public health and safety issue that gun violence is. We need to discuss the real solutions that not only prevent gun violence but help us achieve a future where no child is killed by a parent's gun.
Take responsibility for safer schools and homes by asking if there is a gun where your children visit or play. And, don't forget to ask the same question of your elected officials. Remind them that you represent the 90% of Americans who support sensible gun legislation, like expanding Brady background checks to all gun sales, to reduce gun violence. Just ask. You can do it.