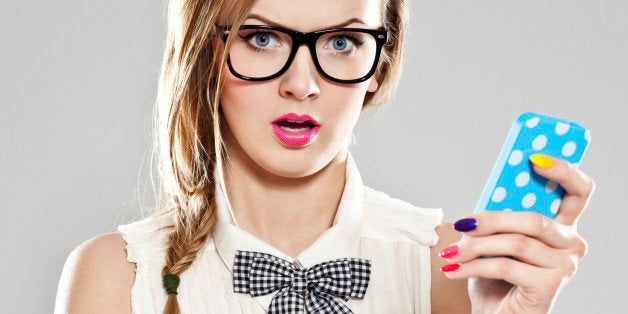 Remember that commercial for the iPhone 3g that said "There's an App for That"? Apple filed a trademark for their catchphrase back in December 2009, citing "first commercial use of the phrase" on January 26, 2009 per trademark documentation. That trademark was then granted in late 2010 making it impossible for companies to use the phrase, but not impossible to joke about it or use it in parodies. The joke seems to be on us, as society relies more and more on using apps for everything. Social interaction declines and you see restaurants and bars with signs that say things like "No Wifi. Talk to each other." It's funny. It's also sad.
The bottom line is, there isn't an App for everything. Some things will always require human interaction to achieve the best results. One of those things is assembling a team of vendors for your wedding day, starting with your wedding planner. But the way in which people plan weddings has evolved over the years, and now the first step is often a search engine or a wedding website. In fact, the only time I see a bride using a print magazine, is to take a picture of it to post to their Instagram account. Hashtag not reading this at all because Pinterest.
Because of all of this, there are wedding websites available for every type of bride and every style of wedding. The sites offer a great place for inspiration, as well as a "hub" of sorts that lists every vendor needed for a wedding, both by category and location. These vendors are obviously paid advertisers and vendors list their profile on these sites to give couples a taste of what they offer. From there, anyone can click through to a website or any social media page of the vendor to get more information. They can also just contact the vendor directly via the website for more information and to set up a consultation.
Now, I know many of you reading this already are aware of these sites and how they work. What you may not know is the newest offer that is becoming available, which is being touted as a "concierge" service. Basically, it's a stronger filter system that allows the bride to not actually have to do a search on her own for the perfect vendors. In fact, from the moment a bride signs on to one of these sites and before she can even search for vendors, a "pop-up" message appears asking if she would like wedding planning assistance. Too good to be true? Absolutely.
In the past year, three major wedding websites have introduced this program and while similar, they all work in different ways. Each site gives brides a chance to type/talk to someone on the other side of the computer/phone about what vendors they need to book. The sites then take information from the bride about what they need, what their budget is, etc. and turn around recommendations from the vendors that are advertising on their site. While one of these sites (currently) recommends venues from their database and not other vendors, the other two have virtual assistants which are able to recommend more.
Again, this is essentially a stronger filter system where the website is offering a watered-down version of a service that a wedding planner would provide. In fact, one of the sites offers this service because, they say, that only 16% of all brides hire a wedding planner due to expense. Which translates to them offering a knock-off or Canal Street version of a planner that is more affordable, but tearing at the seams. One of the main differences here is that it's a mystery whom you're speaking/typing to on the other side. I wonder how a bride could feel confident in these recommendations she is receiving, when she can't even vet the person that is making these recommendations.
Let me shake your confidence a little more.
On top of not knowing the background of the person recommending venues and vendors for your one and only wedding day, how do you know anything about these vendors? Why are they being recommended to you? If it's just a matter of narrowing down your budget and location, there are already filters in place on these sites. If it's about your style, guest count and other particulars, there are filters for that too. So what gets one vendor recommended to you over the other?
In addition to the advertising fees that venues and vendors pay to list themselves on these sites, there is now an additional fee being charged to essentially be on a "preferred" list for two of these sites (and I'm sure the third will catch up). While this is common practice for many venues that offer a preferred vendor list, it is not very likely that the venue would put themselves in jeopardy by recommending vendors that aren't up to their or their clients' standards. Plus, the venue is actually involved in the wedding world, while the concierge could be anyone.
You are now given a list of venues and/or vendors from these sites that meet your requirements. Two of the sites offer this service at no cost to you, while one of them charges a $49 fee to "unlock" the package of recommendations. Now a bride can pay for a filter system that she could've gotten for free. Neat.
One problem with these recommendations is that you may miss out on the perfect venue or vendor because they don't want to pour more advertising dollars on top of what they already pay just to show up on a "list". If you do go with these recommendations, their pricing might be steeper than you think because they now have extra overhead costs to cover. One of the sites charges vendors $99 per month to be included on the list in addition to their current advertising fees.
My biggest issue with this, however, is that trust is essential in the wedding planning process. You have to be able to trust everyone you are hiring. As a wedding planner, I do not take commission from the vendors that I recommend, and this is because I want my clients to know that I trust them. Kickbacks are for politicians and apparently now wedding websites.
So how are these websites vetting these recommendations? I asked that of one of the sites before I pulled my listing from them. The answer? Reviews.
Yes. Reviews. Online reviews that can be written by anyone anywhere. The more 5 star reviews that a vendor has, the more likely they are to be recommended as someone that the couple can trust. While I agree that reviews can be helpful, to use them as a measurement of trust, is ludicrous. How do you know who wrote the review? What about all of those good reviews that never got written because people are more likely to write a bad review before taking the time to write a good one? Trust is not something that can be measured by analytics, statistics and stars. It is a real, tangible thing.
Another sticky issue about reviews being used as a litmus test is that if a vendor just joined the website, there is no possible way for them to have the amount of reviews it would take to be recommended. The vendor could be a major player in the industry with fantastic testimonials available on other sites including their own, but if they just started advertising with a site that includes a concierge program, they will have fewer (if any) reviews available there. This puts pressure on vendors to have fake reviews written and meet the quota needed to be considered "qualified" and "trustworthy".
There is also the obviously irritating issue of how these sites take advertising dollars from planners and then attempt to step in and do their jobs. While they will all say they are not replacing planners, they are leading brides down the rabbit hole and into a land where now the biggest day of their lives can be planned with an app. It is discouraging, to say the least, to see wedding websites contribute to the bad information that brides receive on a daily basis.
Wedding planning is a full time job, which is why so many couples turn to a planner to do the heavy lifting. Just as it turns my stomach when a planner takes a kickback from the vendors she recommends, I am equally if not more so disgusted by this practice being implemented on wedding websites. It is considered to be one of the most important days of someone's life, and to offer a service where it is basically the blind leading the blind with the motivation being money, is unethical and immoral.
At the very least, these websites should be honest with their brides and tell them that every recommendation made is essentially a paid sponsor. It is a flawed system when a website takes advertising dollars from planners and then intercepts each bride/potential client from the landing page to offer up vendors that they know nothing about. How in the world is some random person in Nevada working on a wedding website going to tell a bride in Kentucky who the best photographer is to shoot her wedding?
Just like a planner should be upfront about how they recommend their vendors, these websites have a responsibility to own up to the fact that money is the motivator, not the happiness of the couple. They should tell these brides all about the people hiding being the computer and give information about the members of their concierge team. The bios of the "pocket planners" should be more substantive than their match.com profiles and favorite quotes from some cliché wedding movie.
You want to make me and other planners believe that you aren't trying to be an app to replace our services?
Then own what you're really doing here.