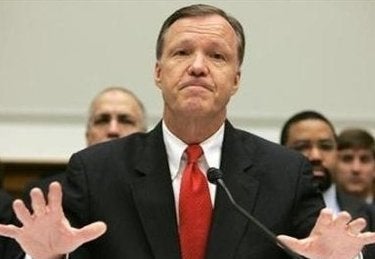 In a shot across the bow, Mark Cuban, owner of the NBA team, the Dallas Mavericks lashed out at the SEC after it filed a civil complaint against him today for engaging in insider trading. Read about the charges here.
"I am disappointed that the Commission chose to bring this case based upon its Enforcement staff's win-at-any-cost ambitions. The staff's process was result-oriented, facts be damned. The government's claims are false and they will be proven to be so. The Commission's claims are infected by the misconduct of the staff of its Enforcement Division."
OK, let the games begin. Cuban has been fighting with the SEC for more than two years as he sought to keep them from charging him with insider trading. He is as furious about this as he generally is about the Mavericks losing.
It is rare for a defendant in a government case to be this vituperative. A denial is expected, but an accusation of federal misconduct is pretty rare since the average person accused (but this is Mark Cuban, remember?) doesn't want to get the government more angry than it is. It just might wipe away any chance of a favorable deal.
Later in the day the complaint was filed and after Mr. Cuban posted his rebuttal, an item appeared on a New York Times blog that makes me understand why Mr. Cuban seems to be throwing caution to the wind and making his accusation. In what the Times characterized as a "purported email" from an SEC staffer to Mr. Cuban, it is revealed that there was bad blood between the agency and Cuban not just as a result of the accusations about his sale of stock in mamma.com. Cuban is taken to task for his financial backing of the series of documentaries entitled, "Loose Change." The films set forth a case for a conspiracy among individuals in the U.S. government to bring about the destruction of the World Trade Center towers on September 11, 2001.
The staffer sees Cuban's anger about the investigation as ironic since as the text printed by the Times says, a man who finances pie-in-the-sky conspiracy theories about President Bush has no right to complain about what he considers to be a witch hunt. And the emailer wonders how SEC Chairman Christopher Cox would feel about Cuban if he knew about his investment in the films. Wow. And we thought that the Sarah Palin "unpatriotic" claims about President-elect Obama were only made in the heat of the campaign battle.
Calling all HuffPost superfans!
Sign up for membership to become a founding member and help shape HuffPost's next chapter