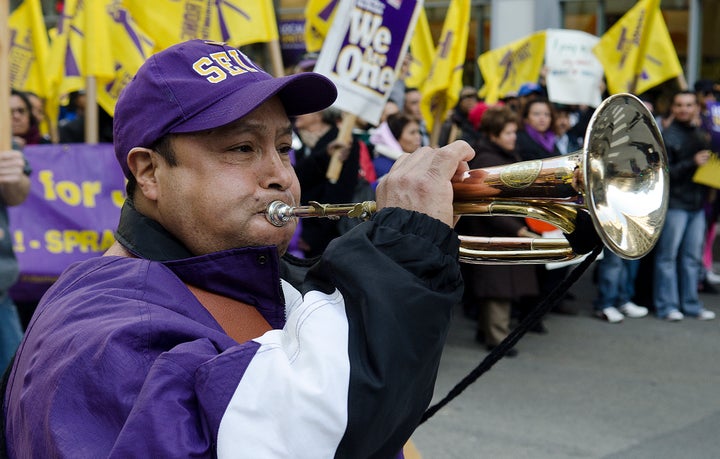 I recently came across a men's clothing store in Brentwood, a tony neighborhood of Los Angeles, with the provocative name Unionmade. I walked in and meandered around the shop, looking at the pricy shirts, pants, sweaters, jackets, shoes, and other articles of clothing. After examining the apparel, I couldn't find any items with a union label. What gives?
I called Todd Barket, the store's founder, to find out.
The 40-year old Barket told me that he's spent his entire career in the men's clothing business. After dropping out of Cal Arts, he went to work for Banana Republic, followed by 12 years at The Gap in merchandising, styling, advertising, and marketing, and then two years as Old Navy's creative director for marketing and advertising. After he was laid off in June 2009, Barket began making plans to open his own retail clothing store, and by that December he'd realized his dream.
Barket rented an 1800 square foot space in San Francisco's Castro District, filled it with clothes tailored to high-end, fashion-conscious men, dubbed it Unionmade, and opened for business. Last year he doubled the size of his original store and also opened the Brentwood store in the fancy Country Mart mall. This year he opened another branch in affluent Marin County, north of San Francisco. He expects Unionmade to do about $6 million to $8 million in sales this year.
He describes his customers as consumers "who follow fashion and appreciate nice things."
"We sell really beautiful well-made products. Products I've always liked," Barket told me. "Our clothing is honest and straightforward. Everything has a reason for being there. Good design. High quality. Not too tricky. Any guy can walk in and understand what we're presenting. Everything is really understandable."
I asked him how he came up with the store's name.
"At first I was thinking of family names. Turn of the (20th) century. That was a time in America when things were nicely made, well-made," Barket said. "I wanted a one-word name, a strong word, and so we combined `union' and `made' into one word, and it sounded right."
Over the past century, the labor movement's accomplishments -- an end to child labor, the 8-hour workday, the weekend, Medicare, and safer workplaces -- have improved life for all workers, even those without a union contract. According to the Economic Policy Institute, a non-profit research organization, unionized workers generally earn 15 to 20 percent more in wages than nonunion workers in similar jobs with the same levels of experience and education. Union workers also generally receive much better benefits, such as health insurance and pension plans.
Besides being the inspiration for Woody Guthrie's pro-labor song "Union Maid," the phrase "union made" means something very specific, the result of hard-fought battles by workers to improve their working conditions and their lives. The only way to know whether a piece of clothing is union-made is if it has a union label on it. That means that the workers who produce the clothing are represented by a labor union and have a collective bargaining agreement (a contract) with their employer that governs wages, hours, working conditions, and benefits.
So isn't the store's name, Unionmade, a bit misleading?
"It had nothing to do with unions," Barket said. "I'm surprised that people took the name literally."
I looked on the Unionmade website and discovered that the store sells about 100 separate brands of clothing, most of them quite expensive, such as an Oxford shirt made by Gitman -- a non-union company -- that costs $185.
Inadvertently, UnionMade does sell a handful of items made by union workers. These include Arden shoes made in Massachusetts, Red Wing shoes made in Minnesota, and Filson garment bags, travel bags, and backpacks, produced in Seattle.
Unionmade also sells Pendleton blankets and Carhartt shirts, jackets and pants. These were once union companies, but today only a handful of either firm's employees have a union voice at work.
In other words, only about three to five percent of the items sold at Unionmade are union-made.
When I pointed this out to Barket, he didn't seem upset. "Well, about 60 to 70 percent of the things we sell are made in the United States," he responded. "We're not that political, at the end of the day. We're just trying to find things that are well-made and nice. These are reputable companies."
I asked if any of the factories that made the products he sells might be considered sweatshops, which are widespread in the American apparel business, especially in the invisible garment industries in New York and Los Angeles.
"They are not sweatshops," insisted Barket. "We have a friend in Guatemala, who knows the factory owner there. Our companies are really on the up and up."
But Barket didn't think unions mattered any more, anyway.
"There really are no clothing unions left," he said. "There's no one to make a fuss."
Up until the 1960s, two progressive unions -- the Amalgamated Clothing Workers Union and the International Ladies Garment Workers Union -- represented most of the nation's garment workers. Thanks to their organizing victories, these unions lifted workers out of sweatshop conditions and into the middle class.
The broader labor movement encouraged consumers to "look for the union label." That idea assured consumers that the clothing they purchased was made under decent working conditions by employees who had a real voice in their workplaces. Back then it was then possible to fill one's entire wardrobe -- both men's and women's clothing -- with union-made clothing. At that time, most of the clothing sold in American stores was made in this country by union members.
No longer. In the 1970s, major U.S.-based clothing manufacturers shifted production to non-union factories in the South and then, in the 1980s, to sweatshops in Mexico, Central America, and Asia. Today, most of the clothing sold in American retail stores, including the big chains like Walmart, Target, Sears, and Nordstrom's -- are made overseas, where workers have few rights and miserable conditions.
So even if Barket wanted to stock his stores with union-made clothing, he'd be hard pressed to find enough items to fill his shelves and racks.
Even so, calling his small but expanding retail chain Unionmade is about as close to false advertising as one can imagine. Moreover, there are still some union-made clothing brands, including several fashionable labels that would appeal to Barket's upscale fashionista clientele -- including Hugo Boss, Joseph Abboud, Hickey Freeman, Jones of New York, and Brooks Brothers -- and make Unionmade a slightly less deceitful moniker
To help consumers find out what's union-made in this country, the Los Angeles County Federation of Labor and the San Francisco Labor Council sponsor a "Labor 411" website that includes over 3,700 products and services produced by union workers. In addition to several dozen union clothing brands, it includes hotels whose employees are represented by a union as well as hospitals and other health care providers, airlines, cell phone and printing companies, waste and recycling firms, building contractors, and consumers products (included appliances, auto supplies, toys, cleaning and household items, electronics, musical instruments, kitchen and hardware supplies, sports equipment, and even pet products).
"Labor411 makes it easy to make ethical consumer decisions," said Tim Paulson, Executive Director of the SF Labor Council.
The labor movement has been in decline for several decades, as corporations ship one-time union jobs overseas and engage in illegal tactics to thwart union organizing campaigns. Today, only about 11 percent of American workers are union members, down from almost 35 percent in the early 1960s. Unions are now rethinking how to revitalize the movement to deal with the growing power of corporate money, the nation's one-sided labor laws, and the increasing number of Americans working in the service sectors, like hospitals, hotels, and big-box retailers.
"This is a challenging time for the labor movement, but don't count us out," says Maria Elena Durazo, the head of the LA County Federation of Labor, which is among the most dynamic and influential in the country. "If we want to restore the middle class and reduce inequality, the labor movement's the best way to do that. So we hope that consumers will support their union neighbors and friends by using union-made goods and services."
On Monday, as part of Los Angeles' annual Labor Day festivities, thousands of union members -- including janitors, teachers, social workers, nurses, truck drivers, grocery clerks, and garment workers -- will be marching through the streets of Wilmington, near the Los Angeles Port, and end up at a noontime rally at Banning Park, where they'll eat, sing songs, and hear speeches about contemporary union organizing campaigns.
If Unionmade's Todd Barket were there, he probably wouldn't meet many potential customers for the upscale clothing he sells in his store, but he'd certainly learn what today's union movement is really made of.
Related
Popular in the Community