Some may say it's a cliché but there really does appear to be a food revolution taking place in America. Countless communities, schools and families are growing more of their own food as food gardening has reached its highest level in more than a decade.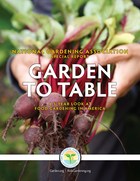 In a report released this week, "Garden to Table: A 5-Year Look at Food Gardening in America," the National Gardening Association examines the trends and data around food gardening.
And, there are some pretty impressive numbers. In the past five years there's been a 17 percent increase in food gardening, up from 36 million households in 2008 to 42 million in 2013.
Spending on food gardening has increased 43 percent, urban gardeners have increased by 29 percent, and, most encouragingly, young people -- the millennials -- have become the fastest growing segment of the population to start a food garden.
The fact that young people have really begun to champion the connection between growing food, eating well and healthy living is a breath of fresh air.
There are many reasons to explain the rise in food gardening: An improved economy, strong national leadership, increased awareness and educational efforts; and more engagement through public-private partnerships to promote food gardens in communities across the country.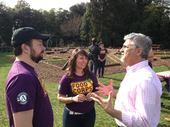 But the numbers in this report would be meaningless if it weren't for all the local organizations, schools, educators, young people and families who are grasping onto the message and literally making food gardening a priority in their homes and in their communities. These are the folks literally getting their hands dirty, making the garden beds, planting the seeds, cultivating, weeding and ultimately enjoying the fruits (and vegetables) of their hard work.
While NGA's report shows our country moving in the right direction, we must continue to build on the momentum of the past several years. Today, there are 16 million children in America struggling with hunger. Food deserts are still commonplace and obesity, coupled with poor nutrition, remains at epidemic proportions. Food gardening is just one piece of the puzzle in addressing these challenges that our country faces together.
And that's where the increased participation in food gardening is really a success story that deserves shining a light on. Gardening brings people from diverse and different backgrounds together -- families, young people, the elderly, neighbors, politicians -- to do something good, not just for your health and body, but for your community.
These are some of the reasons why the National Gardening Association and so many garden champions like us care so much about these issues. We are working every day help grow food gardens throughout the country. NGA does this by working together with other community-based organizations, providing on-site experts, grants and free educational resources for any and all people interested in food gardening. That work is yielding results, as we've provided over $4 million in grants to 10,000 organizations, mainly focused on youth gardening.
Our work, along with that of so many others, is literally making a positive difference, one seed at a time. That's why we hope that the release of this report helps inspire even greater participation in food gardening as it's a fun, healthy and educational way to make a positive difference in the lives of so many people in our country.
A complete copy of Garden to Table: A 5-Year Look at Food Gardening in America can be downloaded from the National Gardening Association's website at garden.org.