"There used to be a ballpark
Where the field was warm and green.
And the people played their crazy game
With a joy I'd never seen.
And the air was such a wonder
From the hot-dogs and the beer.
Yes, there used to be a ballpark right here."
When I was a kid, I first heard the song, written by Joe Raposo, performed by Frank Sinatra, in a TV tribute to Brooklyn's Ebbets Field. I didn't get it, of course, living in a town with a minor league team and uninteresting park. But that was until I moved to Atlanta, where I could see my beloved Braves on a regular basis.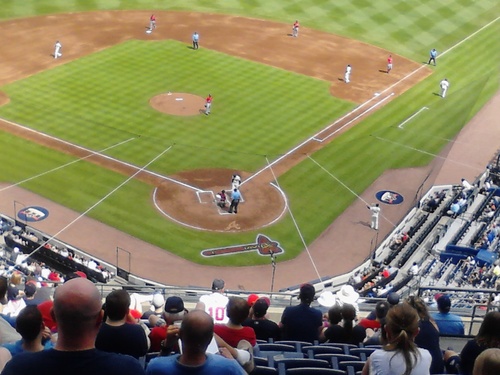 I can clearly remember hugging my wife, barely a month after 9/11, as the Braves swept the Astros in the final game of the first round of the playoffs, proud of the team and the new job I landed in Georgia, happy to see my favorite player John Smoltz get that last out as the rain began to fall, while fireworks shot into the sky on an autumn Friday evening.
That stadium became more than just a place to watch a game. It's where my daughter paced back and forth on the stadium chairs, practicing walking with support while the Braves played, only to take her first steps the next day for Mother's Day to our shock and delight. It's where little Val and her best friend, wearing matching Braves cheerleader costumes, ran the bases until they nearly dropped from exhaustion, having the time of their lives. And at my son's first game, while I cradled him in my arms, ex-Atlanta catcher, bullpen coach, and fan favorite Eddie Perez, tossed us a ball. Years later, he posed for a picture with little Zach after a win over the Twins.

"And there used to be rock candy,
And a great big 4th of July
With the fireworks exploding
All across the summer sky.
And the people watched in wonder
How they'd laugh and how they'd cheer!
And there used to be a ballpark right here."
We celebrated birthdays there, as family and friends made the long drive across West Georgia to the cathedral of cool. Retired players like Braves Hall-of-Famer Dale Murphy and veteran pitcher Paul Byrd signed autographs, as did visiting All-Star Tyler Clippard (for the Washington Nationals) as well as Bill Scherer and Bruce Kison, World Series winning ballplayers serving as scouts for visiting teams.
Both kids honed their batting and pitching skills first at the kiddie park "Tooner Field" (full of cartoons) and later at "Scouts Alley." Our house and my office are a tribute to the many promotions the team offered fans who showed up early. And few events in my young son's life top the night we saw Chipper Jones smash two home runs late in his last season on his bobblehead doll tribute night. "Dad...I never want to leave" he told me that magical night.
It's not Fenway Park or Wrigley Field or Yankee Stadium, of course. But it did host the Olympics. And it's our place. As we went to our last Turner Field game this Saturday, there was a bittersweet feeling to it, knowing the team was headed Northwest of town for a luxurious stadium. The Braves held up their end, as the scrappy hard-working combination of rookies and veterans smacked 13 hits, posting a 7-3 win over the division-leading Washington Nationals. And I've never been to a sports arena with a more helpful and supportive staff, who always go the extra mile to make you feel like family.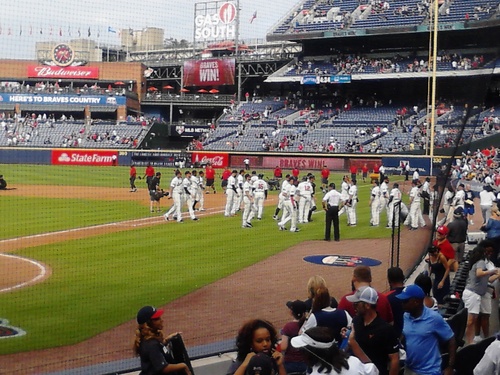 "Now the children try to find it,
And they can't believe their eyes
'Cause the old team just isn't playing,
And the new team hardly tries.
And the sky has got so cloudy
When it used to be so clear,
And the summer went so quickly this year.
Yes, there used to be a ballpark right here."
"Dad...are they going to destroy this place?" my son asked after the ninth inning, having learned last month during a Falcons preseason game that the Georgia Dome is due to be demolished.
It was comforting a little to tell him that Turner Field wasn't going to be razed to the ground. Georgia State University will make it into a football stadium, which is a relief. For the fans of the Atlanta Braves, who spent 50 years downtown (the old stadium was right next door), they'll be much like my son, who will remember how there used to be a ballpark right there, that gave us all so many memories, and still see it on the Atlanta skyline.
John A. Tures is a professor of political science at LaGrange College in LaGrange, Ga. He can be reached at jtures@lagrange.edu.
Related
Popular in the Community