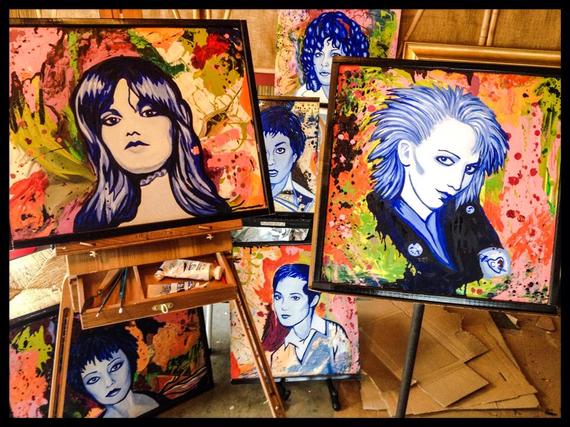 Heads Will Roll | A group show curated by Kelly Thompson and featuring artists Alice Bag, Diane Gamboa, Meg Madison, Shizu Saldamando, Lorraine Scognamillo, Kelly Thompson and Sashiko Yuen. These seven strong, talented artists are united in their passion for living a creative lifestyle. Not always satisfied with just one form of creative outlet, they are not afraid to explore, experiment, and organically evolve, traits seen in the evolution of "Heads Will Roll" itself. This show brings together emerging as well as established artists from different backgrounds and cultural experiences.
Alice Bag (work featured above) was the lead singer of The Bags, a punk band that helped to spearhead the West Coast punk revolution of 1977. After spending many years as a working musician in Los Angeles, she moved to Arizona in 2006, where she pursued a variety of creative outputs.
"When I considered the title of the show I thought of phallic heads, patriarchal symbols and figure heads. Heads Will Roll brought to mind a punk band I used to play with in the early eighties called Castration Squad. The titular castration was never aimed at men, it was aimed at male privilege and gender inequality, it was aimed at infiltrating male dominated spaces and doing it with the irreverence and creativity of punk rock. My paintings focus on the women of Castration Squad who will always be my sisters and who continue to be audacious in their personal and professional lives."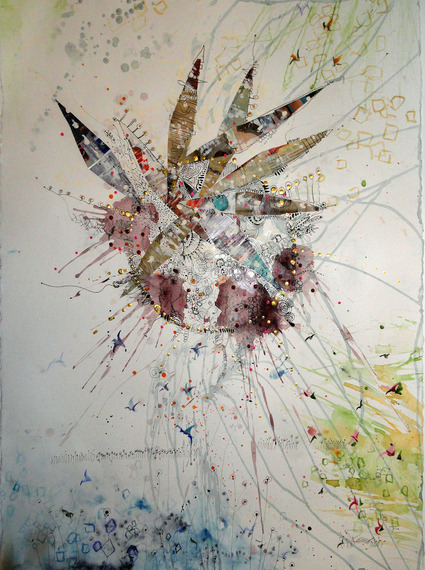 Karrie Ross: Impact Your Life | Karrie's work spans a variety of images offering surreal faces, and the whimsy of a figure with an egg, to her exploration of impact craters form and energy transference. Her questions arise from social, scientific, and personal investigations. This exhibition features a selection of ink & paint pieces from Ross' most recent work and sets to recount her whimsical view of living through difficult situations over the past two-years time.
"It, the exploration of the ink & paint style and process, has finally come together for me," Ross reveals. "The imagery is not only fun, compelling and balances my energetic needs, it brings my essence in touch with what is going on in my life in a safe way, so I can better relate to it. The ink satisfies my never-ending need to be active, to 'take' me out of the now into a flowing space in mind, mixed with the painting aspect, providing a safe seamless connection."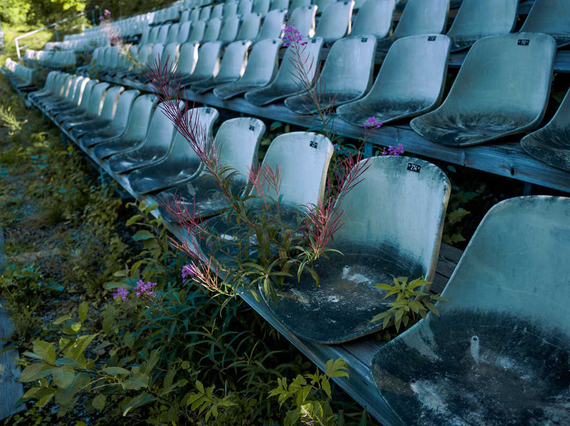 Dennis DeHart: Concentrate to the Quiet | Compelled by the connections, conflicts, and intersections of the natural and cultural worlds, DeHart's work weaves together stylistic observation with a personal voice. Experiencing place though participation is an important conceptual component as the artist states: "My main concern is in expressing interconnections; that what we do in our own backyard has a broader effect on the larger world we live in."
Concentrate to the Quiet is composed of color portraits, landscapes and still lives taken while Dennis DeHart was an artist-in-residence at the Backlight Photography Festival held at Voipaala Art Center in Finland. The work includes temporal sculptures and found objects expressed as photographs. "In Finland, everyone may walk, ski or cycle freely in the countryside where this does not harm the natural environment or the landowner. I spent a good portion of my time in Voipaala and environs roaming and photographing in the countryside." The resulting photographs are informed by Scandinavia/Nordic aesthetics including light, design, quality of craft, and simplicity.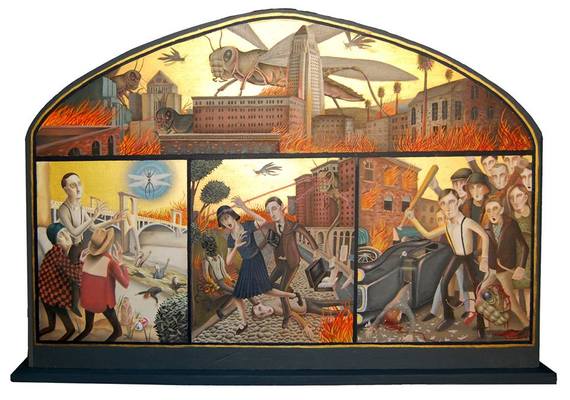 Devils' Town | The underlying theme of Devils' Town is Los Angeles' dark past--its history of lawlessness, anarchy, chaos, and racism that continues to this day. Curators Rodrigo Ribera D'Ebre, Edwin Quiroz and Lisa Derrick asked artists to explore both Los Angeles' history and their own history and relationship to the city to create a piece of new work based on the concept of Los Angeles--El Pueblo de Nuestra Señora la Reina de los Ángeles de Porciúncula--as Devils' Town. Included as well will be older pieces that mirror the theme.
Devils' Town features the work of Pablo Cristi, DEFER, Ricardo Estrada, Germs, Daniel González, Roberto Gutiérrez, Ed Gutter, Jason Hernandez, Krown 187, Krush, Jose Lopes, Juan Carlos Muñoz Hernandez, Kimberly Monique, Phowl, Joe Prime Reza, Chuey Quintanar, Carlos Torres, Tyson, and VYAL ONE.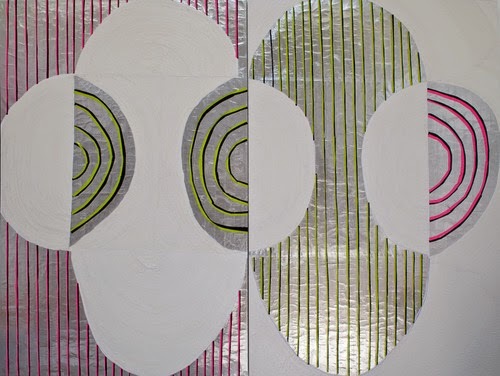 Augusto Sandroni: Electro Wonky Funkadelic | The artist, who was born in Salvador, Bahia, Brazil in the 1960s, came of age when the Utopianism of tropical Modernism was at its peak, and that, along with the largest carnival in the world, played a creative role in later forming his artistic vision. Seeing himself as a visionary artist who operates as if self-taught, Sandroni intuitively works with mundane, non-traditional processes and materials, such as industrial tape, aluminum foil, cardboard, burlap, found objects, and fabric paints. Not striving to make something too perfect, he makes non-symmetrical forms out of cut pieces of tape that act as a "place holder" for paint impasto, playing with the coincidence or absurdity that something can be made from these materials.
Sandroni came to New York in the early 80s, where he met artists Keith Haring, Futura 2000 and Jean Michel Basquiat, and participated in the spirit and culture of graffiti art and the lower east side.
For the most comprehensive calendar of art events throughout Los Angeles go to Artweek.LA.
Calling all HuffPost superfans!
Sign up for membership to become a founding member and help shape HuffPost's next chapter